Looking back I guess I am a little behind on a few of the blogs I wanted to write. It has been about a month, maybe a little longer since Lunar New Year. Originally we had planed to head off to Jeju Island for our days off to enjoy some sight seeing, relaxing, and drinks, but with everything going on at school we ended up having to move my Lasik to our time off so that it wouldn't interrupt work, or cause me to be in a lot of pain and sick at work. So I had Lasik done the Saturday before Lunar New Years, we had Wednesday off so we headed back up to Seoul to get my contacts removed, and then we spent the next next few days off doing nothing! If you have read my Lasik blog (I am still working on the more detailed one) my pain was not that bad after the first 3 or 4 days so I was kicking myself for putting off our trip, however at the time it was the right thing to do and now that I have perfect vision I do not regret it at all! We are now trying to get permission to use a few of our days off to head out there in a few months. So all I have to show from Lunar New Year's this year is the gift box our boss got everyone at work, see photo below.
Why yes that is a gift pack of tuna, Spam, and olive oil. Seeing as how we don't eat any of these things things we gave our gift set to the husband and wife that own the Pizza School. Ahh Pizza School is another blog all in itself, I could go on and on for my love of their pizzas, the sweet people who own them, and the talks we have with the wife who is studying English.
Now for something a little more interesting we spent last Lunar New Year, which happened to also fall on Valentine's Day, on Jeju taking in the sights with our friend Jose. Here are a few photos of the things we saw. Exactly how many is a few? There might be more than a few......
Day 1:
The Hyatt

Ryan and the ocean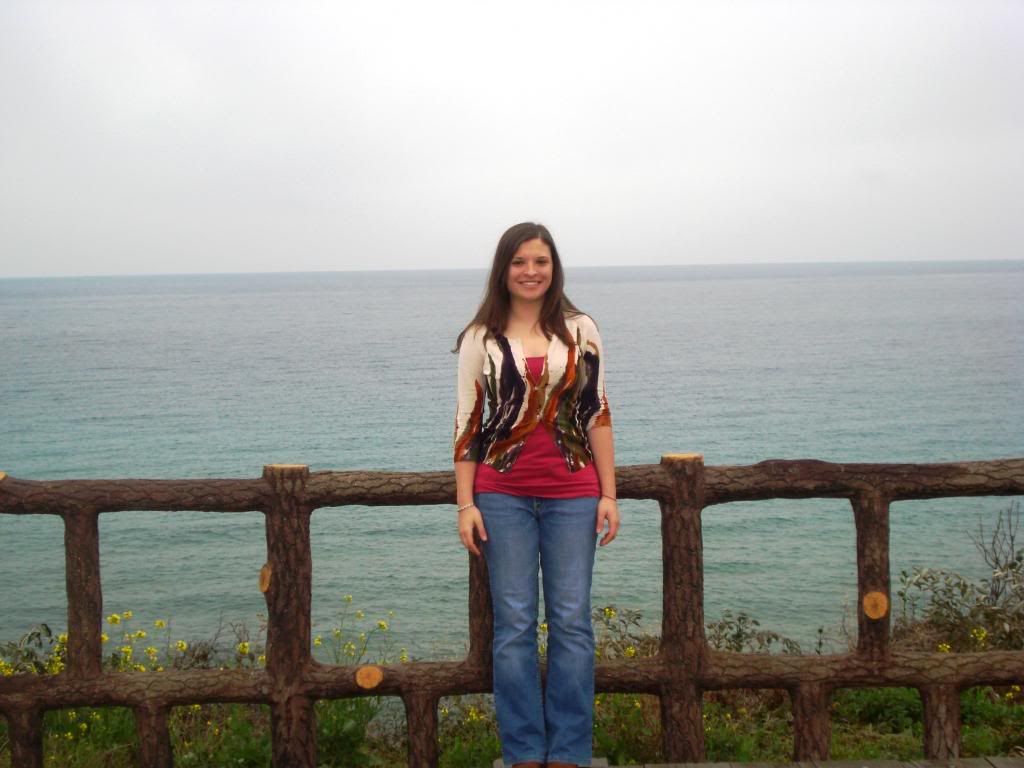 Me and the ocean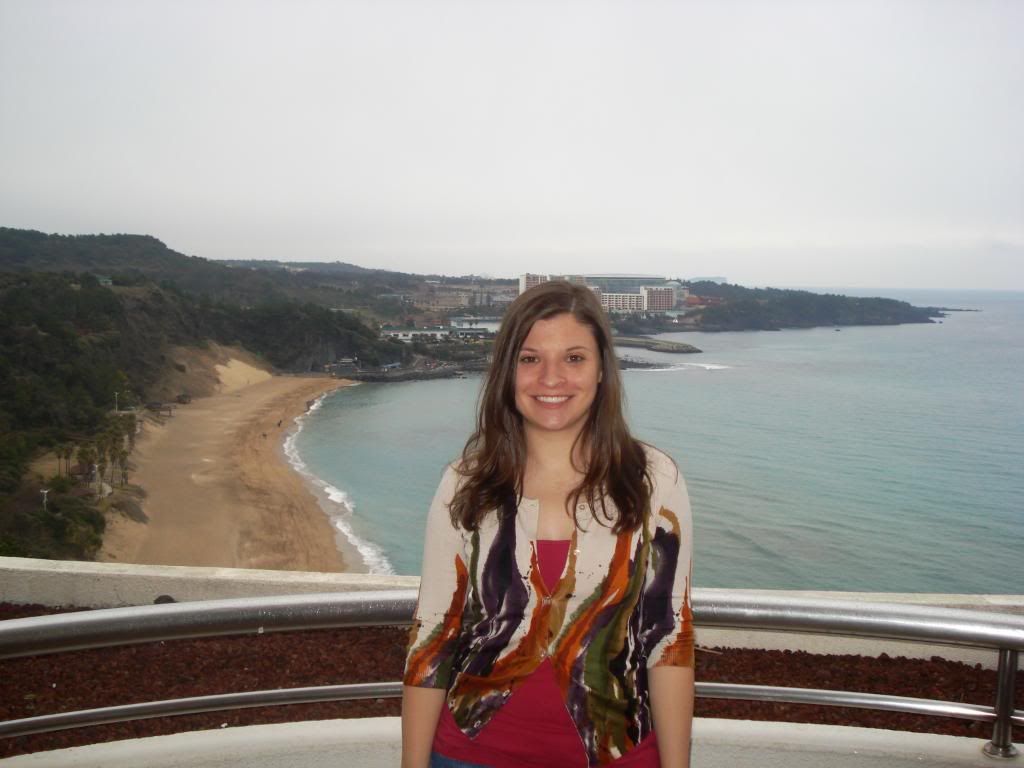 Up in the room
I think he is finally smiling now that he knows he has a place to smoke cigars.
Where we ate dinner.
What we ate for dinner.
It was amazing, and feed all three of us with some left over.
Day Two:
We got a taxi a he took us to five different sights on the island.
The first site was Oedolgae Rock:
To this day I don't understand what is so great about this rock.
Prayer rocks
Our second stop was Jeongbang Waterfall:
Ryan out by the waterfall
I know I know people everywhere are thinking "eww" (well only those young ones) but I have always loved this one.
The third stop was the Jeju Folk Village Museum and I have to say I found it all very interesting because the history, the houses, everything is so different from what we learn in school, or see in all our museums growing up. Sadly this place was huge and even thought I have a ton of photos we didn't have time to even see half of it.
Outside the house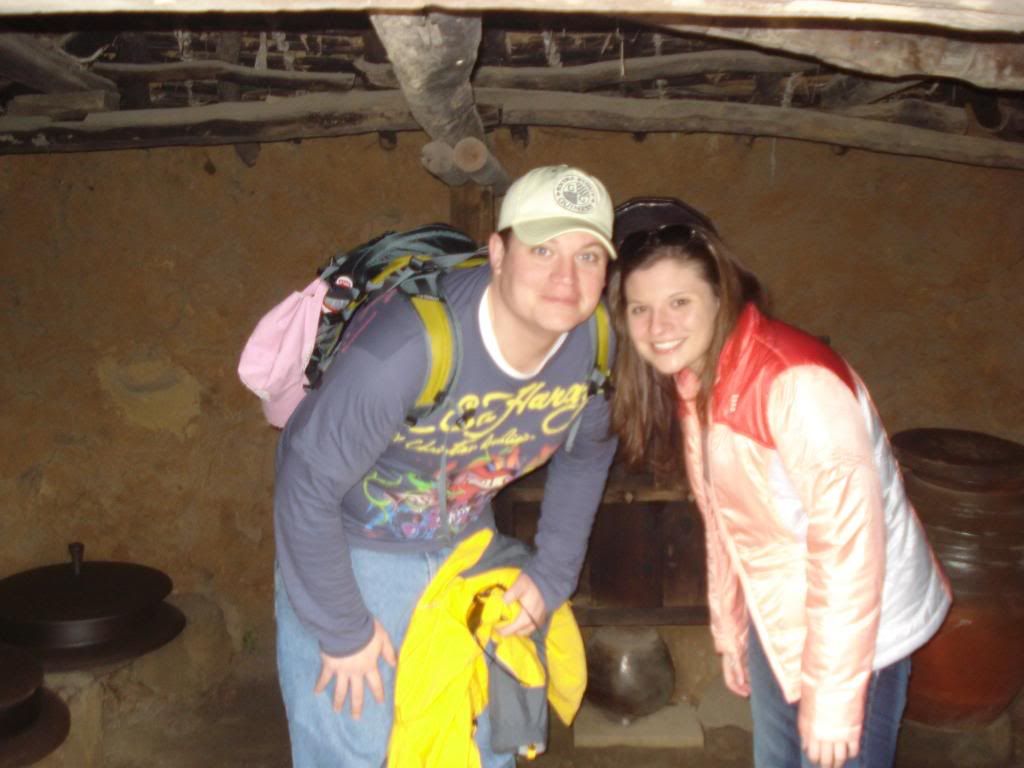 Inside the house, as you can tell we are a little two tall for traditional style Korean homes
Ryan and I spent a good amount of time petting that cow, what can I say we miss the cow at the Riverbanks Zoo.
Kimchi pots and a garden
Bambo maze
A hut for someone in the upper society.
shoes, don't they just look cozy?
the hunter's house
a trap
A shrine to the worship the Chilseong god, the god that manages the wealth and grain of a family.
More shoes
The death table, where families would place food on special occasions for those lost.
A kimchi pot maze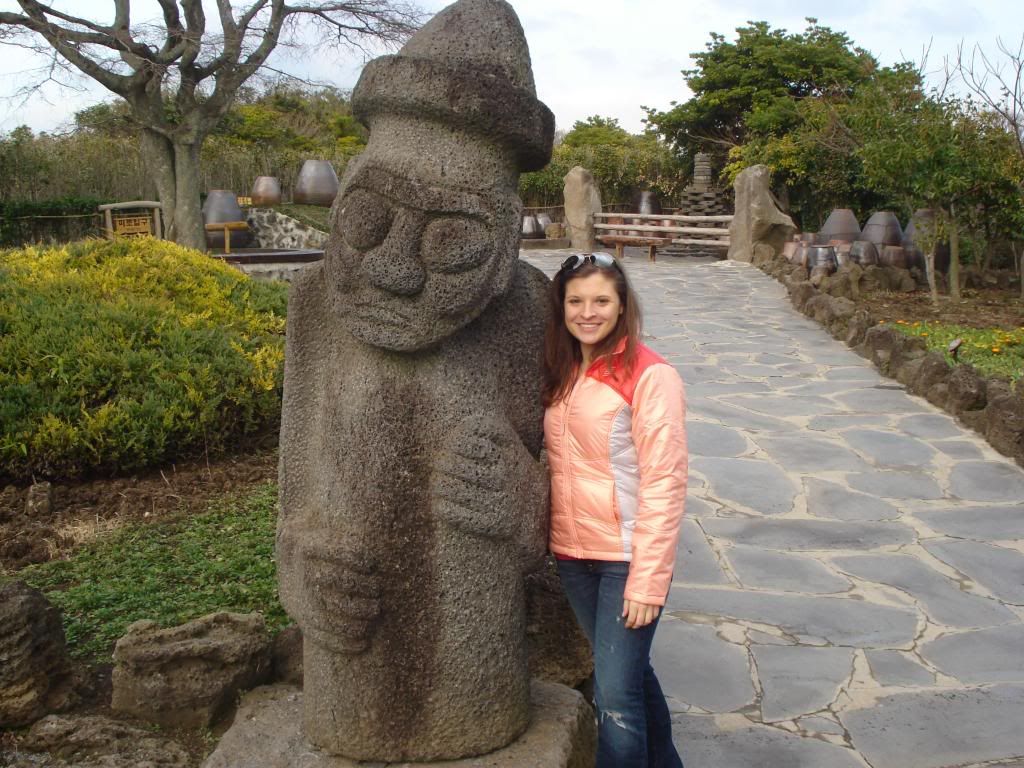 grandfather rocks
horse rides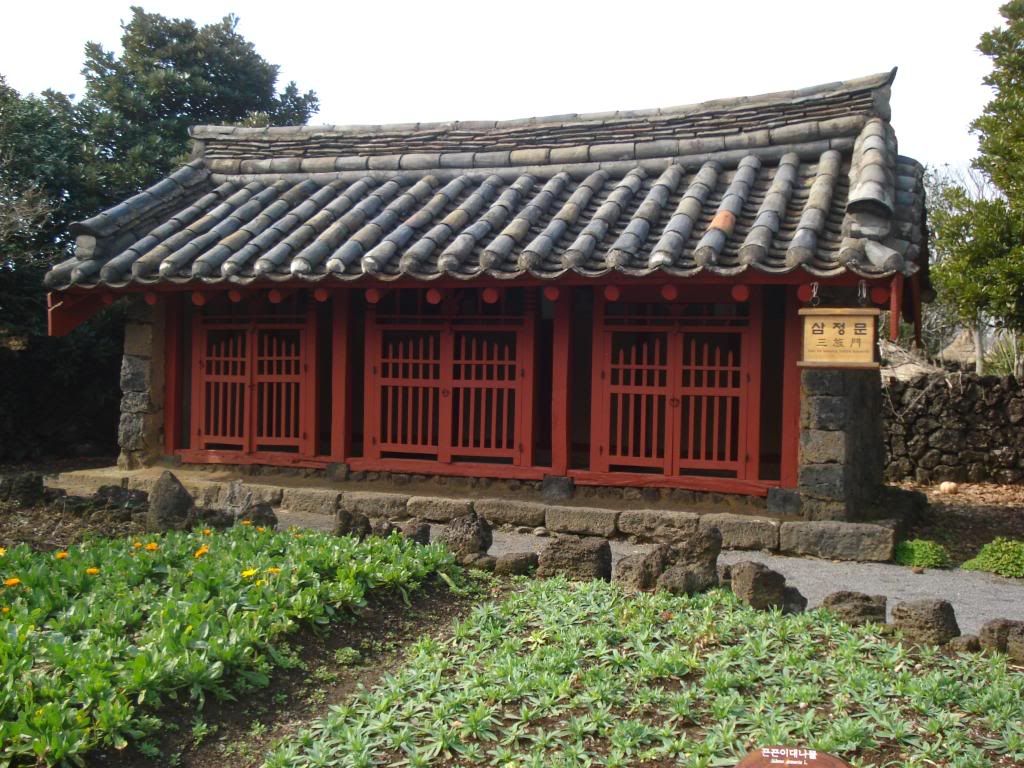 the home for the unmarried women
hear made out of shells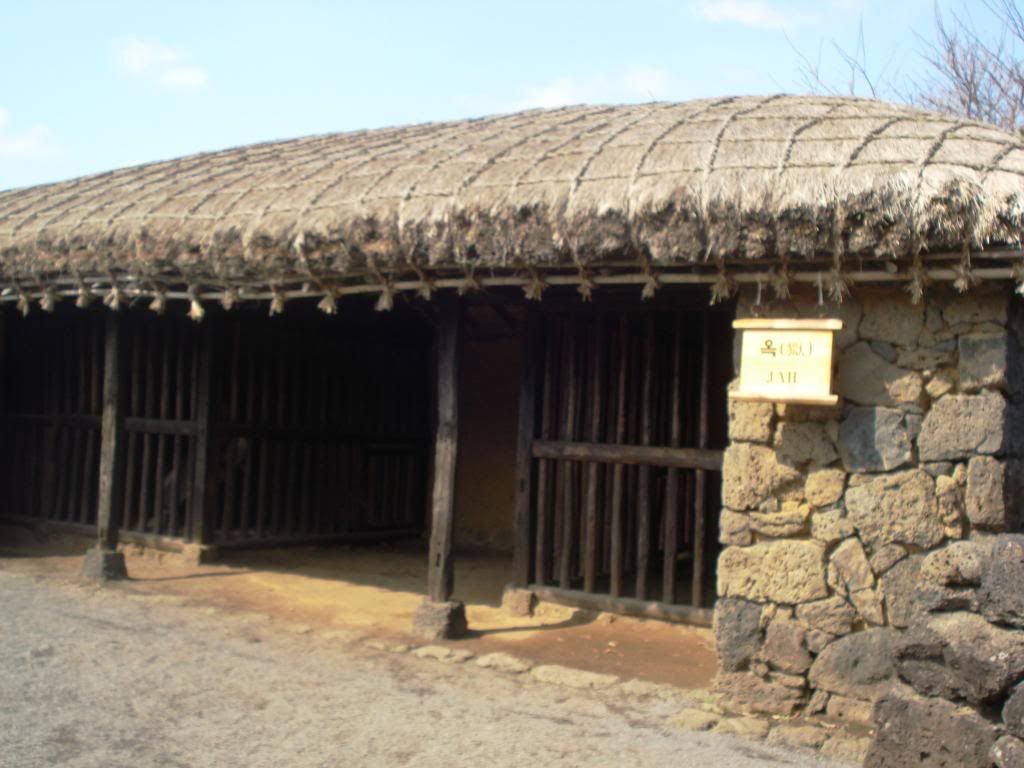 The jail
The forth stop was Seongsanilchubong, a volcano.
Getting ready to start up to the top.
on the way up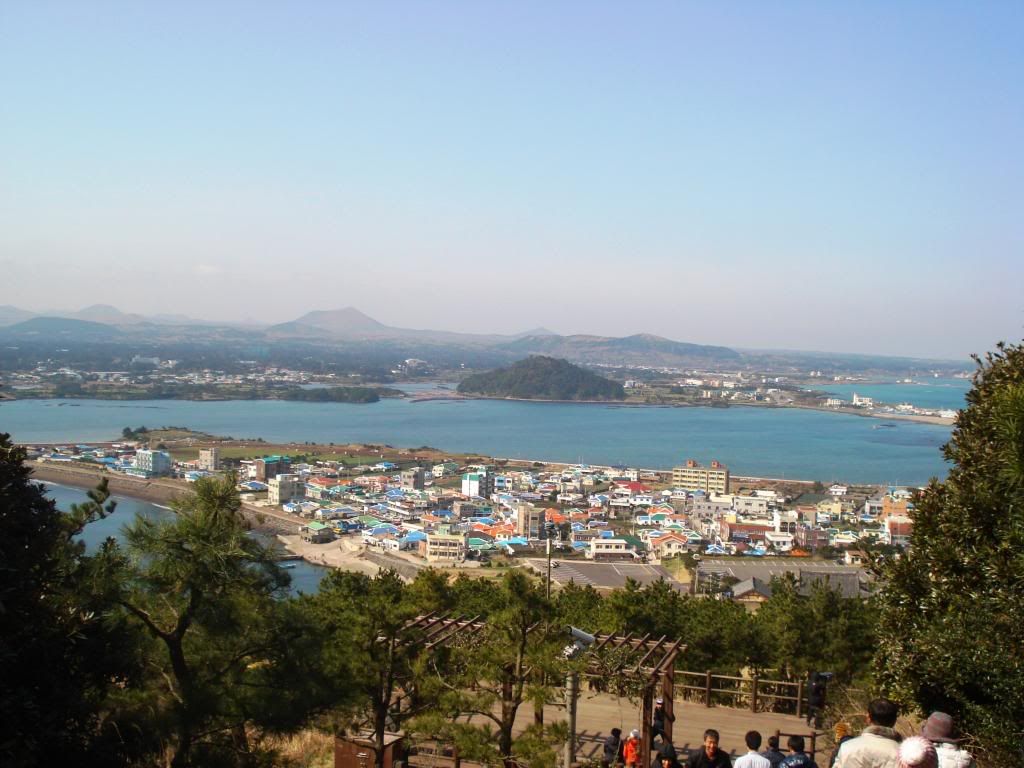 about half way up
a sad looking rock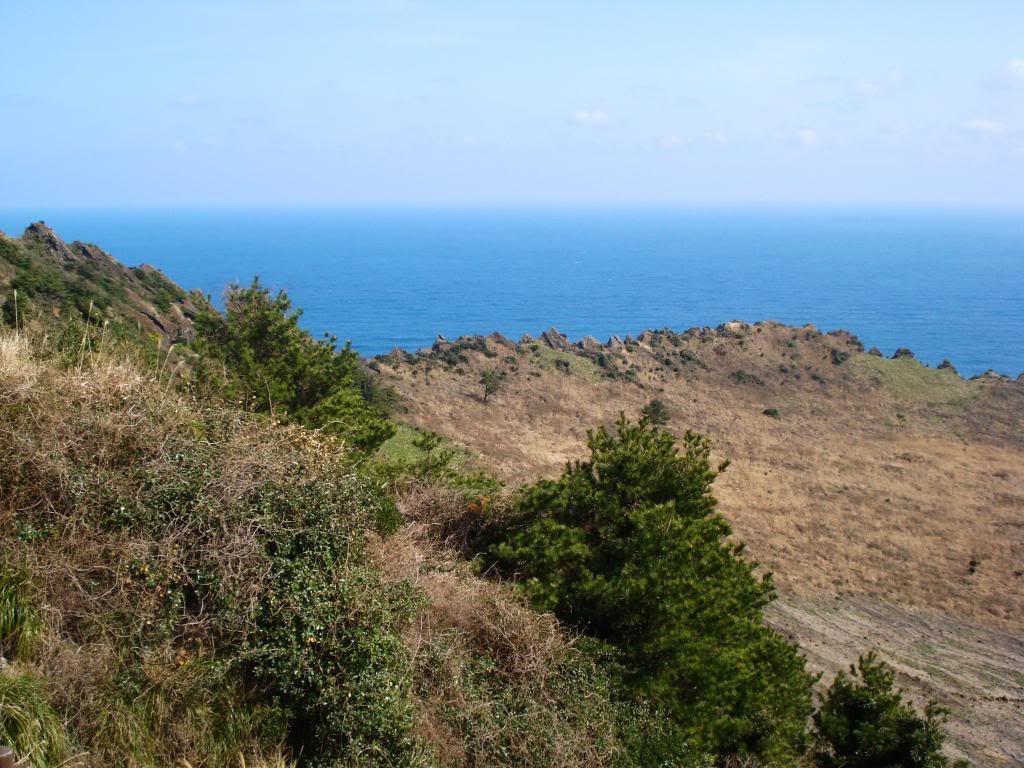 at the top
We have been told that we need to go back in the summer, when the field is full of green grass and plants.
I had a few good group shots of the three of us but they have gone MIA so I will add them if I find them.
The last and final stop of the day was to the Manjanggul Lava Tube. We couldn't take photos inside the tube so there are not many; however it was very neat down inside.
The end of the tube we could take a photo of.
The main attraction inside, shh don't tell anyone.
Yet again I have lost some photos, because we had a few good group ones yet again.
Finally we ended the day with a few photos on the balcony before calling it a day as Ryan and I got ready for an amazing dinner for Valentine's Day.
And then sadly on day 3 it was time to leave. 3 days was not long enough and I cannot wait to get back!
Saying one last good bye to the beach.
Well, that's that. Lunar New Year this year was nice and quite, Lunar New Year last year was amazing, yet each one of them was special for their own different reasons. I hope you enjoyed these "few" photos, I know I had a great time thinking back to the trip and they brought many smiles to my face.