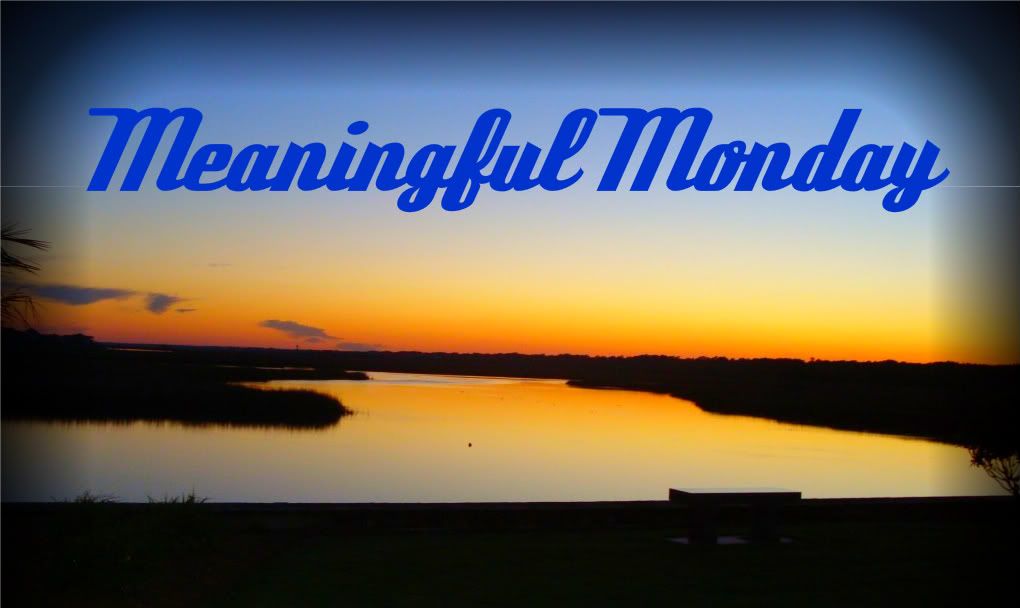 Sadly it is Monday again; however that means it is time for me to sit down and think about what I want to say in my Meaningful Monday and that almost always puts me in a good mood.
So for starters I over slept and had to hit the ground running with a quick trip to the gym before work (cough cough at 1:00) and didn't get a chance to start my day off with my Meaningful Monday other than with that short opening sentence. So instead I have spent my Monday trying to rack my brains for something "Meaningful" to say, and yet I have nothing. So instead I am going to tell you 4 things that are currently or have recently made me extremely happy!
1) For starters today is Ryan's 29th Birthday and so this past weekend a group of coworkers and friends all got together to celebrate it with us and we all had a blast. We have some of the best coworkers and yes I know I say that a lot but hey they are hard to come by! Birthday blog should be coming out this week full of photos and maybe even a video or two if I can get them to upload.
2) This next one makes me both happy and sad, we went tonight to see Senor Fuzzy at the pet store and yes it makes me so happy to go in there and hold (his extremely quickly growing) fuzzy butt, but at the same time I would really love (and yes be very sad) to go in there and find out he went to a good home. He is big though and people here like little dogs, and today he was so happy to see us walk in and then so sad when we left, he even barked for the first time today.
3) I finished the 2nd book in that book I blogged about yesterday and it was not that bad, I even kind of enjoyed it and that might of been due to the fact that it was more of a short story and was more about the people in it and less about the magic. I am taking a break from the book again and had the chance to start reading "The Girl With The Dragon Tattoo" which I have been looking forward to reading ever sense my dad gave it a good review, and my mom just emailed me some new authors to try so I am hopefully back on track for a while!
4) At the gym today I was having a nice little pity party for one because I have yet to loss any weight but when I started my normally routine I found it easy, even maybe too easy so I was happy to kick it up a notch! I know, I know as my mom says "it took time for you to put on the weight, it will take time to take it off," as true as that is I have never been good with waiting, however after today I am recharged and looking forward to the gym again tomorrow. I mean at some point something has to give and just as bad as I am when it comes to waiting, I am an even bigger sore loser and hate to give up.
I know I said 4 however I have been trying to figure out how to fit this into a blog for about a week now so bare with me please and if you are someone who umm has "easily moisten eyes" I would check out now and not read any further.
5) My mom made a trip home to see some of my family and got to take part in my grandfather's party for Resident of The Month and shared some of the photos with me. I cannot even start to tell you how much it makes me smile to hear that my mom got the chance and took the time to not only see my grandfather but to also show him photos of my brother and I and talk to him.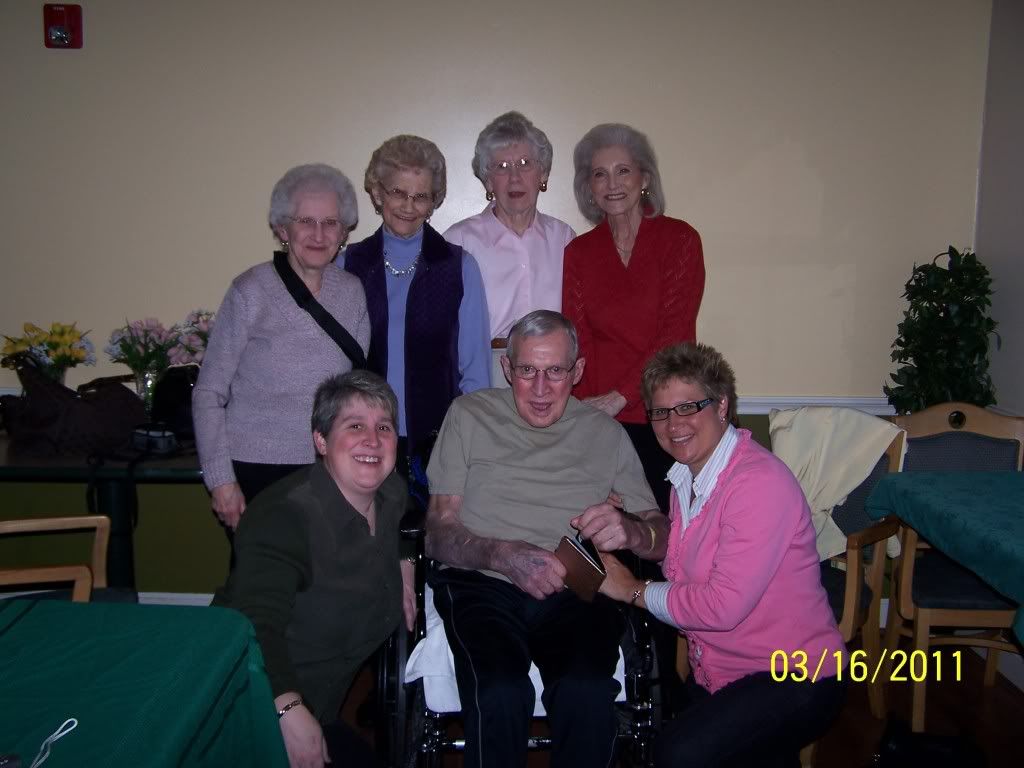 My Aunt Cherri (left), my mom, Gramps, and his sisters. I think now everyone can see where my nice round cheeks come from!
Here is the photo board my aunt put together for the center of gramps and the family.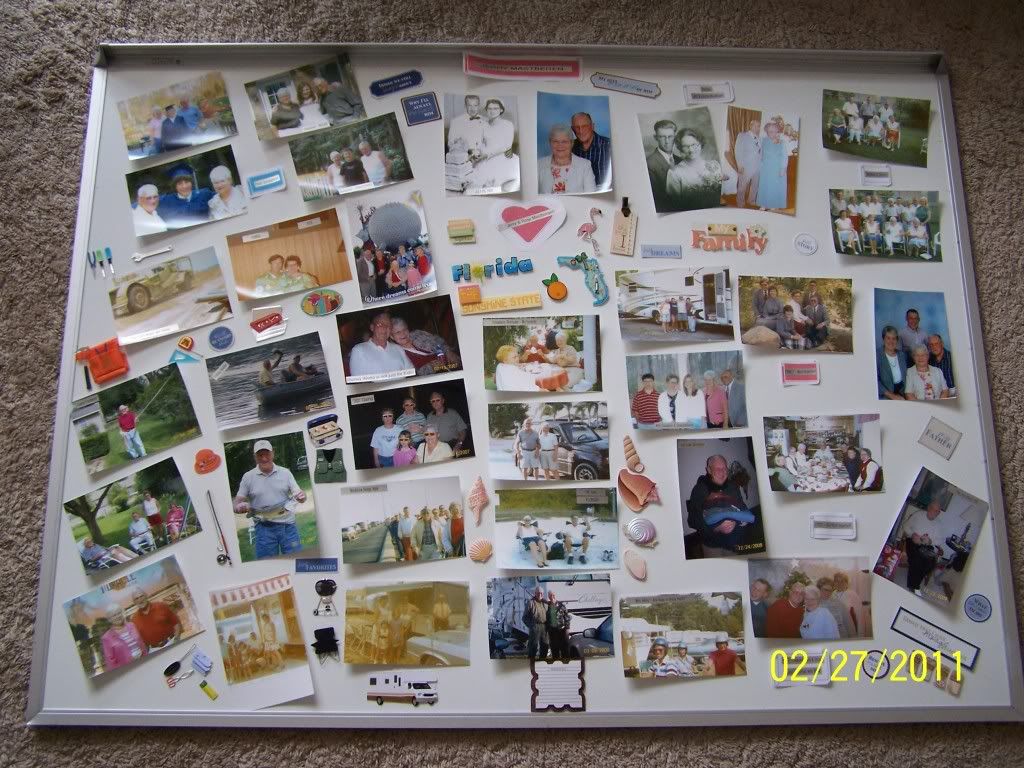 Humm those are harder to see than I thought they would be.
And last but not least I will share with you what my aunt wrote to put up with the photo board.
When asked about writing a Biography about Dad, I thought, "Who cares what our family has been through." But as I listened and read about the other families on this "Honor Board", I realized there are so many of us going through different situations in our daily lives, with a similar outcome. Hearthstone, has been that similarity with all of us here.
It all started when… Well, I guess there was no actual starting date with Dad and his being here. It has been a long and drawn-out process to getting to this point. My Dad, Jerry Mastbergen of "The Harbor", has had many medical conditions that brought him to this stage of his life. Throughout the years, Dad has survived a major fall, "crushing" his elbow and broke his hip in 3 places, Quadruple Bi-pass surgery, Lung Cancer, Fibrosis, Emphysema, the Main Aorta Valve Replacement (Pig's Valve) and multiple Strokes/Mini-strokes and Seizures. As I have stated to others, Dad has been on a roller coaster of health all his life.
Let's start in the beginning. Dad was born in Brooten, Minnesota to John and Jacoba Mastbergen. He was the second to the youngest of five siblings who all lived on a farm. As the story goes, Dad followed his older sister and "partner in crime" to Grand Rapids, Michigan, for work in the 1950's. The rest of the Mastbergen family eventually moved here to the Grand Rapids/Jenison area. He ended up meeting his wife, Rose, and had three kids, Dwayne, Patti and myself, Cherri. While raising us kids, Dad was involved in various types of construction. He worked for Velting Construction driving big Earthmovers, Cranes and Earth Hauling trucks. There were a few other construction companies after that, but the last job he had before retiring after 32 years, was for Heyboer & Bolt Ceiling and Ceramics. He did everything from drywall to tile work, to drop ceilings, to carpeting, to whatever was need. After he retired, he went back part-time to help out around the shop. Mom, who loved kids, was a Bus Driver for 40+ years. Unfortunately, she found out she had cancer throughout her organs and did not have a chance to fight it. One day our family was doing our normal daily activities and "Wham!", our lives were flipped upside down and inside out. Family was the center of our parent's lives.
Dad was a very energetic and busy person. He loved to play softball, where he played on multiple teams for the Christian Reformed Recreation Center. Dad was a Cadet Leader for many years where he got our family involved in tenting, then we went to pop-ups, and finally to their motor home - retirement home for the winter in Florida. His pride and joy was his motor home. He loved the great outdoors. He also loved to go fishing and ride mini bikes and snow mobiles through the years. Ask him about the "Tire" print on his back while riding/crashing his mini bike with cousins at Chinook campground. You should get a smile on his face. He has a wonderful smile.
You can also ask him about his two Grandchildren of his daughter Patti and her husband Dave who live in South Carolina. Megan, who is teaching English in Seoul Korea, and his fishing buddy, Christopher, who can play numerous instruments including the Banjo and Ukulele, are the sparkles in his eye. He loved to visit whenever it seemed possible. There was usually a trip there before going to Florida and on the way back and even one or two between those.
Dad doesn't say too much now, but beware, he does listen. When you think he may not be listening, he is.
And now that my Monday is over, I have thought about and been reminded of how lucky I am to have a blessed life, a great family, and great friends I am off to bed!
I hope everyone has a great Monday!
P.S. 6) Ryan gave me flowers before his birthday party Saturday night. I'm sorry it was just so amazingly sweet that I just had to share!