I hope everyone is having a great Sunday. I am sad it is Sunday already but at lest I have been enjoying it! I started the day off with the family at a nice church service where we learned that everyone has anger and everyone sometimes shows it but to not let it get the best of you and to not let it bubble up inside of you and turn into bitterness. I followed up it up by a trip to the gym (a much needed trip to the gym), and then some barbecue and golf with Ryan before an amazing meal that mom cooked. Now to just get ready for the week ahead, unwind with a good book or some mind numbing TV.
I am going to link up Sunday Social and talk about food this week. Food ahh I have such a love hate relationship with food, i love the healthy stuff and I love the bad stuff just as much.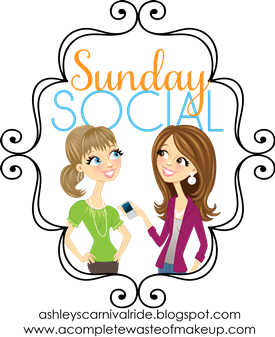 Click To Lkink Up
If you could only eat one thing for the rest of your life, what would it be?
Oh for me this one is kind of hard because as long as whatever it was was spicy I would be happy. It would be a toss up between...Thia food, Korean food, Mexican food, or in general bar food.
What's your guilty pleasure/comfort food?
Cookie Cake! Ingles to be exact they are oh so good and if I don't watch it I could eat a whole cake!
What's the weirdest/craziest thing you've ever eaten?
Well I would have to say for starters there was that time my friend thought it would be funny to swap the "people beef jerky" with the "doggy treat beef jerky"
And then there would probably a good few of the things I ate in Korea, or the fact that I love Ritz crackers, with cheese whiz, and olives.
What foods do you avoid at all costs?
Some sea foods, or well most that are not like salmon, tuna, or shrimp. Oh and mayo I hate mayo
What meal reminds you of your childhood?
Apple Dumplings remind me of Christmas at my grandmothers house.
Hot dogs cooked over the camp fire remind me of spring breaks growing up.
Dinosaur chicken tenders remind me of eating at the kitchen table as a kid watching "Where in the world is Carmen San Diego"
Oatmeal reminds me of Sunday mornings at grandmas as everyone ran around getting ready to go to church.
Share one of your favorite recipes and the story behind it.
Hobo Pies (or flying saucers as we called them as kids)
What you need:
A camp fire
A hobo pie maker (a sandwich maker on the end of a sick)
White bread (2 slices per pie)
Butter
For Pizza Pie:
Pizza sauce
Cheese
Pizza toppings you pick
Apple Pie:
Apple pie filler
How to make:
Butter one size of the bread.
Put the bread butter side down into the hobo pie maker
Put fillings into the hobo pie maker
Close up
Set in camp fire for a few minutes
Take out before it burns
Let it cool
Enjoy
When we were little we use to love making these whenever we went camping, and it is a food I will always love and I will always be taken back to my childhood sitting around a camp fire with my grandparents making these.
Hope everyone has a great Monday!