Happy Sunday! We only have a few hours left of the weekend!!
I won't lie I am slacking just a little this morning on this post with crappy answers and a lot of photos of me from HS to fill the space. I don't have any photos of me on my computer from middle school because well I don't think we had a digital camera back then.....so I don't think there are any from Middle School on a camera anywhere around here!
But anyways today I am link up for another week of Sunday Social
.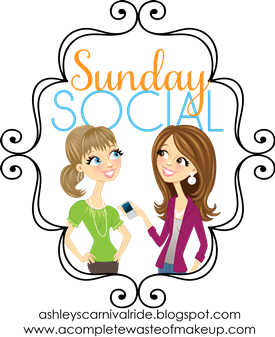 1. What were you like in Middle School/HS?(pictures)
Let's see I was pretty much the same in both middle school and high school.
I was:
athletic, always playing soccer year around either club soccer or for the varsity soccer team in high school.
I was:
Pretty blond.
I was:
In to school spirit. That was me one day during spirit week. My high school prides itself on being farmer, going mud slinging, and just being a little bit country.
I was:
Interested in the medical field.
I was:
Best friends with this girl...and did I mention blond?
And we can't forget my other bff
I was:
The driver of a pick up truck.
I was:
A member of this amazing family, and don't worry I still am. Just thought we needed a family photo.
2. What were your favorite past times?
Is it bad that it feels like forever ago and I can't really just recall?
-Soccer (mainly because it took up all of my time)
-Camping every spring break with my grandparents
-Summer beach trip with my family
-Sitting out in the back of the truck talking before/after class
-Going to the technical school that linked up with our high school to learn random skills I have never put to use
-Going to the skating rink in 9th grade
-Sleep overs at Ashely's & getting rides home in a Trooper car (Ashely's dad was a State Trooper)
3. What songs were you obsessed with?
I loved country, and pop in middle school and then in high school more so pop and rap. I don't know if there were any songs I was obsessed with I just always loved to have the radio on.
4. What fashion statement do you look back on and cringe?
Please just take a moment to look back at some of my high school photos....I can't be the only one that looks at that blond hair and thinks "really?" and the center part that I had going on.
5. Who was your celeb crush?
I have never been one to have celeb crushes.
6. What were your favorite TV shows/movies?
Really soccer kind of killed it for me....in middle school I loved Buffy though and use to tape it on my VCR and watch it after practice and homework.
And let's not forget:
Friends
Gilmore Girls
CSI
Veronica Mars
Movies I would have to say that I pretty much just loved anything whit Adam Sandler in it (he really is losing his touch these days, but I mean like Happy Gilmore, Billy Madison, etc). I would have to say that I loved Scary Movie 1-3 in High School. Really I won't lie I don't have the best movie taste!
Ok and that is that. Yes I have 2 different fonts going on and no I am not going to fix it.....I like things to be a little different!
Now off to chruch, family lunch with Ryan and then family dinner with my family.
Have a good Sunday!