Hey Y'all it is Thursday!! I know I can't be the only one excited about this, or kind of sad at the same time because it feels like summer is slipping away way to fast...I haven't even gotten a tan yet! Darn it "Adult world" with your crazy hours, and inside desk job! And yes I know there is Saturday and Sunday but it has been just a little hot here in SC.
Anyways enough babble I am link up again
Raven
for "Inspire Me: Healthy".
So it is Thursday and I feel like I am exactly where I was last week....sadly maybe even behind where I was last week at this time. I can't be too upset about that because I didn't put in the work to see any real change. I mean yea I put in
some
work but not real work, not sweat dripping, can't walk or do one more rep work....just enough to be able to say I did something. So next week has got to go better because I can't keep being so ON and then ENN because I always slip back to OFF and that is not good in any way shape or form unless I the shape I want to be is a ball.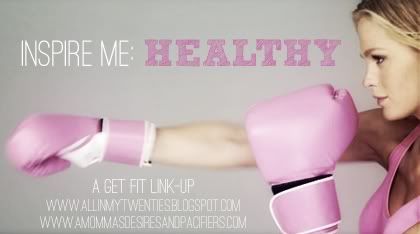 So I did a good bit of what I did last week, which (was a whole lot of nothing but you already read that up above) was to "workout" really good on Monday, some on Tuesday, and none on Wednesday. I
hope
that unlike last week I keep it up though Friday, Saturday, Sunday and so on. I need to keep telling myself that
even a little bit of something is more than nothing.
HOPE
is such a bad word to use because there is nothing to HOPE for, it's not like I am hoping to get a job, or to get asked out on a date, it is either do or don't....it's working out not rocket science.
So just to share:
My Stats:
Starting Weight (New Years) : 150
Today's Weight: 142
Lost: 8
Same as last week....nope I am not shocked at all by that sadly.
So yea I don't have much to share but don't worry I have plans and goals for next week's post! If not to share amazingly good news then to at least share somethings I have learned form different things I have been reading.
Anyways a few weeks ago I made a "2 Lose" and a "Lost" jar to keep track of what I want to lose and what I have already lost. I am one of those people who likes to see things, and well you can't always see when you lose a pound but you can see it if you move one of the fuzzy balls from one jar to the next. If only I was losing them faster....then it would be more fun! Right now now to much fun.
Ok well I guess that is that for this week. Sorry maybe next weeks will be full of more hype, excitement, and great news!
Have a good Thursday!
Oh and before I skip of to work:
This is my motto for next week!