I must of written this post at least 10 different times and always a different way and have still yet to settle on which one I liked best; however the fact that I am now 2 weeks out and I only seemed to be getting more swamped with everything else in life I have decided to just do it.
What is Singapore? I sadly had not idea as I packed my bags and got ready for this adventure. Our boss had told us very little about the trip and what we were to expect. Both Ryan and I could easily recall the boy who was cained in 1994 for theft and vandalism in the street, and we had also seen something on the Travel Channel about a breakfast with the animals you can do at the Singapore Zoo. Ryan had also done some research on the laws to make sure we wouldn't be getting arrest for gum or littering.
Thursday night we had somewhat of a parents night. I got the chance to talk to Bella Teacher who had lived in Singapore for 2 years and got some pretty good information from her on things to see and what to expect. Ryan and I left the school to catch the 9:15 airport bus only to find out that we had been misinformed (that happens a lot with miss communication) and missed that bus but that we could take the highway bus to the Inchion bus terminal, not a great way to get there but it got us within taxi distance. It was the last bus so it was packed we ended up having to sit on the floor, meaning a wet butt from all the water on the floor that would rush forward when ever the bus driver would stop or slow down. Once there all the taxi drivers drivers saw white people and instantly thought of $$, it was like you could see it in their eyes as the quoted out crazy prices for the distance we needed to go and refused to use their meters. After a 37 kilometer taxi ride, and augment with the taxi driver because he changed his price and a short walk and we finally at the hotel. During this whole event the girls were texting me like crazy wanting to know where I was and why I was not with them (barfing in the back of my bosses car). Ahh 11 and finally time for bed!
Friday I popped out of bed nice and early to shower, pack up and head down to meet our boss in the parking lot at 6:40. Once we checked everyone in at the airport (easier said than done) we headed off to find breakfast. The girls were so nicely informing me every so minutes or so that they were hungry, I guess they think because I am a teacher I am old and forget things. Once everyone was fed they headed off to shop, play a game with a huge dice (only Easter won a prize) and then get extremely nasty looks as we boarded the plane on the last call. I always hated those people, but I now also hated being one of those people even more.
Singapore airlines was great. The flight was a little over 6 hours, we left Seoul at 9 and got there at 2:30. Singapore is one hour behind Korea. They had great TV shows and movies to choose from, I got to enjoy "Two And A Half Men", "The Simpson's", "Say Yes to The Dress" and a few others that I don't get to enjoy in Korea. The food was nasty (I have ever yet to have good airplane food though) but they made up for it with little baby ice creams.
We landed at 2:30 and quickly made it through customs and immigration. Yet another reason Singapore is amazing is because they give out candy at immigration, it's like a thanks for coming to our country snack! Once everyone had their bags we made our way out of the airport slowly but surely with only a few stops here and there. One of the stops being at an area the airport had set up with a bunch of different wood carvings that you could trace over of landmarks and different things.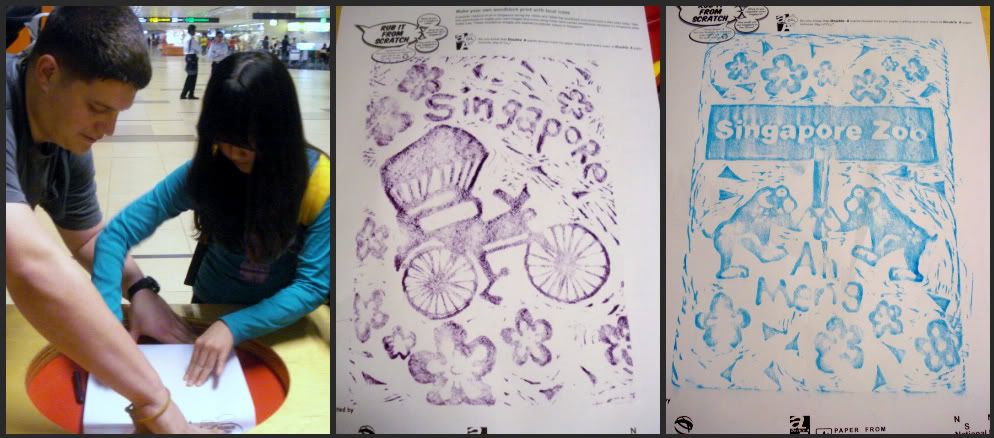 Ryan helping Jodie with hers and then our pictures.
 We rode the bus for about an hour before we got out and into taxi's. At this point it was quickly becoming clear to Ryan and I that our boss (who had told us she had been to Singapore many times) had no clue where we were going, how to get their, and her English was slipping. We finally arrived at Royal Hotel about 5:30, checked in and planned to meet up for dinner at 6:30. We had a short planning meeting for the trip where all that was established was that:
1) We were having Thia food for dinner
2) Our boss had not planed anything out as of what to do or see
3) We were going to be as cheap as we could, meaning anything to expensive was out.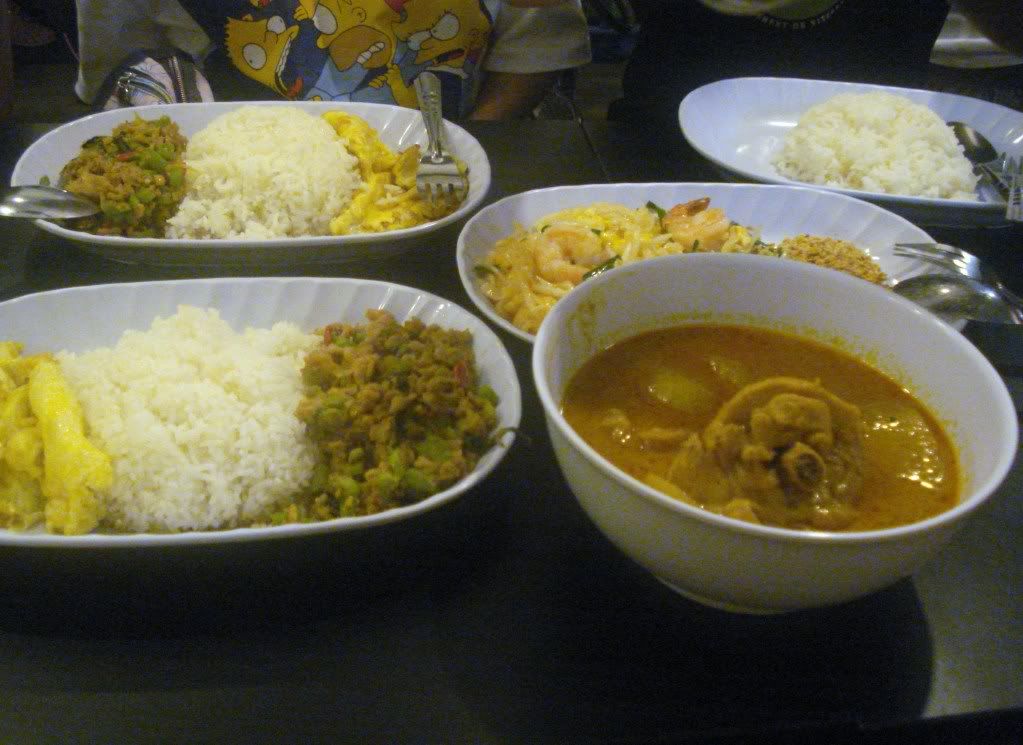 All I really have to say about the rest of the night was that the Thai food was amazing (and only 5 Singapore dollars so about 3 US), they have super cute cheap shoes and the fit my feet, close there fit, people are all sizes, races, and nationalities, people don't stair, and are all so polite. We called it a night about 11:00 and crashed out the best we could. Sadly I now think Ryan can sleep anywhere however I do not have that amazing ability and well the hotel was just a little bit on the nasty side.
Some photos from Friday: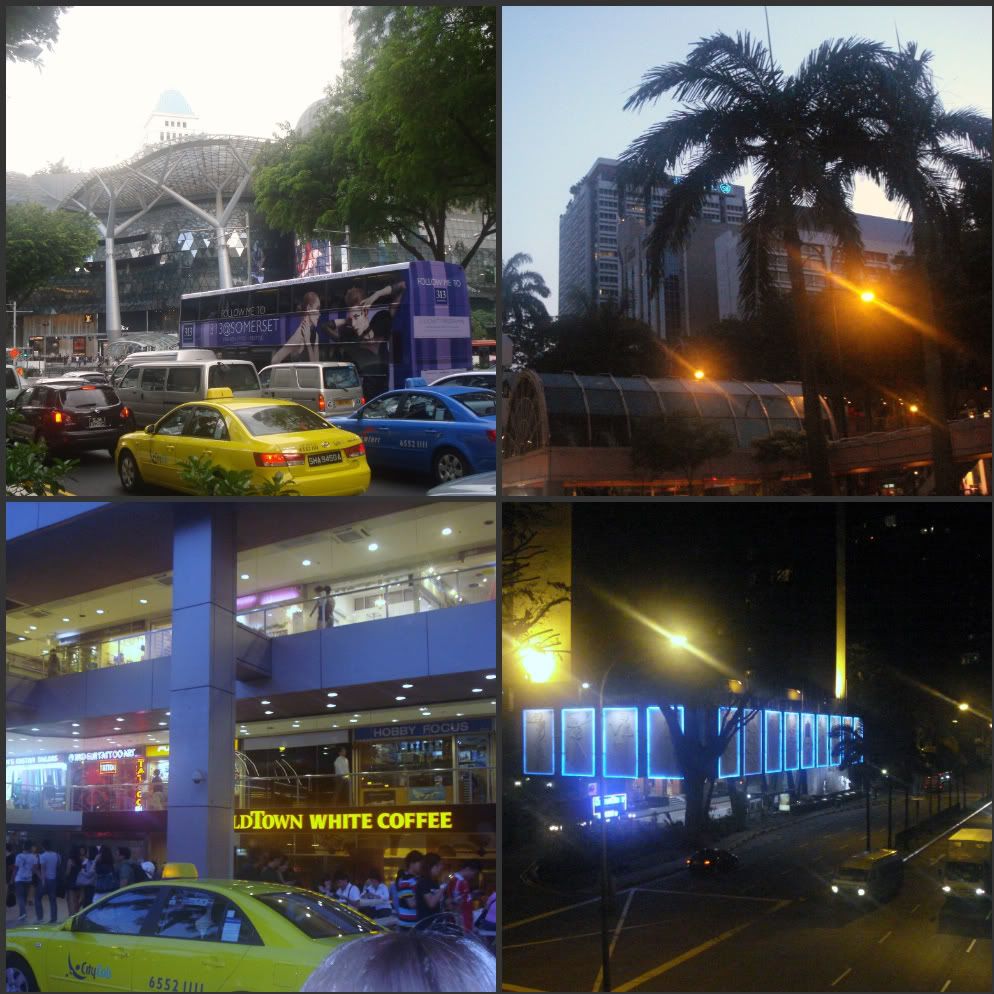 Random photos. I was just so happy to see palm trees. The one on the bottom right is our hotel.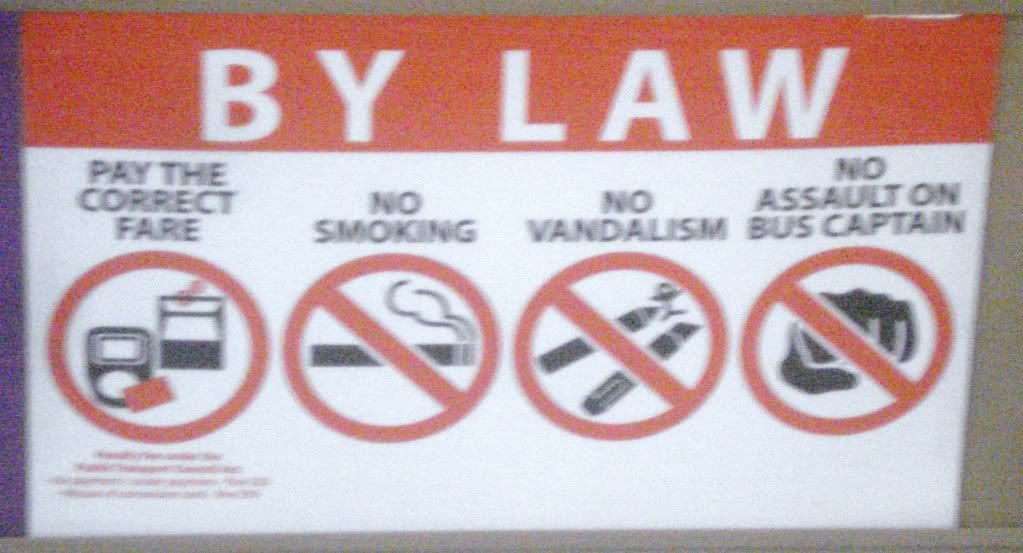 The whole "No Assault On The Bus Caption" part really made me giggle.
And because I am not a blog overachiever I am going to hold off on the rest of the weekend now and get post up of Saturday and Sunday shortly, maybe even in the next few hours!
Hope everyone is having a great Easter and weekend.