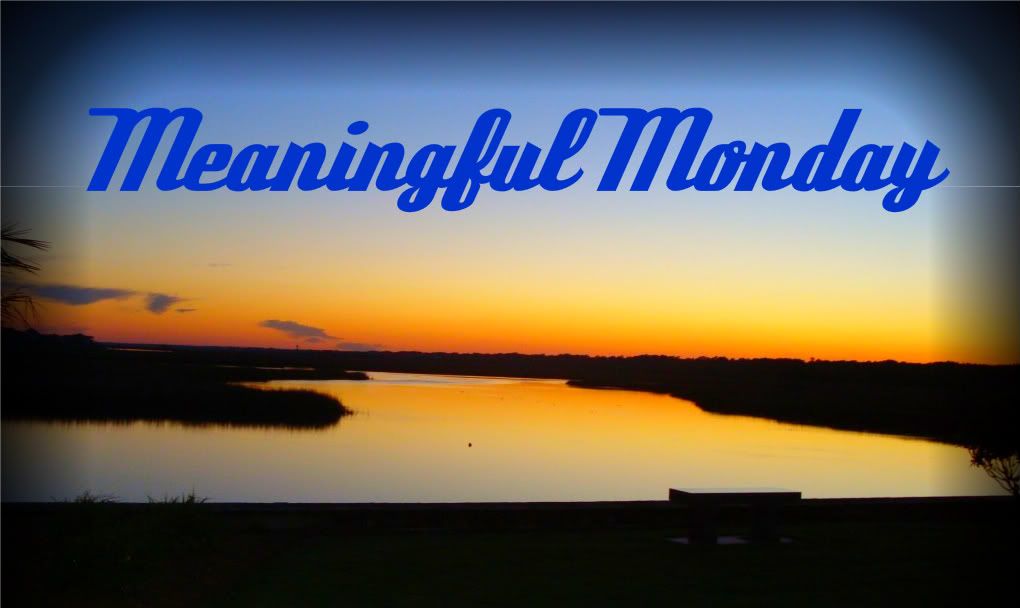 It is that time again, the time where I often ask myself where did my weekend go and how did I get in this pickle of being behind on everything in life once again?
Before I start my Meaningful Monday I guess I should do a short weekend recap, it wasn't a barrel of monkey or anything but it was a good one that I quite enjoyed.
For starters even thought it was too short and much too fast it was still a great weekend. We had a quite night on Friday where we enjoyed fajitas and each read for a few hours before bed. Saturday was a more eventful day as Ryan and I had to head up to Seoul to see Dr. Kim our eye doctor. We are both still doing great with about 20-15 vision and now do not have to return until September 3th. We then headed over to Itaewon to get some Mexican at Ponchos. After Ponchos I wanted to go in to the Hamilton Shopping Center (for what reason I still have no clue) and as always saw the same woman I have bought things from before and as always enjoyed watching her do her sales thing and sadly ended up buying something. Some how that always happens so now I sadly am swearing off the Hamilton Shopping Center! Once finished in Itaewon we jumped to Seoul Station to catch the KTX down to Daejeon for our last trip to Costco for the contract. Costco was a quick in and out trip because some how our tickets for 6:30 got messed up and we now had to be on the 6:02 train if we wanted seats (we didn't get there till 5:10) so it was a world wind of madness. We picked up some more chicken (some days I am shocked we don't lay eggs and cluck with all the chicken we eat), cheese, random other things we needed. Also picked up some Jelly Bellyies because I thought I LOVED them, then got on the train cracked open my HUGE jar of them only to find out that I only like maybe 20 or so of the crazy 45 flavors that they have. We got back to the apartment about 8:00 and chatted with my parents before having a few drinks, watching the new Red Riding Hood and crashing out.
Red Riding Hood was not a bad movie nor was it really a good movie. I enjoyed it but am happy that I didn't pay to see it in the movie theater. I mainly wanted to watch it because I love the main character, Amanda Seyfried. She did a good job it is just the store was kind of the same old same old, however did have a good twist at the end. It made for some good Saturday night vegging.
We spent Sunday working on packing, and making lesson plans for the next few weeks. I really missed my family and wish I could of been home to enjoy Easter with them. We tried to have some what of an Easter dinner. I made turkey burgers with brown gravy and Ryan made macaroni and cheese. Yet again I always have to thank mom for always making sure that we have things like gravy and sending us care packages. As I have said many times I cannot wait to get home to see my family and spend some time with them on the back deck enjoying some summer afternoons, some good home cooking, and just some of the Bartholomew fun.
So lets see outside of the weekend and the good news of my great eye sight what news can I tell you about or what odd things are just making me happy this week?
1) I woke up this morning extremely happy (quite odd for a Monday) and managed to stay, well pretty happy throughout the whole day. Kids were crazy and our fridge (which is now fully stocked after the weekend) is broken again but yet I am just, I don't know peppy!
2) Our recruiter for next year is working on finding us jobs and is on the same page for waiting us to be signed on for a new job before we leave in June. Being signed before we leave means we don't have to fill out nearly half as much paper work or file for all kinds of back ground checks and visas like we had to last year. Not only that but signing before hand would also just make our trip home that much more enjoyable and less stressful.
3) We are slowly packing up and things seem to be coming together around the apartment. Moving will be a pain and lord only know what our apartment will be like next year. I remember how much I hated the one we have lived in the past year but a few bucks for wallpaper, a little dumpster diving (or well donation surfing) and it now is home, and a place I have learned to love.
4) I have managed to get 3 weeks of art projects together and ready for kindergarten.
5) I finally gave in and downloaded Water For Elephants and cannot wait to read it. I am just waiting for Ryan to finish the book he is reading on the Kindle (and I am still giddy with joy that he now enjoys reading so I don't mind sharing).
6) This week is the last week in April! I think time might feel like it is going slower than it did my last month of college.
7) Last night I got Ryan to eat one of my many Jelly Belly. I stopped him before he could just put a whole handful in his mouth and made him eat them one at a time. I won't lie we are both a little bit interested in how in the world they get the flavors so dead on. I mean I could eat the cappuccino ones and feel like I just drank a cup of coffee. So how do they do it? Oh yea and the good part of this is that now I have someone to talk Jelly Belly with. Also how in the world can some flavors be so yummy and some so nasty, and not just nasty nasty but really NASTY! I also wish instead of writing Jelly Belly on each one that they would put the flavor instead. I know they give you a chart but really a lot of them look really close in color and what not. Anyways, moving on from jelly beans.
8) I got to watch Gone With The Wind this weekend. Thanks to Korea and their love of playing things back to back I got to watch it over 3 different nights and I think I got most of it.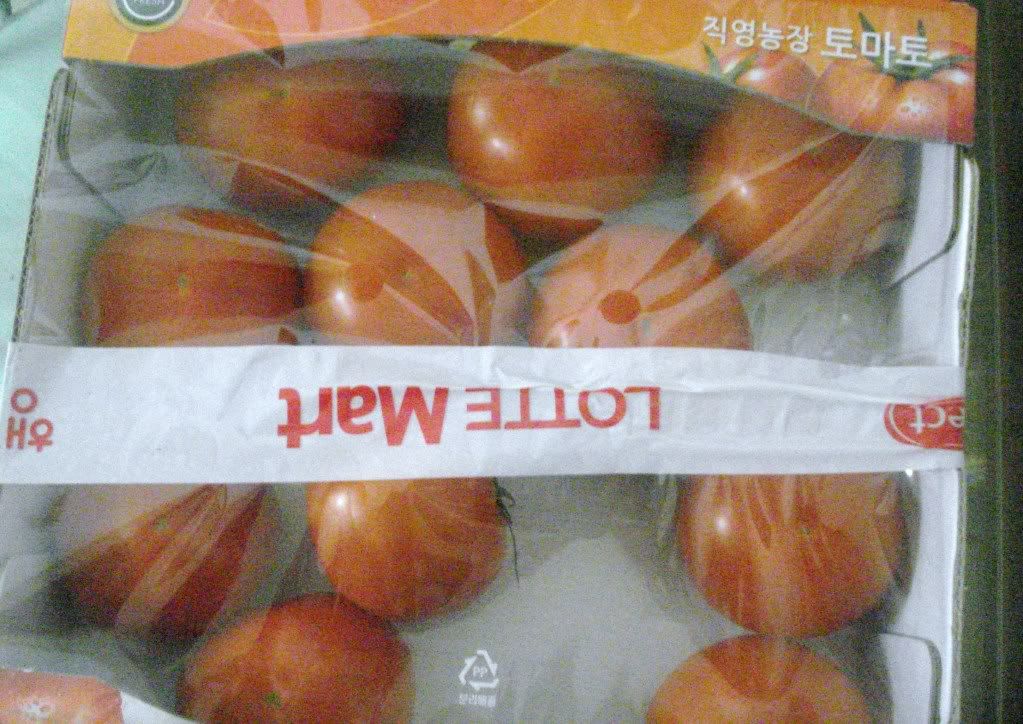 9) One of my students really enjoys both Ryan, I and his homeroom teacher Jasmine so his mom brought all the teachers boxes of tomatoes. Strange I know but I love tomatoes so this was just perfect for me. I have already eaten one of them and another one has my name on it to go alone with my egg and toast in the morning.
10) Spring has finally seemed to have sprung. Flowers are out, the trees are blooming and we can leave the windows open for a few hours everyday. Now if only we could get the crazy wind to stop that makes walking to work seem like I am walking in molasses. Anyways here are a few photos of our spring, I cannot wait to find some free daylight hours to wonder around and get some more.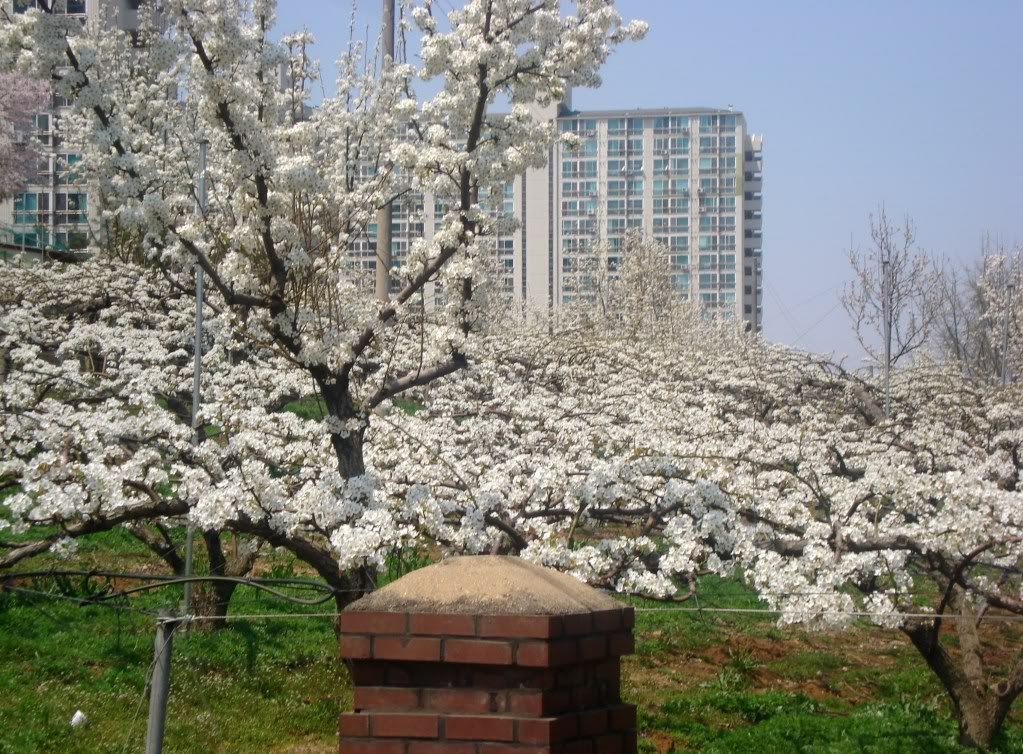 The trees right out our apartment window.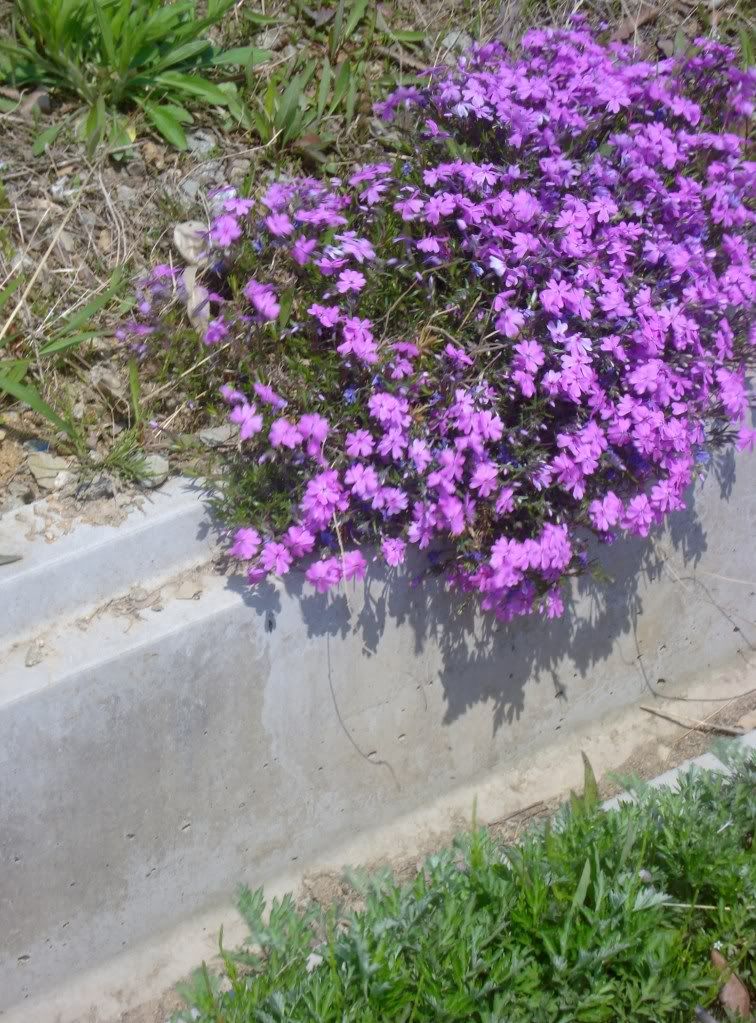 I think these are weeds but they still made me smile.

I have been watching these bloom slowly over the last week. I cannot wait till they are fully out.
 11) I am alive, I have a job, I have a family that loves me, and I have a sweet boyfriend who listens to me complain left and right all day long about my life, which really could be a whole lot worse!
I could go on and on because I am in a good and very random mood but I will end this and call it a night.
Hope everyone is having a great week and had a great weekend!