Other wise known as Saturday
Saturday we met up in the lobby at 8:30 to start our day. Well, wait Ryan, I an our boss met up in the lobby, 30 minutes or so later I gave up on my bosses theory that the girls would be along shortly and went up to get them. They were chilling out eating chips, watching T.V. and claimed that they we were all still sleeping in our rooms because we didn't answer when they knocked.
Ryan and I had really yet to hear about what the plains were for the day as we headed off on the bus to find China Town and some famous toast restaurant. Once in China Town our boss sent the girls off (two 13 year old girls and one 15 year old girl) on their own to try to see if they could find the toast restaurant. After lots of asking and being told we were in the wrong China Town, and random directions Ryan finally got us there. Some how the girls had found it 5 minutes or so before we had, my guess is that they went the way people told them too and well they didn't have our boss following along texting and asking everyone in her own broken English how to get there. Once there Ryan and I were a little shocked.

After breakfast we wondered around China town for a few hours. Ryan and I wondered and picked up a few things here and there, he found some shirts he liked and I picked up some wine coozie. We found a Hindu Temple and enjoyed looking around and taking photos (it was free to get in but 3$ for the camera, and well I can understand that). We also found a Subway and got to enjoy a sandwich and fudge brownie, yummy before heading back to meet up with the group to head off towards Sentosa.
Here are some photos of China Town and the temple.
How they dry their clothes in Singapore.
I would worry my underwear would always be on the ground.

After doing tons of group photos (none of which I have, the boss has them and I am not too sure if I will ever get them) we moved on to head to the aquarium. Ryan and I bought our tickets and then learned that our boss was just going to get the girl tickets and she was going to hang out on the beach. Ryan and I headed towards the aquarium and looked into the windows only to look at each other and say "You want to go to the beach?" and head back to return our tickets. They were not to happy we wanted to return our tickets but well because they are mostly a tourist country wanted to make us happy and gave us our money back. With 60 Singapore dollars now in hand we headed to the beach to find a beach bar, grabbed a bucket of beers, ordered a pizza, sat back and enjoyed the beach. Our great time sadly lasted about an hour till all the sudden we heard "Megan Teacher! Megan Teacher! We looked all over for you! Why are you on the beach? Oh is that pizza?" from all of the girls and all at once. Ryan and I both looked at our watches and told the girls that they still had an hour until we were supposed to meet up 6:45. They got board with the aquarium and wanted to hang out with us....umm please no....go check out the beach.
Here are some photos of the beach:
And then the storm rolled in and it was time to move on.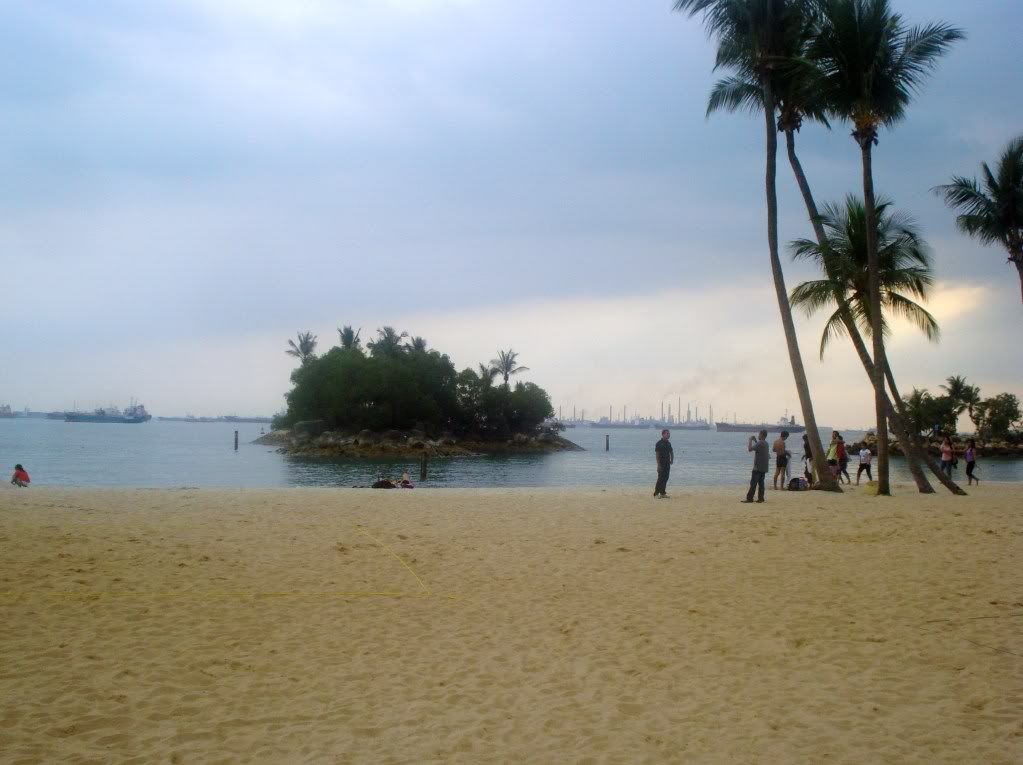 One last look at the view before trying to get the group to pack up and move on out.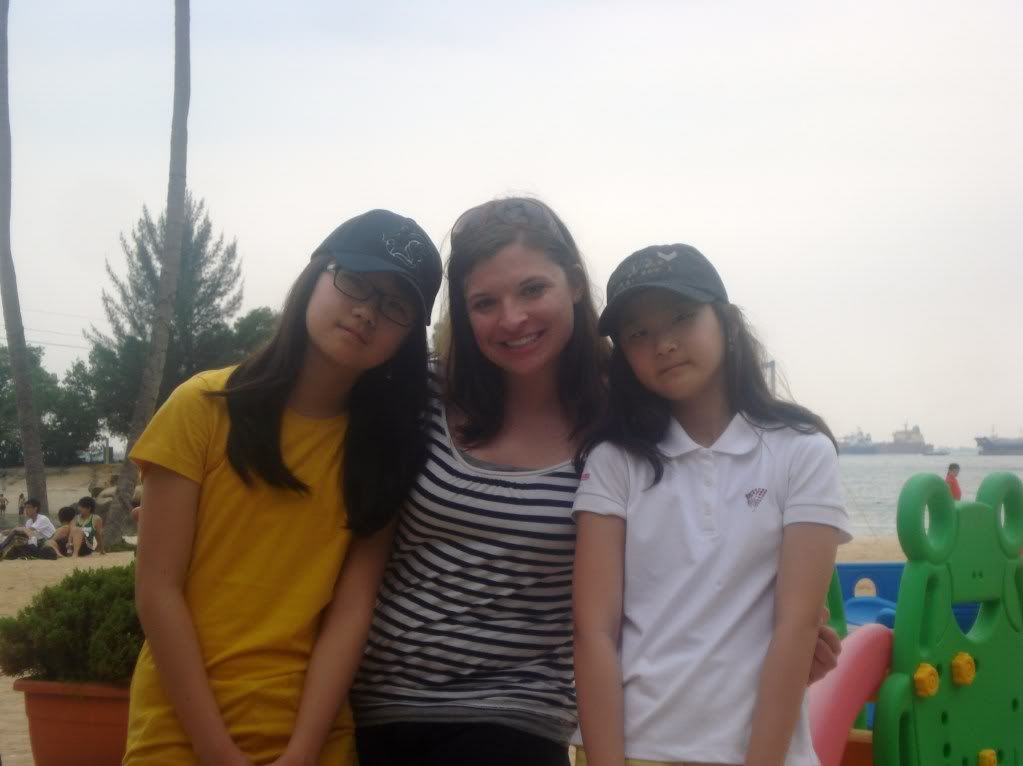 Photo with my two favorite girls.
Happy with drinks!
 Back at the start of Sentosa.

We split from the girls and our boss at this point and made our way back to the hotel to grab some sleep before the early mornings Sunday.
Last few photos before I call it quits for this blog.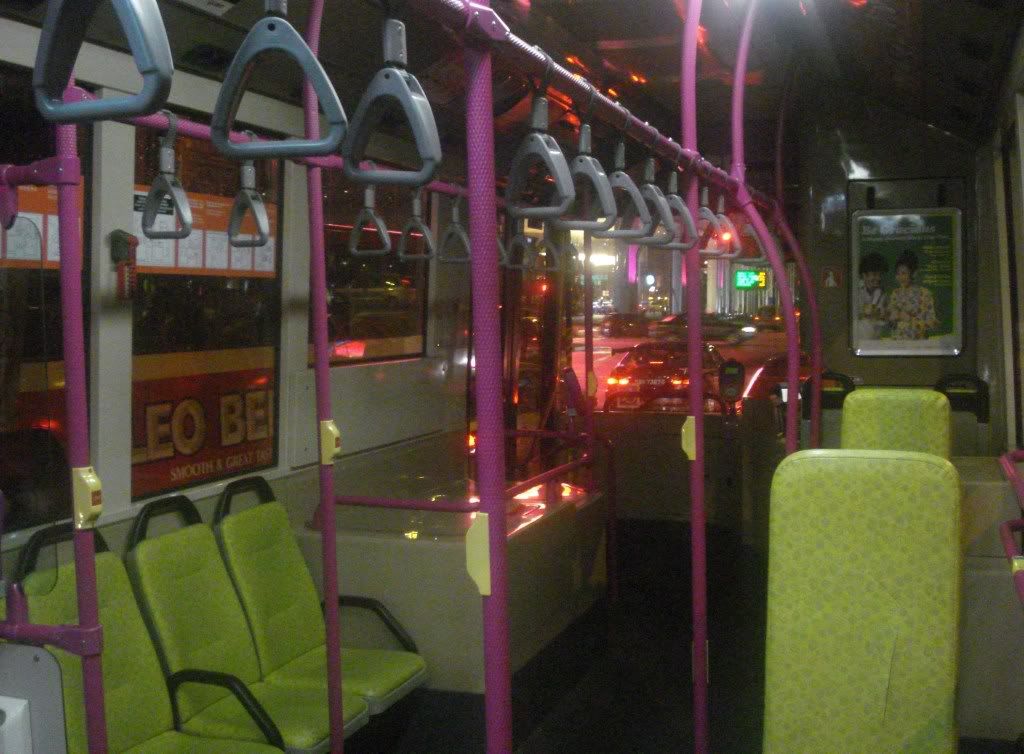 The oh so very nice of Singapore. Unlike the buses here they stop at the stops and don't just slow down for you to jump on or off.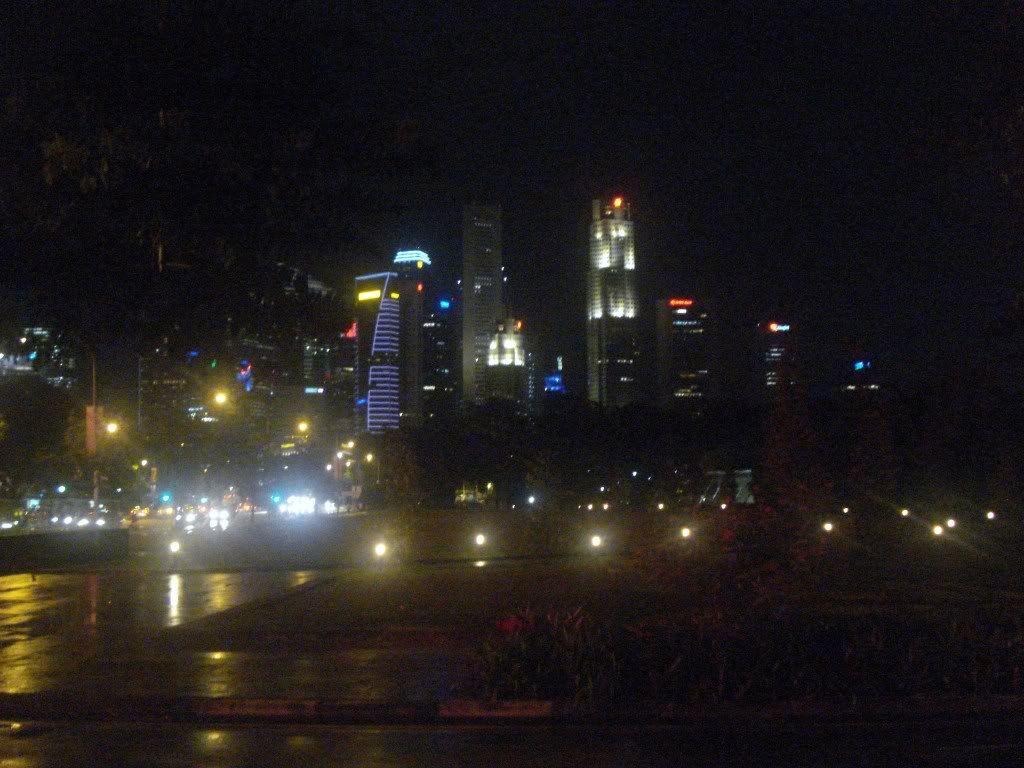 Just a little bit of Singapore Sky Line.
And that is that. The last Singapore blog should be about the zoo, maybe my favorite place ever...well at least in Singapore!
Hope everyone is doing great!