Hey check it out it is only the 2nd of May and I am posting my April New Year's Goals/Resolution update! If you are knew here you are probably thinking oh so what but no really these normally don't come until at least half way though the next month. Now if only I could finish some of the blog drafts from adventures in Korea that are just floating out there....anyways on to how I am doing with my goals.
Quick reminder (mainly for myself) of my goals:
Let's use some colors to make this fun (yet again mainly for myself, I also love colored highlighters). Green for doing good, blue for working on it, and red really need to get on that.
1. Read! 36 books of any kind I like. At least 1 book a month that is nonfiction.
So far this year I have only read 3 books and none of them have been nonfiction. I feel like this is a major fail right about now.
2. Have at least 2 successful camping trips and get outside more! Travel more over all and take advantage of the mountains I live right at the foot hills of.
Ryan and I have yet to go on a camping trip this year however we did go hiking once already. You can read about that trip here. We are working on planning out a mountain weekend, a few more hiking trips, and a camping trip or two.
3. Get into a workout routine and keep it.
Sadly when it comes to this I get on the wagon, off the wagon, back on the wagon, and then on the wagon again. Currently I am back on the wagon and as far this week has been going. It feels good again and I hope to stay on it...I guess I shouldn't say hope I either will or I wont and it is only up to me. So check back in next month and see how that is going for me.
4. Find a job that: A) Allows me to move out and be independent B) I like C) Can help me build towards a long term career.
Well I have found a full time job and I will reach my 90 day mark this month! I have been able to leave the mall and learning skills that I hope can help take me to a career. It is not my dream job but it is a job and I know these days that is a lot to be thankful for. I am also still living at home, but I have amazing parents who are happy to have me, and are helping me learn to be somewhat independent. Sometimes that is one of the things I miss most about Korea is being independent and having my own place.
5. Blog at least once a week.
I can say that this one I do! I blog at least once a week, and most weeks it is my "Hey, It's Okay Tuesday" post but it is something. Sadly I am not blogging about life and keeping up with everything like I originally started this blog to do but I am trying to get back there again. I just sometimes feel like things that are happening in my life are not important but I would still rather sit down and write about it just in case I ever do want to look back at this point in my life.
6. To take my vitamins every day to use lotions and take better care of my skin.
Well the vitamin part is not going well, but I have been using lotion every day!
7. To not be so lazy when it comes to my appearance.
At the end of this I have
8. Keep my life a little more organized and work on finishing some of the many craft projects, and scrap books I have already started.
I am trying hard to be more organized, but I know if I try really hard I can be organized. I also really need to finish some of the many projects I have started....maybe like Ryan's birthday gift...from over a month ago. Why do DIY projects take so long? Everyone else on the Internet makes it look so simple.
9. Play more board games!
I may of put this on my list before I found my full time job....and well now I don't seem to have a lot of free time for board games but that doesn't mean that I don't hope to play some still.
10. Go visit Chris in Germany!
Mom and dad are going soon, but I have to work and well international travel is expensive....but if he ends up back over there for a long time I'll be finding a way to visit.
11. Start a Bucket List!
Ok I started a list....and now I can't find it. Wow and I just tried to claim I was somewhat organized....I might need to take that back.
12. Take tons to photos, make tons of memories, and make sure to document them in some way shape or form so when I am old and gray I can look back and enjoy the story that is (or is it was?) my life.
I am making memories, and taking a few photos but not nearly what I should be. This one I really need to work on.....maybe it should be red?? But I like blue more...so I'll just leave it as it is I mean 9 and 10 are already both red.....
Ok so like I said I have been doing a good job (or so I think) of trying to be a little less lazy when it comes to my everyday appearance so here is a photo dump of what I wore last month.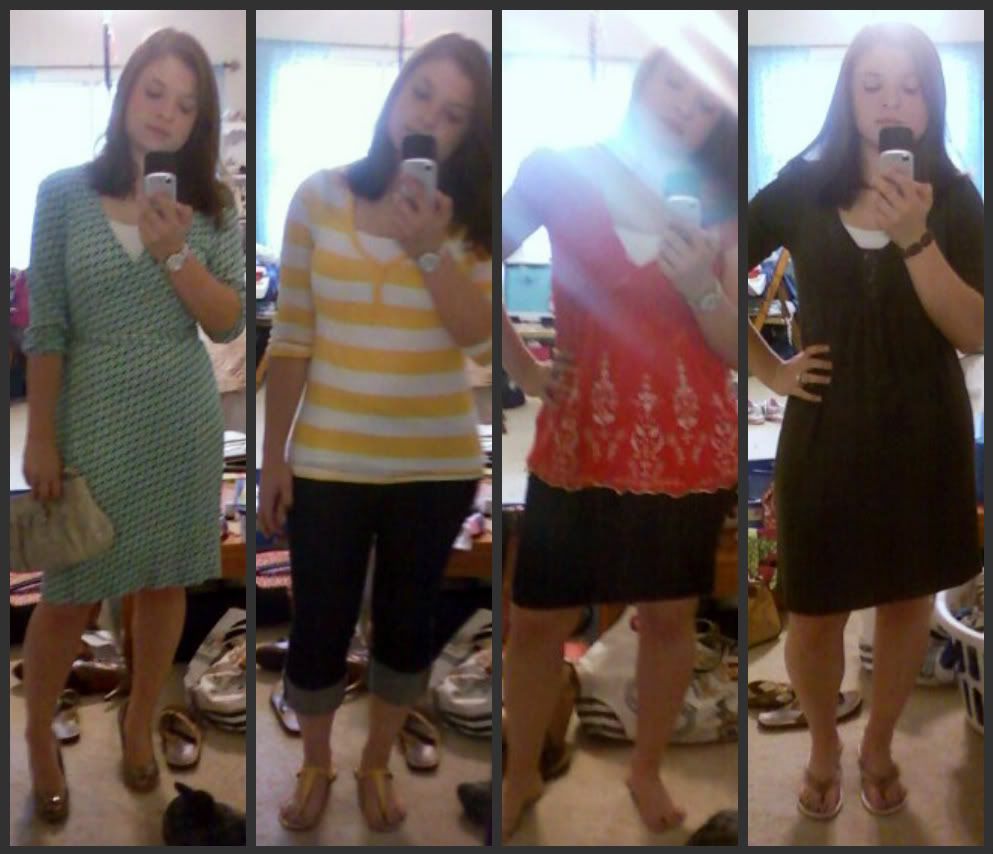 April 1st- Church
April 1st (part 2)-Lunch with Ryan and his parents
April 2nd- Work
April 3rd Work
The last 2 outfits I found when cleaning out my closet the weekend before and was iffy on them until I wore them to work and got all kinds of compliments. Hum I guess things really do come back in style after a few years....
April 4th -Work
April 5th - Work
April 6th - Work
April 7th- Early Easter lunch with Ryan's grandma and then a mountain dinner date
Sorry about the sunlight.....it seems to really mess with some of my photos.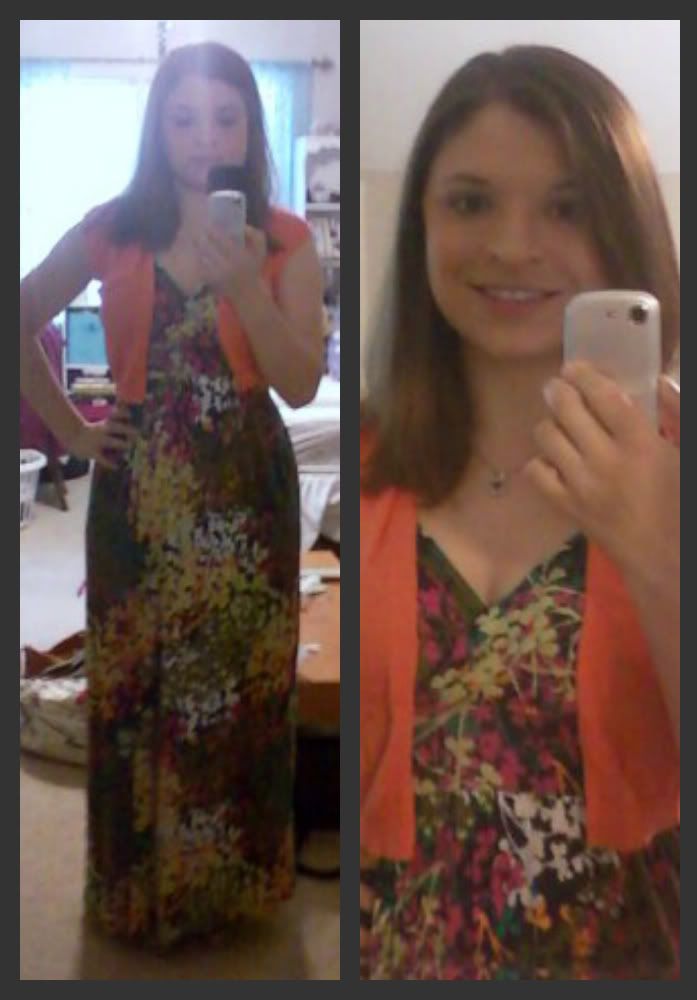 April 7th - Church for Easter
Sorry not sure why that is so big...I tried to make it smaller but Blogger and I are not agreeing.
April 9th - Work
April 10th -Work
April 11-Work and then Mexican Dinner Date with Ryan
April 12- Work
And then this is where Photobucket changed the layout and took away the collage feature...so yea that is why the next few look a little wonky.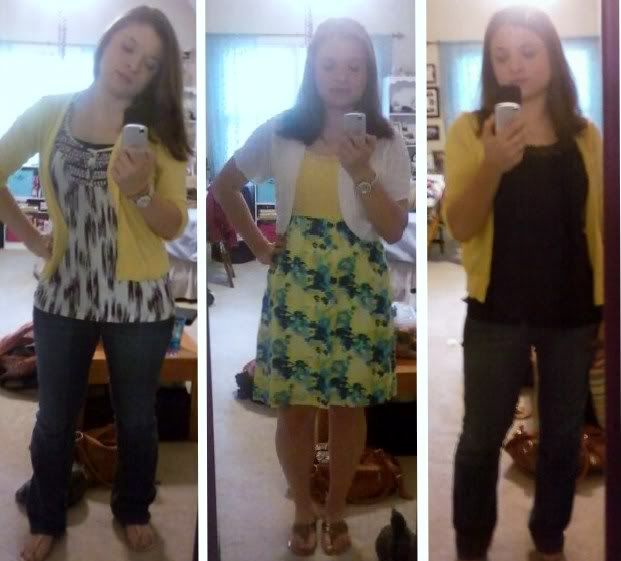 April 14th- Outlet day with Mom
April 15th- Church
April 15th - Fundraiser with Ryan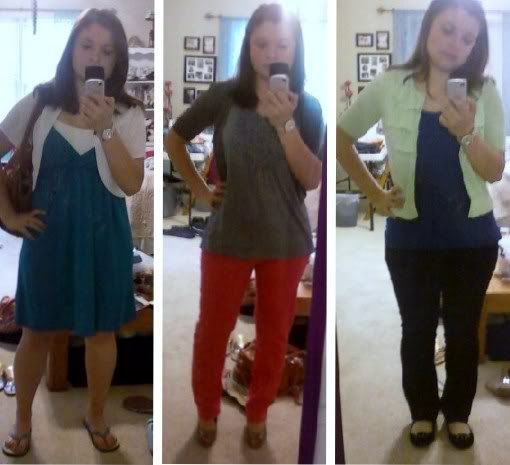 April 16th- Work
April 17th - Work
April 18th- Work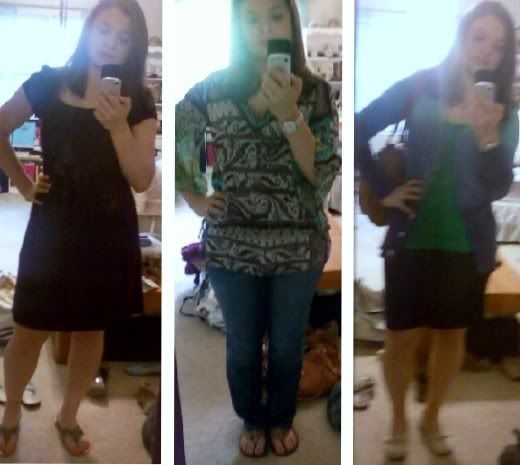 April 19th- Work...this is a purple dress now brown...
April 20th - work, casual Friday
April 23rd - work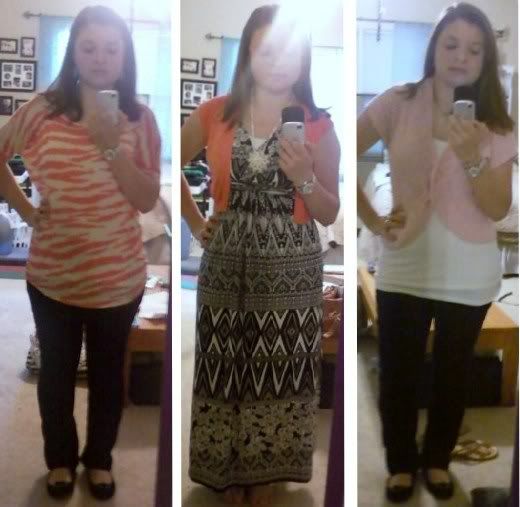 April 23rd - Work, this shirt is growing on me
April 24th - work, I am so happy to find out that I can wear maxi dresses in petite and not trip over them.
April 25th - work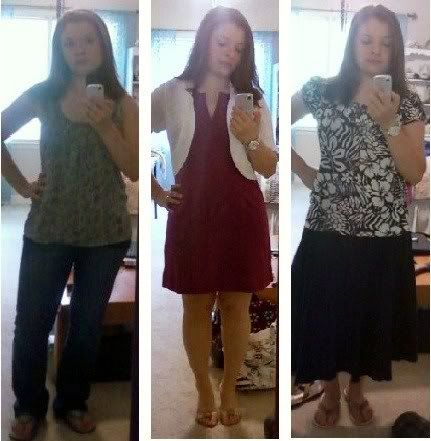 April 28th - Lunch with mom and dad at Lake Lure
April 29th - Church
April 30th - work...not to sure how I feel about this one.
Ok and well that is that....or so I hope and think. I also hope this isn't full of mistakes. These always get long and well there are always a ton of photos. And yes I know I stand odd in photos.
Hope you are keeping all your goals and resolutions!
To see my original New Year's post you can see them
here.