Was amazing!
The amazingness really started on Friday when I had just gotten off a call that felt like it would never end only to find out Angie needed me down at the counter. I was a little nervous as I made my way down to see what she needed, trying to figure out if I messed up an order or what was going on.
When I got down there my boss, her boss, and Angie were all standing there watching me as I first saw this. Ryan had placed an order earlier in the week and then taken a long lunch to swing in pick it up and then drop it off for me at work.
Why? Well the card said it was because he wanted to make sure that I had an great Friday so that I was ready for our weekend trip to Stone Mountain. It also said it was just because "I love you".
I won't lie:
It was amazing
I ate it all (well shared one of those flowers with Sheryl and a few strawberries)
I may of cried a little bit because it was just so sweet
I smiled all day
Whenever someone would ask what he did I would just say I don't know...he loves me.
The rest of the day at work was just long, I just couldn't wait to get off, finish packing, and then head over to see Ryan.
Saturday morning I popped out of bed like a pop tart at 6:45 only to have Ryan tell me that it was not time to leave yet that I needed to go back to bed and just chill. We headed over to my house a little before 9 to pick up my brothers car, say good bye to my parents, grab a cooler with some drinks, and head out.
The drive from here is not bad, it takes a little under 3 hours. We stopped to get some Subway for lunch and checked in to the Stone Mountain Inn a little after 1.
Image from Google.
We then spent the afternoon doing nothing until about 5 and it was sooooo great! We got 2 day park passes but deiced that we would rather come back later in the fall/early winter to use the 2nd day pass rather than do 2 full days at the park back to back....there really isn't that much to see and do anyways. Next time we plain to do more of the hikes around the park.
After a lazy afternoon we headed to dinner at the Commons.
Where we enjoyed the warm spring weather, and some good food.
Fried green tomatoes with feta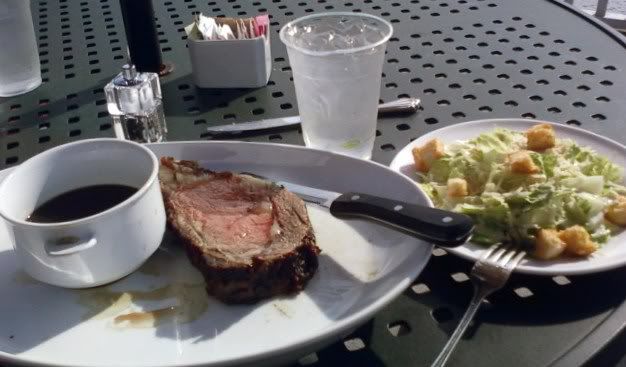 Ryan's prime rib and Cesar salad.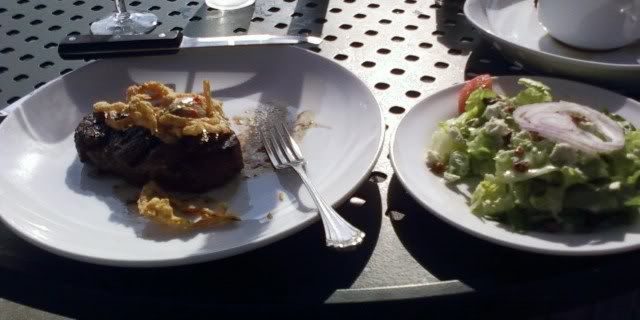 Steak with onions and a house salad.
This family of turtles came and joined us for dinner.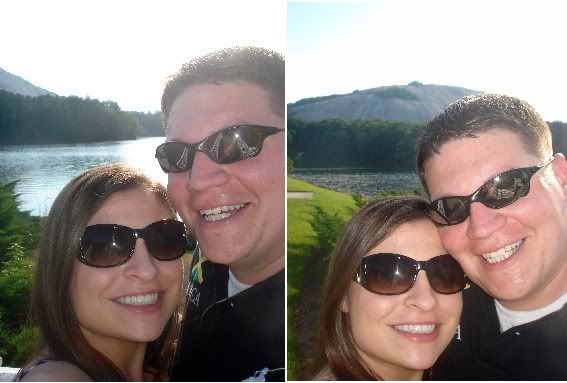 I have always loved this place. I have memories of this place with my grandparents and with Ryan.
After dinner we headed over to the park to get our tickets for the laser show. When we got there people were already setting up on the lawn at 6:30. The show didn't start until 9:30 so we were happy that we got tickets for reserved seating.
Our seats for the show. They were amazing however next time I might try to whole grass blanket thing....but then I have to get there at least 2 hours early to get a good seat...so...humm....I am still on the fence about that one.
Really can't you just tell that he loves when I want to take his picture?
And then you have me who loves to take pictures but can never figure out how to stand.
After we checked out our seats we headed back to our room to grab drinks on the balcony.
Ryan smoked a cigar as we played some Monopoly on the Kindle as we waited for the sun to set.
Around 9 we walked over to the park and make our way to our seats. When we got there we still had a little time to kill. Luckily for us this guy:
was sitting right in front of us and gave us a few minutes of entertainment as we laughed at his full Fu Manchu and the fact that he had his sun glasses on at 9:30 at night. I spent the next few minutes trying to figure out what setting I should use to take photos. Once the show started I tried to snap a few photos and ended up giving up and just snuggling up with Ryan to enjoy the rest of the show.
It was a lot of lasers but I was kind of shocked by how much computer animation they used. I did however love the fireworks, music, and pretty lights.
And then we went back to the hotel, ate some left over Subway and called it a night.
If you live in Georgia or are ever in the area you should check out the laser show. It is only $10 to park and to get in and sit on the grass is free. If you are like Ryan and I and don't want to get there early to get a spot on the ground you can buy a reserved seat for $10 that comes with unlimited popcorn ( I LOVE popcorn) and a soda (other wise they are 3.50...yea I know it must be gold soda).
Sorry but Sunday will be coming later this week. For now I am off to bed after a little Family Guy!
Happy Monday!