Hello! I have missed blogging but sometimes life just does not allow it however I want to try to at least keep up with a few of my main and well for this one favorite blogs. This is a Meaningful Monday but also somewhat if not mostly a weekend recap blog. I hope everyone had a great weekend and I ready for the week ahead.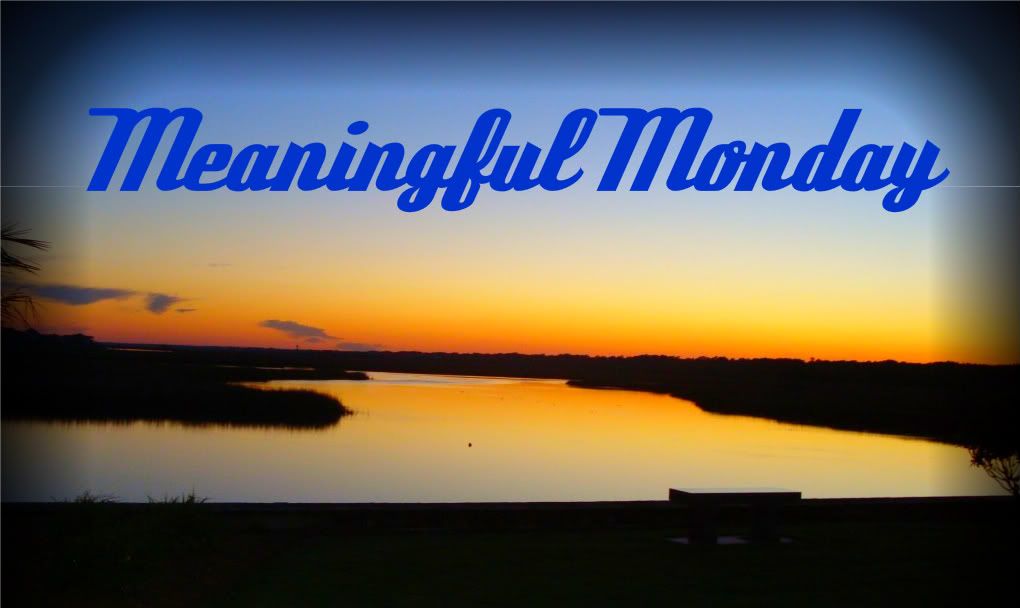 This weekend was both way to short and way to long at the same time, and for once I am not sure if I am happy it is over because then I just have one more weekend till I am home, or if I am sad it is over because I still have so much to do around the apartment and could use a few more hours of sleep. Either way it is over and I am getting ready to start my last week of teaching at my current job so I guess you would say that that is what I most meaningful this Monday, that my year is almost over and I will be home with my family for a few weeks soon.
I would have to say that we had a pretty good, successful, strange weekend. Now I don't know about you but the weekends that leave me left feeling like I have just been through the "Twilight Zone" and asking "What in the world just happened" are some of the best. The only bad part is it takes you a few days to get everything back to working order if you skimp to much on the sleep and over load your brain with random information. I know this for a fact because I have already forgotten quite a few things today like that I was cooking chicken for lunch. Yep wondered back in the kitchen 30 minutes later to find it nice and black and now I know I took it out of the pan but where it went after that I have no clue, same thing with the turkey burgers I was precooking so we could pack up the frying pan. There is also a coffee, and my sneakers missing somewhere in the apartment. I guess I should warn you in advance this may be one of the more flighty blog post and if I post it somehow unfinished sorry but that's just how things are going today.
We started off the weekend with dinner at one of our favorite places where you cook the food right on the table in front of you as we planed out the weekend.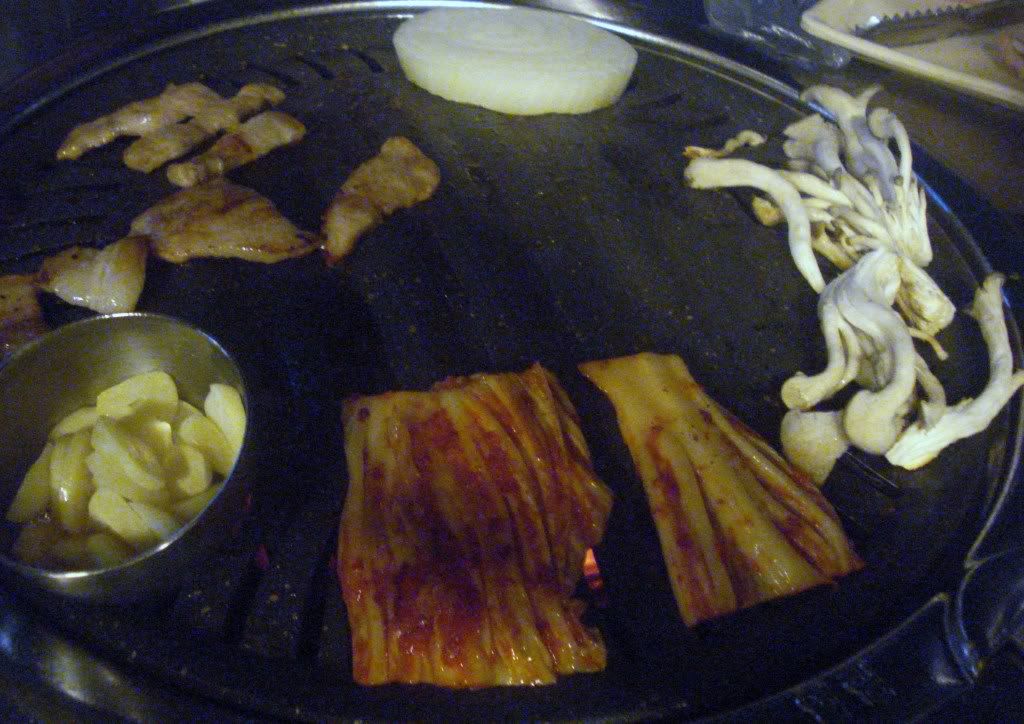 The plan was to get up early Saturday and head to Seoul to meet Jose for a job interview and then wonder around for a few hours before meeting up with everyone else to hunt down the Yongsan Hooters for dinner.
Then Sunday we had planed to get up early and catch the bus to Seoul to drop the first round of bags off at Jose's apartment, head back to Anseong clean the apartment soon and work on packing everything else up to be moved by one of our friends Thursday night after work. Now everyone loves a good plan but sadly plans do not always work out the way you hope they would and well that is ok but makes a mess out of the rest of the week.
Saturday we got up, got ready and tried to head to Seoul early. After having 2 fully packed out buses pass and an hour wasted we decide to just head over to the bus terminal so we could guaranty ourselves a place on the bus. We finally got on the 11:00 bus and started the trip. About 30 minutes later we were at our stop and now had a bus full of 64 people (the seats for maybe 40) and a fun ride to Seoul with AC that more or less didn't work and traffic that seemed to not move at some points. We arrived at Nambu about 12:30 and jumped on the subway to head over and meet the guys for some Screen Golf before our interview at 4. Screen Golf with the guys was maybe one of the funniest things I have ever seen and could be a whole blog in itself. After Screen Golf we headed over to the interview where the first question they asks was "are you two getting married" yea no joke and on the bus ride up I had just asked Ryan what to say if they asked that and he said that they would never ask that....yea so we just kind of laughed and said that at some point yes but really that one question threw me for a loop for the rest of the interview, and well like I said this weekend was a little "twilight zone" like so I really don't remember much after that question. We left the school about 5:30 and stared the search for the Hooters. It was a little hard to find but with the help of Jasmine we found it nice and deep in the back of a basement in a shopping center, yea I know what a great location. Sadly the food was about like it was at home, decent but not great, they didn't have fried pickles, but the servers were cute and kind, however I think the guys have decided not to go back and that is just fine because on a quick trip Sunday we found that they have an On The Border and it is quite amazing. After dinner we headed home to finish the second Godfather. We had just watched the first Godfather on Thursday and stared the second one on Friday and let me tell you that all night long I was waking up thinking someone was trying to kill me. Neither of us had ever seen the Godfather movies and liked them very much. What about the third one you ask? Well the guys have informed us that it stinks and we should not even bother because it will ruin everything for us.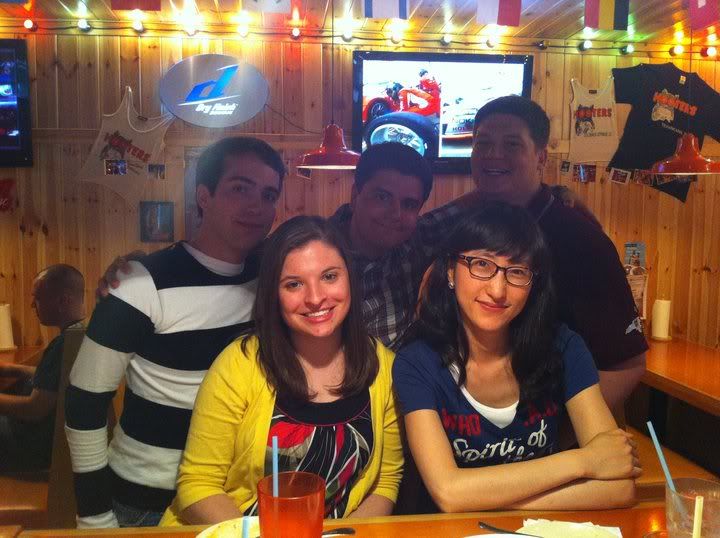 Sunday we got up and started yet again for Seoul only this time with 4 bags. Yet again all of the buses were full so after an hour of waiting we yet again decided to head over to the bus terminal. The only problem with this is that when we called Jasmine to ask for her help in calling a van taxi she called us back a few minutes later with the bad news that they don't run on Sunday. I say they but in our small town it could very well be that there is only one van taxi and he just doesn't work. So we headed back down to the bus stop and tried to buy tickets again for Seoul in hopes of just waiting it out and getting a bus only to find out that they were no longer selling tickets to Nambu. What? Really? Um ok...my look told the guy behind the counter that he need to try to explain himself in broken and I mean BROKEN English....it didn't really work and I still don't know what was up with the buses but found out we could take the Express Bus to Seoul and only be one subway stop away from Nambu. Finally at 11:45 we got on a bus and headed to Seoul and we arrived a little after 1. We were approached by a man who claimed to be a van taxi driver (really now you say that is just great) only to find out that he was not a taxi driver and had no clue where we were going even after we made Jose try to tell him in Korean. He got us withing a 10 minute walk from Jose's place but this 10 minute walk involved crossing a traffic circle with about 1000 other people, going up a small hill and then a mountain before arriving. Once at Jose's he helped us store our stuff and then we headed out to On The Boarder for a much needed Margarita. I was a little worried because I have had some bad Margarita's here in Korea but this one was amazing and the food even tasted like the food at home if not better. Once we finished our lunch we jumped on the subway for the short 45 minute ride over to Nambu to catch the bus home and try to finish up what was left of our packing.
Over all it was a pretty good weekend and I am thankful it is over, yet wish I had more time.
This week I am also thankful that my little brother is finally getting the chance to go to Germany for about 3 weeks with the school and I hope he has an amazing time because getting to see other countries is truly an experience everyone should get. I think the more we learned about other countries the more we can help improve ours. I hate when people come to Korea and are so disrespectful of the people rather than stepping back and learning form it.

 The little brother and I a few years ago at the beach, man how time passes. He is going to be 21 this June meaning that I am now old!
Sadly I am very thankful that after this week I will not have to see some of my students.
I am very thankful that I am getting the chance to go home and spend some time with family and that I am not having to just jump right into another job over here.
I am thankful that Ryan and I have some very good friends who would get us interviews at their school. It is nice to know that someone would be willing to do that and has enough faith in us not to screw it up or make them look bad.
I am thankful for Jasmine and her friend for helping us move the rest of our stuff up to Seoul this weekend.
I am thankful for both Grace and Jasmine for being such great friends to us this year and helping us whenever we need it.
Over all I am thankful that this chapter in my life is over but also very grateful for the opportunity to spend a year teaching at this school and for all the things it taught me about myself, people, kids, teaching, and life. I will miss many people but hope to still get to see them next year seeing as how Korea is not that big I think visit are possible. Ok I could and probably will write a whole blog on the closing of this chapter in my life but I will save that for later.
I guess for now that is that. I am thankful for a lot of things, and knowing that I have the love and support of my family to do this another year over here is just amazing. I miss them a ton and know they miss me but for them to encourage me to go out and see the world is just amazing.
Hope everyone has a great Monday and if I am not back soon a great week.
Oh yea and Happy Memorial Day!
Side note the rice fields are starting to slowly grow and are just too cool. I will miss my quite "country" walk on the way into school everyday and the peace that it brings me when I walk home after a long day. You didn't know there was still "country" in Korea? Yep and it is one of my favorite places too.