Jeju Island Recap!
We were lucky that we didn't have to work Thursday and Tuesday so we decided to take off Friday and Monday to use some of our days off up. So let's see if I can get this trip into some sort of a blog. For starters we were very lazy, and I mean L-A-Z-Y! However, in my defense it didn't help that it rained the whole time or that the place our boss helped us stay was amazingly nice. Anyways lets start at the beginning, a sweet woman one time sang a song about how the beginning is the best place to start (The Sound of Music in case you are wondering).
Thursday:
We had flights out of Gwangju (a nice beach town down at the bottom of S. Korea) meaning that we had to take a bus to the train station and then a train to Osan and then the KTX train from Osan to Gwangju then a taxi from the train station to the airport (maybe the smallest airport I have ever been in, yes even smaller than GSP for those of you wondering). Anyways this was all quite relaxing, I know it doesn't sound like it but it was, even more so because we got to ride in first class on the KTX and man oh man was it nice! Also the flight was all of 40 minutes so basically up and then down. The Havici has a bus that will pick you up and drive you the hour over to their resort, driving you past some very scenic sights.
Once we arrived we were shocked to see that where our boss's husband had put us up was extremely nice! We were in the family sweet with an ocean view, I know right if ever there was a time to have my mom and dad come visit it would of been for this trip! This place was twice the size of our apartment, we had two bathrooms (one with a tub) and two TVs. Why yes I have been living in a shoe box way too long but that is not the point. We arrived about 6 and decided to check out the club lounge for drinks, after which I enjoyed an amazing bath, and then some late night room service for dinner before crashing out to the sound of the waves breaking on the lava rock outside our door. Sorry got caught up in a day dream there.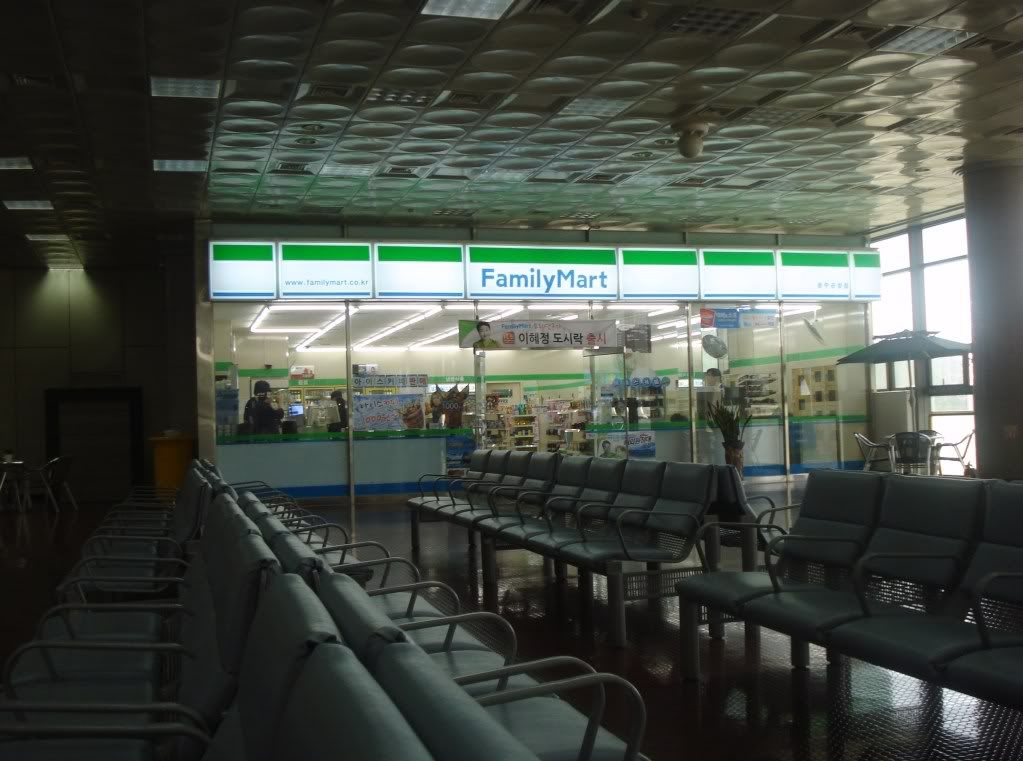 The airport no joke. The other side had a small Korean restaurant. You could not go through security because well there was no waiting room on the other side you just got right on to the airplane.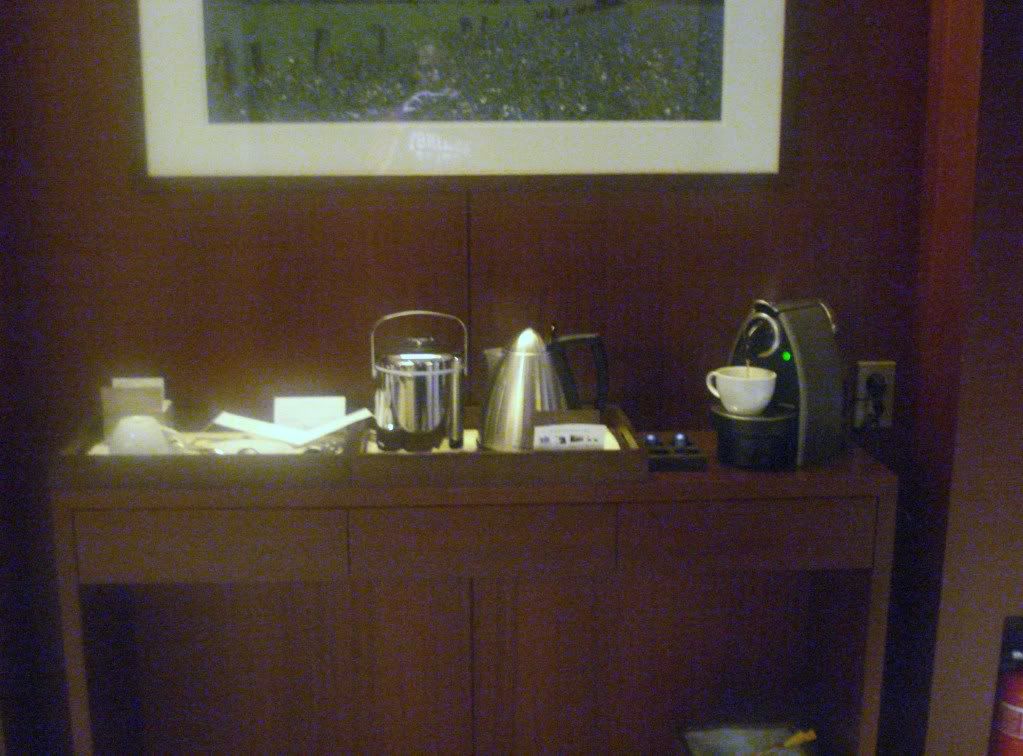 Ahh Korea! Everyone here is a tea and coffee junkie.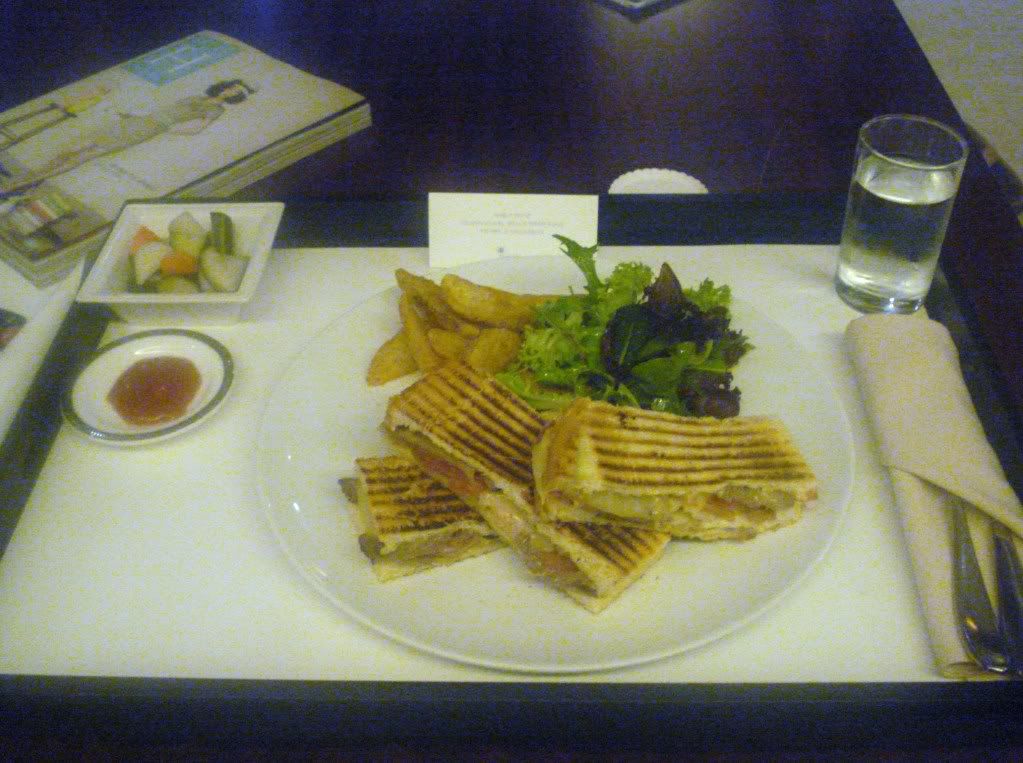 Dinner! I know, I know...you really don't care...yet your reading this!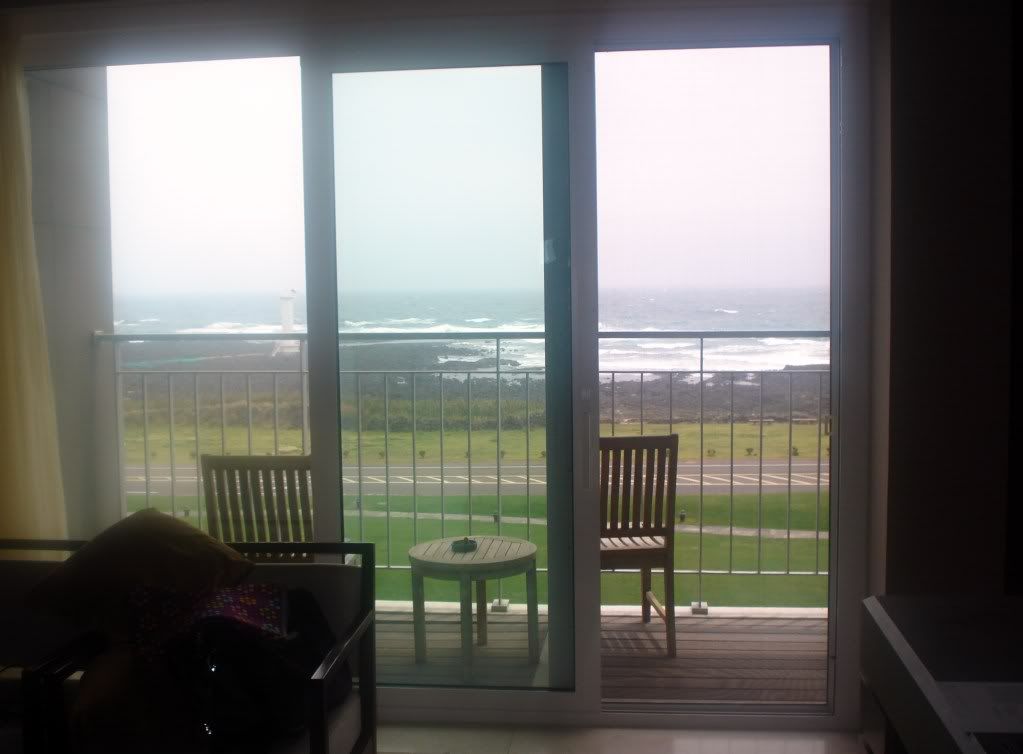 View from the living room.

Friday:
Was a cloudy day so we decided not to wonder far which was not a problem for us because there just happened to be loads of fun waiting on the lava rock right out in front of our room! So after a little coaxing from Ryan reassuring me that I would not fall, break my ankle, and then bust my face I followed him out to explore.
Note: A crazy amount of beach photos is about to start: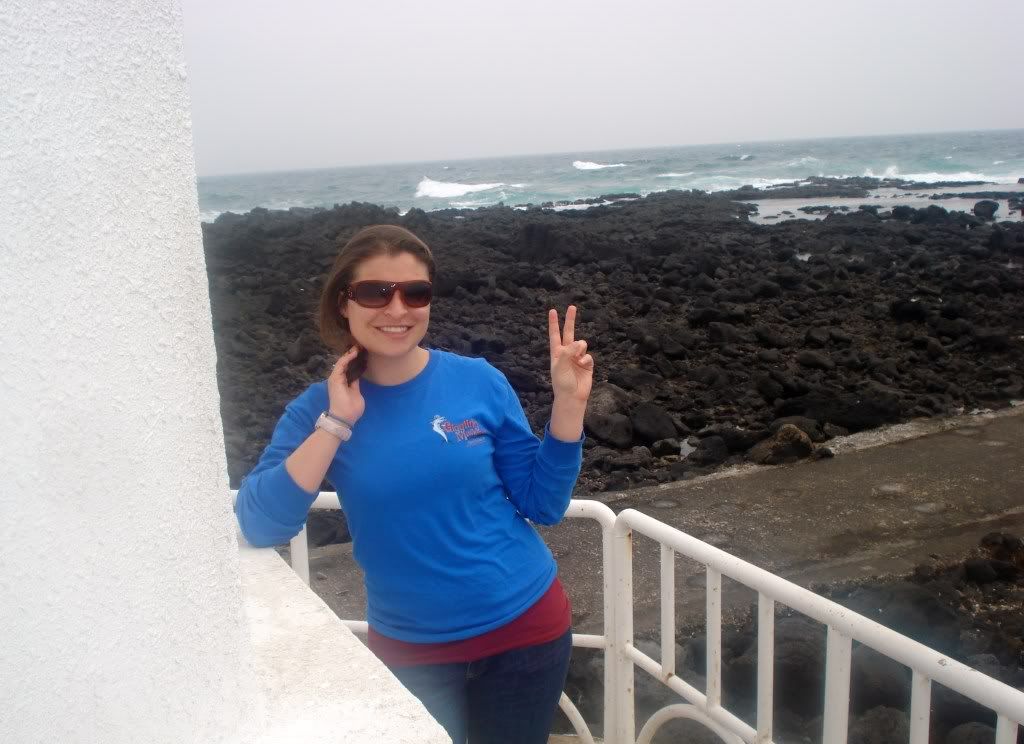 Out at the light house trying not to blow away!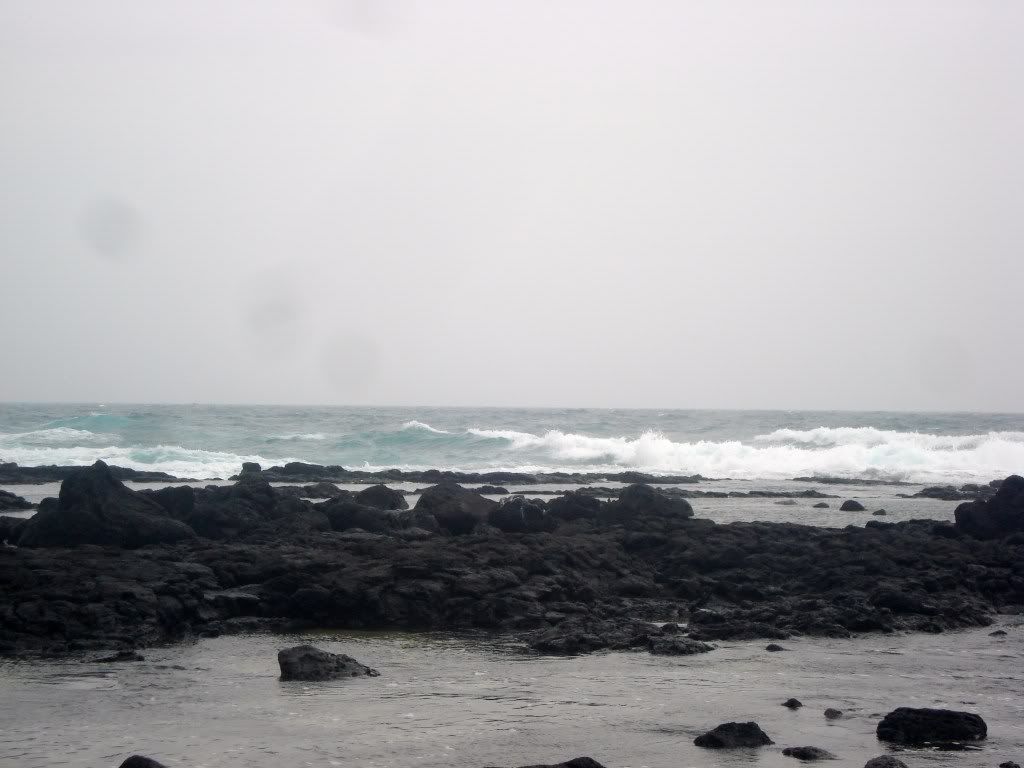 Ryan wanted to wade out to the rock island until Miss. Doom over here started to point out all that could go wrong.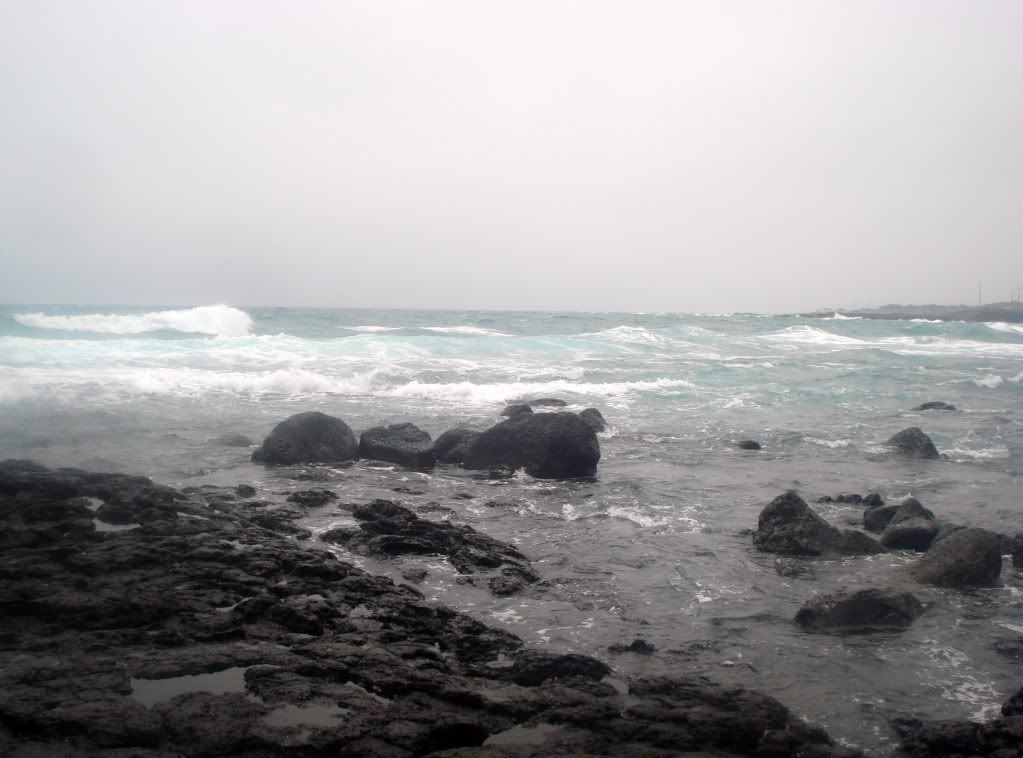 The waves were amazing!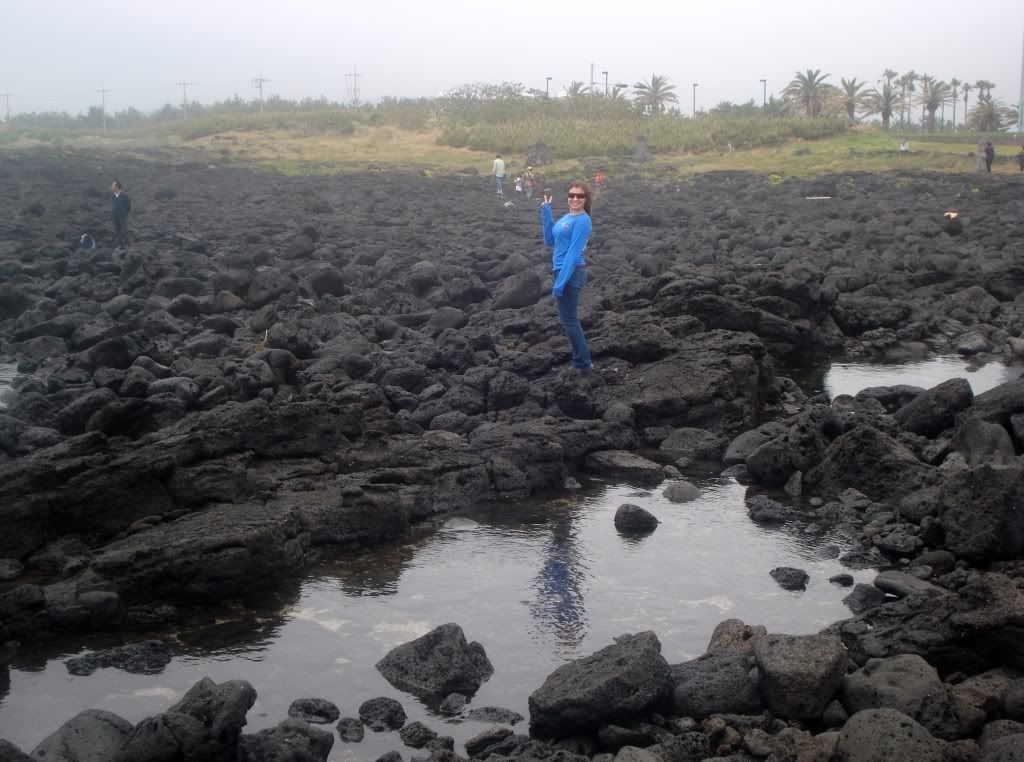 This would be the point where I noticed that there were huge black bugs going in and out of the rocks.
I started running back to the beach at this point more or less screaming like a crazy person as Ryan
tried (unsuccessfully) not to laugh at me.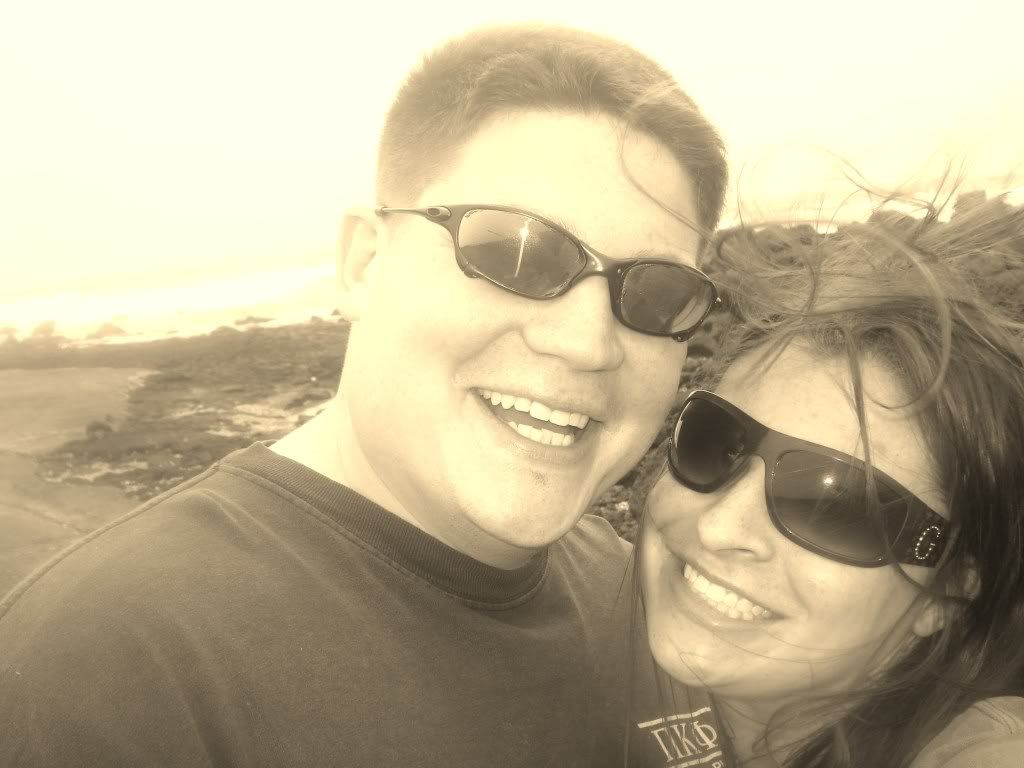 What I like it! Everyone needs a crazy wind photo.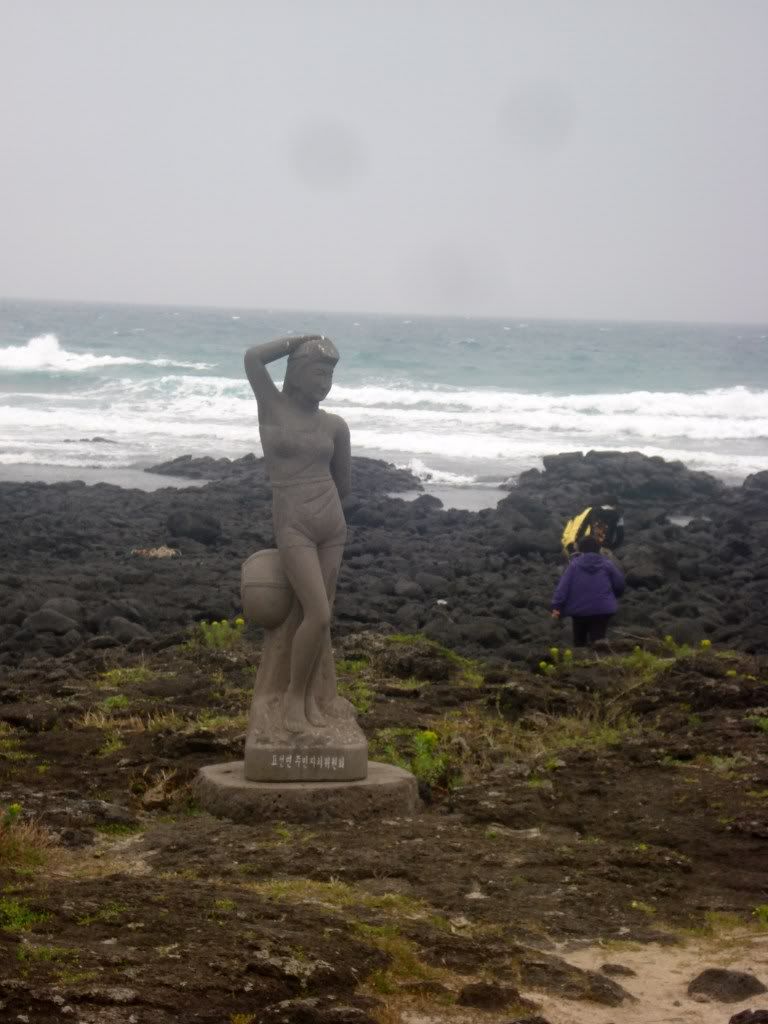 Jeju woman diver statue. The women could go down for 2-3 minutes without an air tank
to bring up clams and different things.
 We then made our way into the small town that was around the resort for lunch.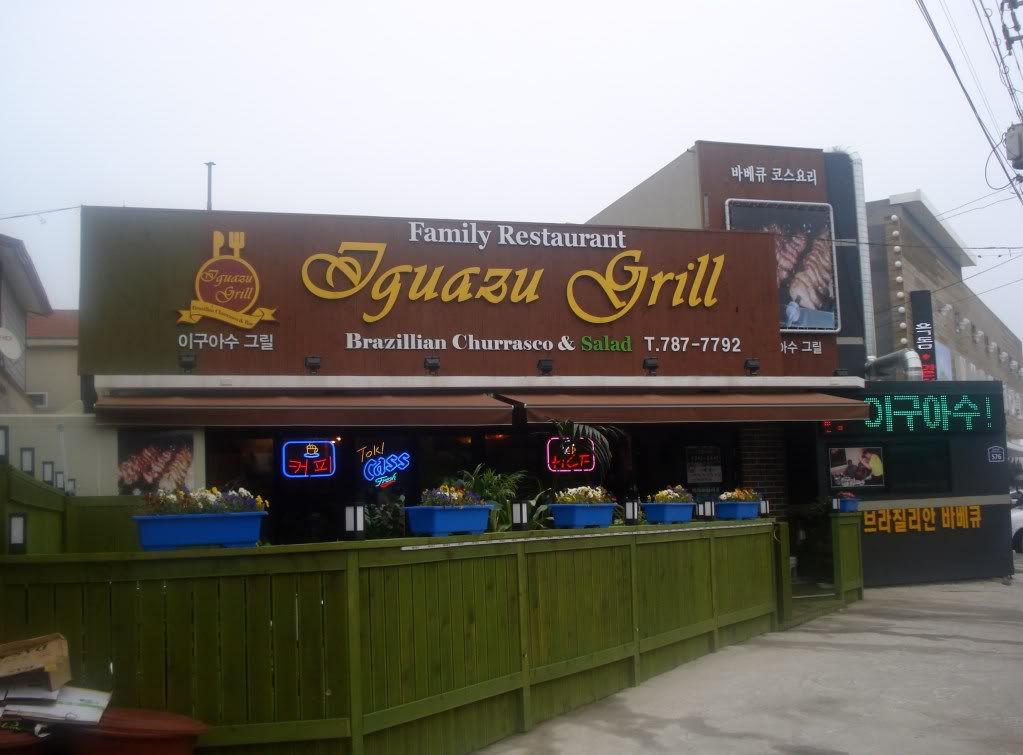 When we walked in they look a little confused and told us that they would not be serving BBQ
until 5 but that we could get pasta and steak if that was ok. Umm yes please!

Shrimp pasta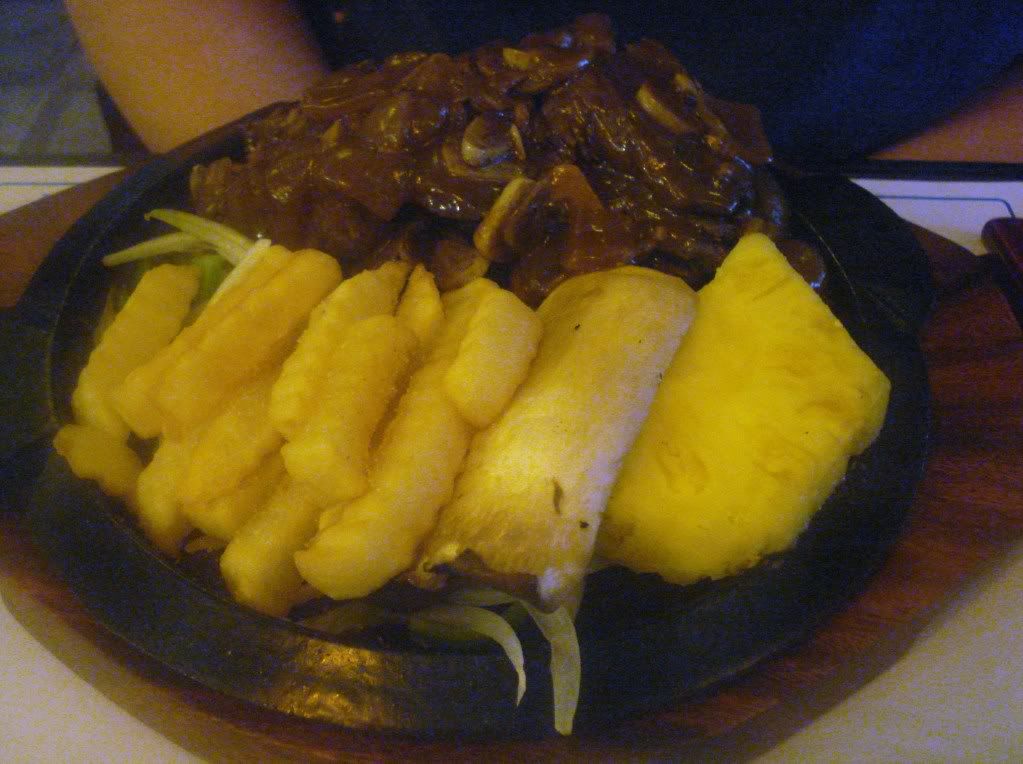 Steak stir fry.
These to us were like gold because they are kind of hard to find in our town. The food was very good and the wait staff was very....lets say....attentive, I mean to the point where Ryan moved some of his off his plate (so that I could try it) and the cook rushed over to make sure it was ok. I had to try hard to hold back my laughs as Ryan tried to explain that yes it was very good he was just trying to share some with me. After lunch we wondered around the small town, stopped into a 7-11 to pick up some Ramen for dinner, then ran back to the hotel in the rain to spend the rest of our afternoon on the balcony watching this:
Saturday
We planed to head out and leave the hotel for a bit. We were moving rooms so it seemed like the best thing to do until we met the "English Speaking" taxi driver they had call for us. This man could talk, and talk, and talk, and then he started telling us what to do, got a hold of the camera and was having us stop and take photos every 5 seconds and was just really pushy! It was raining yet again so we tried to do mostly inside things and started the day off with the Teddy Bear Museum.
The Teddy Bear Museum was really nothing like I thought it would be, but then again what does one really expect from a Teddy Bear Museum? It was kind of like a wax museum only cute and not creepy. Instead of filling this blog up with the tons of photos I took in hopes to "capture the moment" because it is pretty hard to explain I put them into a slide show instead.
We got to see the worlds most expensive bear, and no not the gold one but the LV one.
Next we moved on to the Chocolate Museum (if you could really call it that). It was cute and had a few displays of things made out of only chocolate, so we wondered around for a few moments laughing at the things people had thought to make out of chocolate. Here are a few of photos: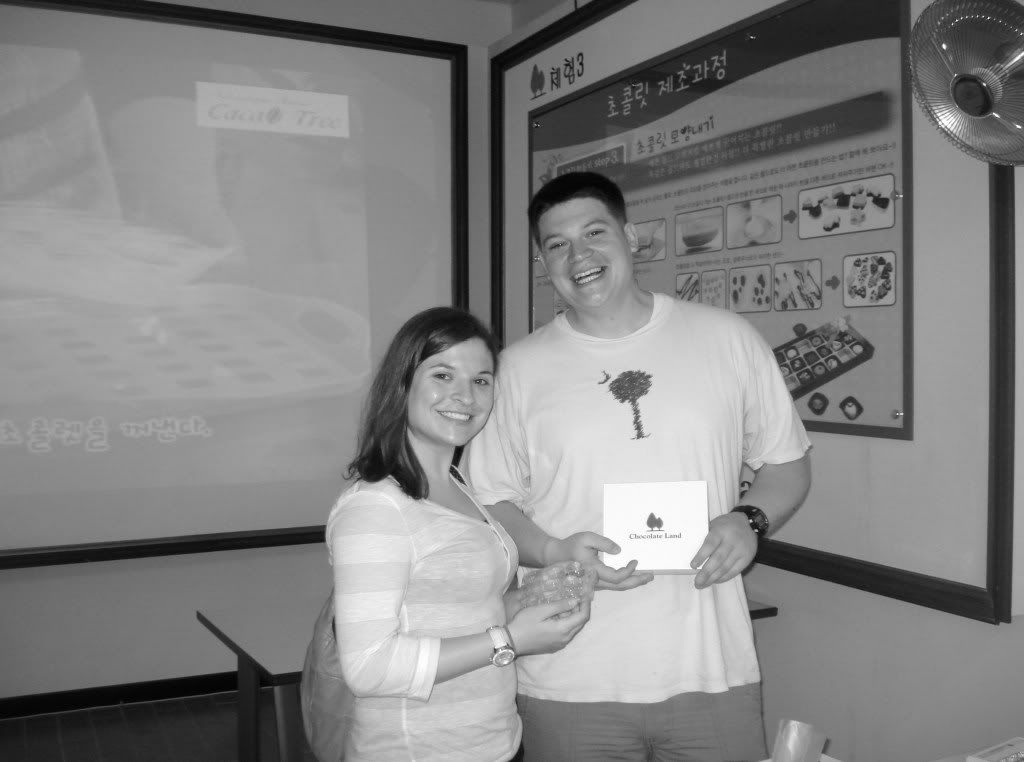 I was feeling a lot like Lucy from "I Love Lucy" so I made all these photos black and white.
And the last stop for the day and for this blog was to a park or garden of sorts. We wondered around for about an hour and then decided it was time to find the taxi driver and head back to the hotel. The garden was very pretty but full of Koreans stopping every few feet to take 200000 photos of themselves. As we walked through the park I felt the need to just randomly snap some photos of things here and there. Here are a few photos from the park:
We arrived back to find out that our new room that we thought was a "downgrade" was really an "upgrade" and well that explained why everyone looked us like we were crazy when we asked if we really had to change rooms. I guess I better show some photos of these rooms so that you can really see why this was such a big deal.
Thursday and Friday night: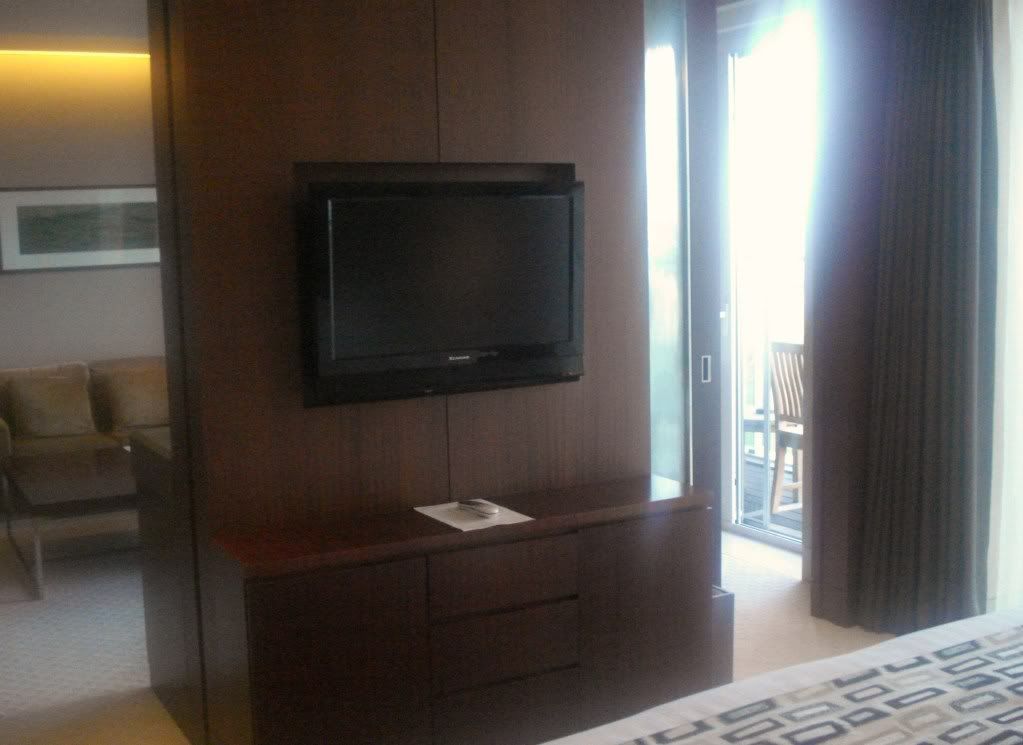 Wall between the master and the living room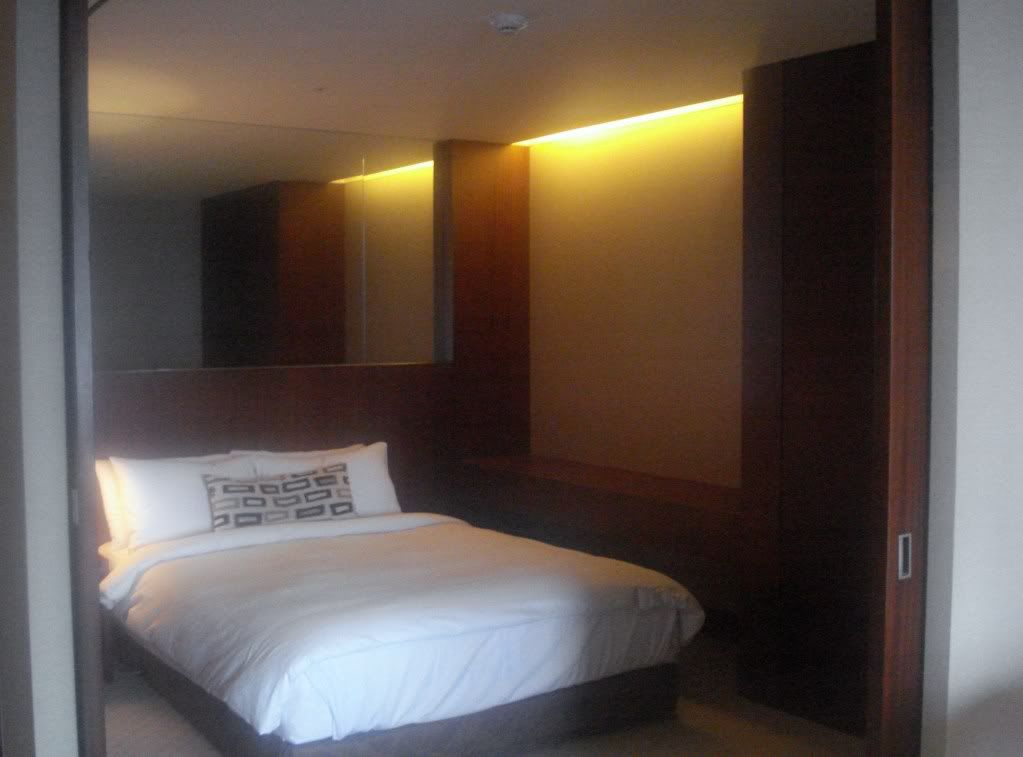 Guest Room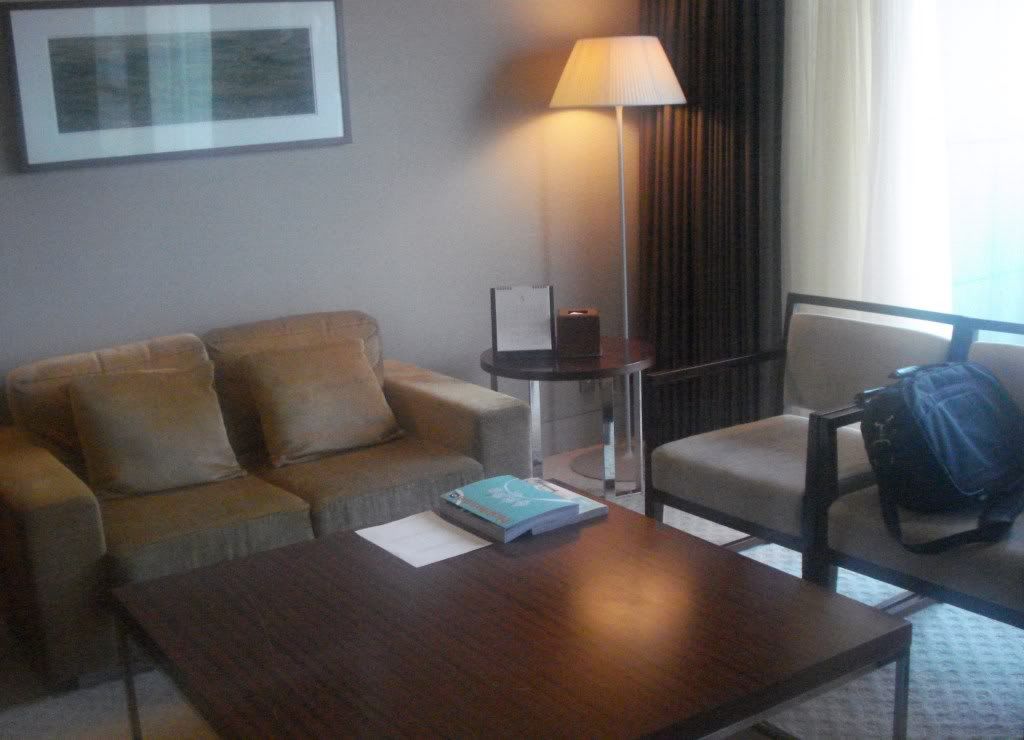 Living room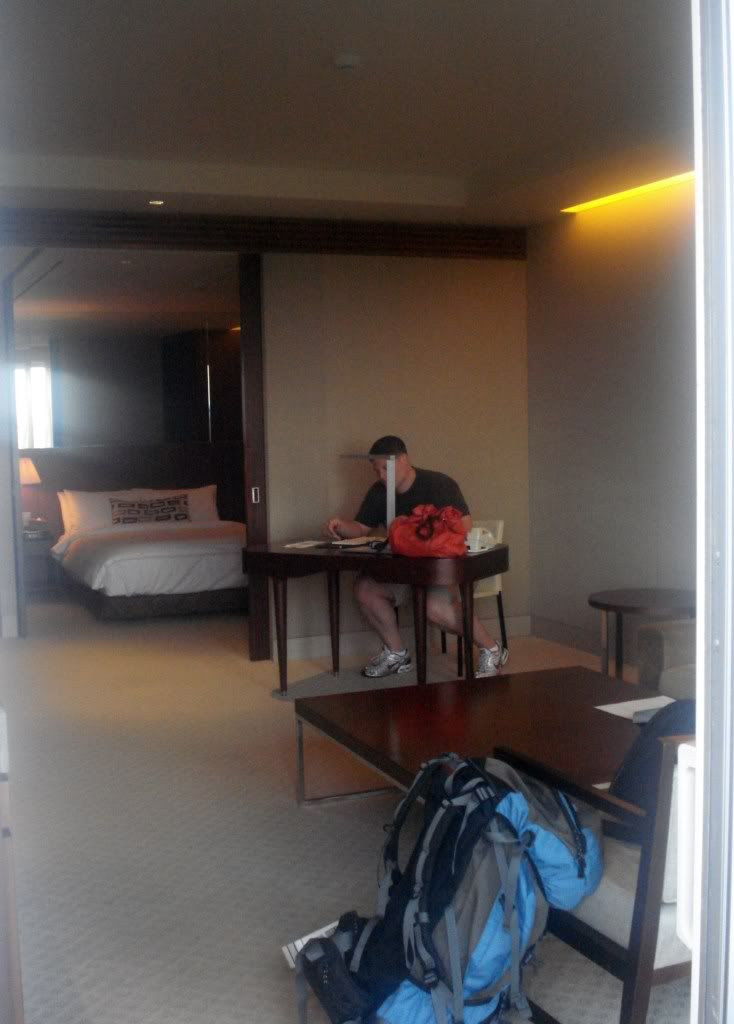 living room, office, guest room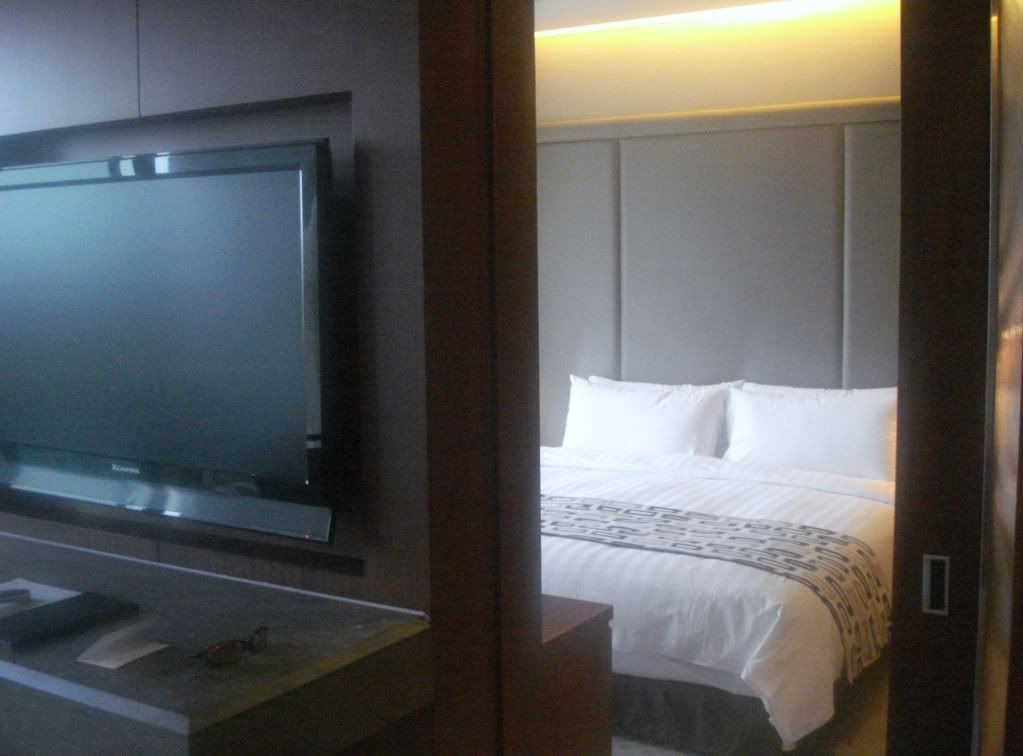 Into the master bedroom
Then the new room:
the new room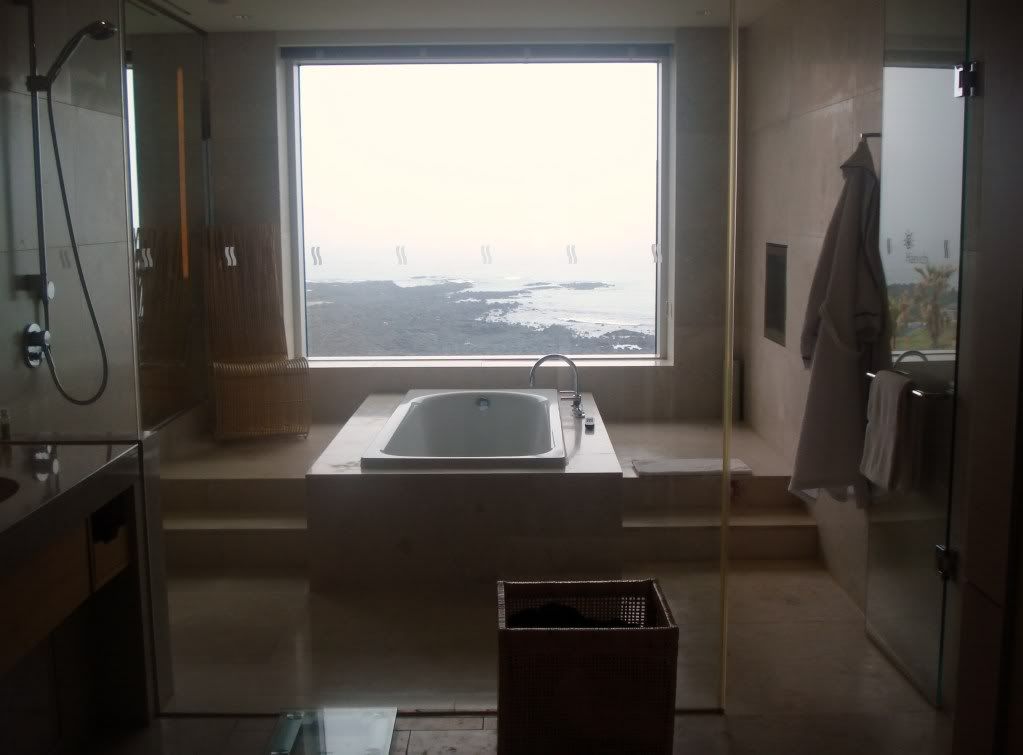 The new amazing bathroom. It had a great view and a T.V. off to the left.
I won't lie the bathroom really is what made this room so great. It was my dream bathroom for 3 nights even if everything on TV was in Korean.
Ok and well for now that is that. Sunday we went to the Folk Village next to the hotel and enjoyed a nice afternoon wondering around. Monday was rainy so we did a whole lot of nothing, and then Tuesday we flew out and headed back to our cozy little town in the countryside. I will update about Sunday thought later this week.
Hope everyone had a good weekend!