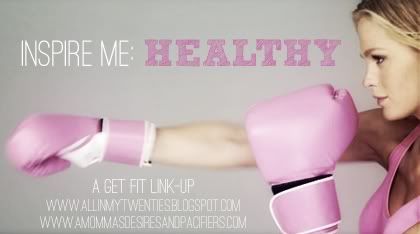 So Today is Thursday.....
I don't even want to talk about it. My girly time is about to be upon us and I just feel fluffy with a capital F. I have even tried harder this week and it is not working out for me.......
So instead I want to share my list of 10 reasons I want to be skinny healthy. I have thought about this all week and it was harder than I thought to come up with reasons that aren't just "so my butt looks good in jeans". Really when I first started my list was full of stuff like that and I looked back and thought that it might be good to add a few reasons that weren't so shallow.
10 Reasons Why I Want To Get Healthy:
1. So I can live a long healthy life.
2. So I can feel my age and be full of energy.
3. So I can do everyday physical activities without being sore later.
4. So I can be strong!
5. Because healthy legs look good in anything!
6. So I can feel confidante and know I am the best I can be.
7. To be able to hike, swim, and do all the fun activities I want to do when I travel.
8. To have a better immune system.
9. Why shouldn't I be healthy? (I have no answers to that one and I doubt I ever will)
10. For ME, to prove to ME that I can do it!
What are your reasons?
Hope everyone is having better luck this week than I am! Thankfully I work 1/2 a day today and have yoga tonight. I cannot wait it is quickly becoming something I really look forward to.