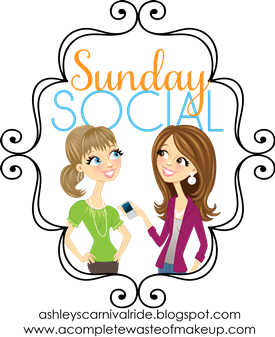 I hope everyone is having a good weekend! I don't know how but it is already Sunday. I thought that I would take part in Nelly's (from
A Complete Waste Of Makeup
) link up again. If you have read last weeks and well yesterdays post of questions from Blogher you know I more or less stink at answering questions, and well after today you will know I stink at picking favorites (of anything).
So that is why I am linking up again, because not only to I like to practice my Q&A, and writing skills (really I kind of stink at this and I am kind of ok with that) but I also like to learn about myself and well what better way than answering some questions?
So here it goes for the 2nd set of questions:

Favorite movie of all time?
Wow I would have to say my favorite movie of all time might have to be.....
I loved her hair when I was little.
No wait...or is it
I cry every time I see this movie.
Humm or maybe it is
To Wanda!
Or is it Beauty & The Beast, or Despicable Me, The Wizard of Oz, Who Framed Rodger Rabbit, or one of the many holiday movies I watch every year without fail? See really I have such a hard time picking just one favorite and I sadly think this list could go on and on.
Just about all of the movies I call my favorites are my favorites for different reasons. Like:
Pretty Woman umm hello who wouldn't want to get to shop on Rodao Drive like that and just blow some major money?? Oh and lets not forget the falling in love with perfect man part of the movie either.
Or On Golden Pond where the family is brought back together again after years of anger?
And Fried Green Tomatoes is just amazing, I mean the way that woman is moved to stand up for herself and become who she truly wants to be? Really I laugh hard and cry here and there with this movie.
Favorite movie quote?
Ok well I kind of stink at naming movies, actors (and actress) and quotes but here are a few I like:
"Who doesn't like parfaits" -Shrek
"But why is all the rum gone" -Pirates of the Caribbean
"This is my strong hand" -One of the many scary movies
"Of all the gin joints in all the towns in all the world, she walks into mine" - Casablanca
*I might need to add this to my favorites up there
"What is this a school for ants" - Zoolander
Yep and I will end it there.
Best movie to watch for a girls night in?
Well any chick flick would work but I would maybe go with:
Clueless
The Devil Wears Prada
Julia & Julia
10 Things I Hate About You
I know there are a few that I am missing and as soon as I post this they will all pop into my head and I will be kicking myself all day long for not being able to think of them.
Best breakup movie?
Would have to be the movie The Break Up, or anything that I can cry along with.
Favorite celeb eye candy?
Sadly I really don't keep up with celebs but if I had to pick one I would go with Johnny Depp
Which movie stars closet would you want to raid?
Anne Hathaway's from The Devil Wears Prada....oh I might have to go back and add that to one of my favorite movies. And for ever day wear it would have to be Reese Witherspoon
So as you can see I sadly am not getting any better at Q & A or maybe I just have a hard time with favorites when it comes to movies. I have never been a big movie person where I could just sit around and watch movies all day, sadly if I have already seen the movie most of the time I have a hard time getting all the way though it any time after the 2nd time. So yea I will try harder next week to give better and maybe more decisive answers.
Hope everyone is having a great weekend and spending some time with their dads!