This past Sunday (January 23, 2011) Ryan and I headed up to Seoul for a traditional Korean wedding. One of our fellow teachers Jessica was nice enough to invite Ryan and I to her wedding where we got to enjoy a very beautiful ceremony, great food, and some of the best hospitality I have experienced here in Korea from her family. The family was so nice and accepting to have us there, and even had us sit front and center with some of them at their table.
I guess I should start the day somewhat at the beginning, because well I have always learned from the Sound Of Music that the beginning is a very good place to start. Ryan and I have not been up to Seoul sense our return to Korea after Christmas so we were looking forward to the trip. The wedding was at 1:00 so we got tickets for the train at 10 and arrived shortly after 11. We taxied over to the wedding hall to make sure we knew where it was and then walked from there to grab a quick snack. We met up with our boss a little before 1 at the wedding, she was sadly leaving because she drove and it had turned into a blizzard outside. The groom came up and introduced himself to us and took us to Jessica so we could congratulate her and get a photo with her (something most Koreans bride do with all the wedding guest) before we headed into the main room for the wedding where we were quickly taken back by how many people, flowers, and tables there were. We wondered back out in to the lobby to try and wait for some of the other teachers who were coming when we had Jessica's brother come up and offer to take us to our seats. We were quite shocked to be sat at a table right behind where the parents would be seated, right next to the stage, and right with the family.
The wedding started and was all in Korean however it still brought tears to my eyes as I watched the bride and groom exchange glances and smiles with each other. They both looked so happy and in love. Ok well sadly I guess the rest I will just have to show you with pictures and hopefully explain what I can as I go.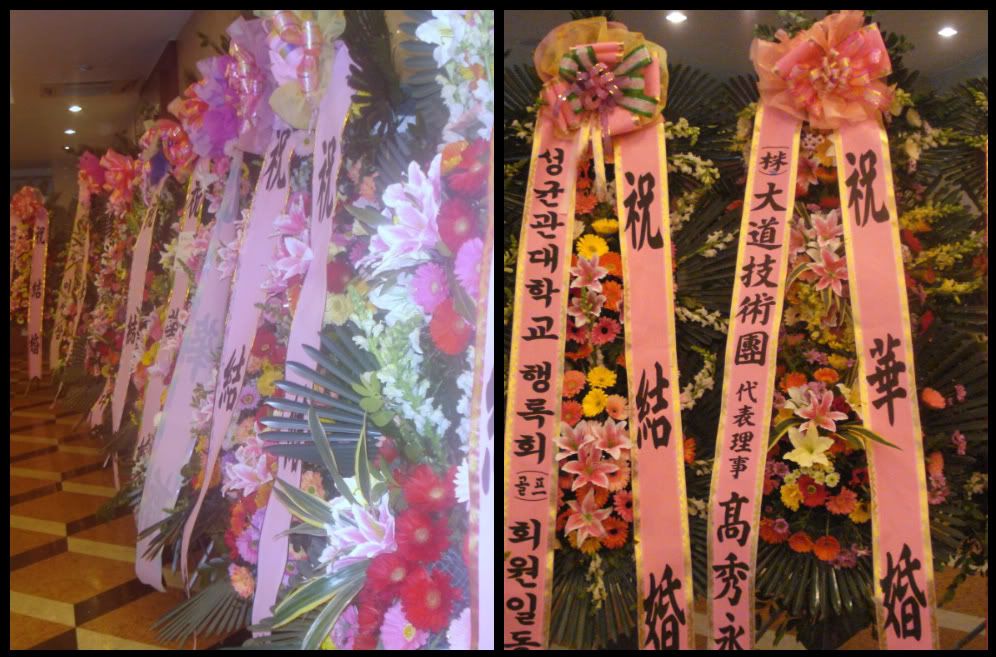 Flowers people give the couple with warm wishes, prayers, and congratulations.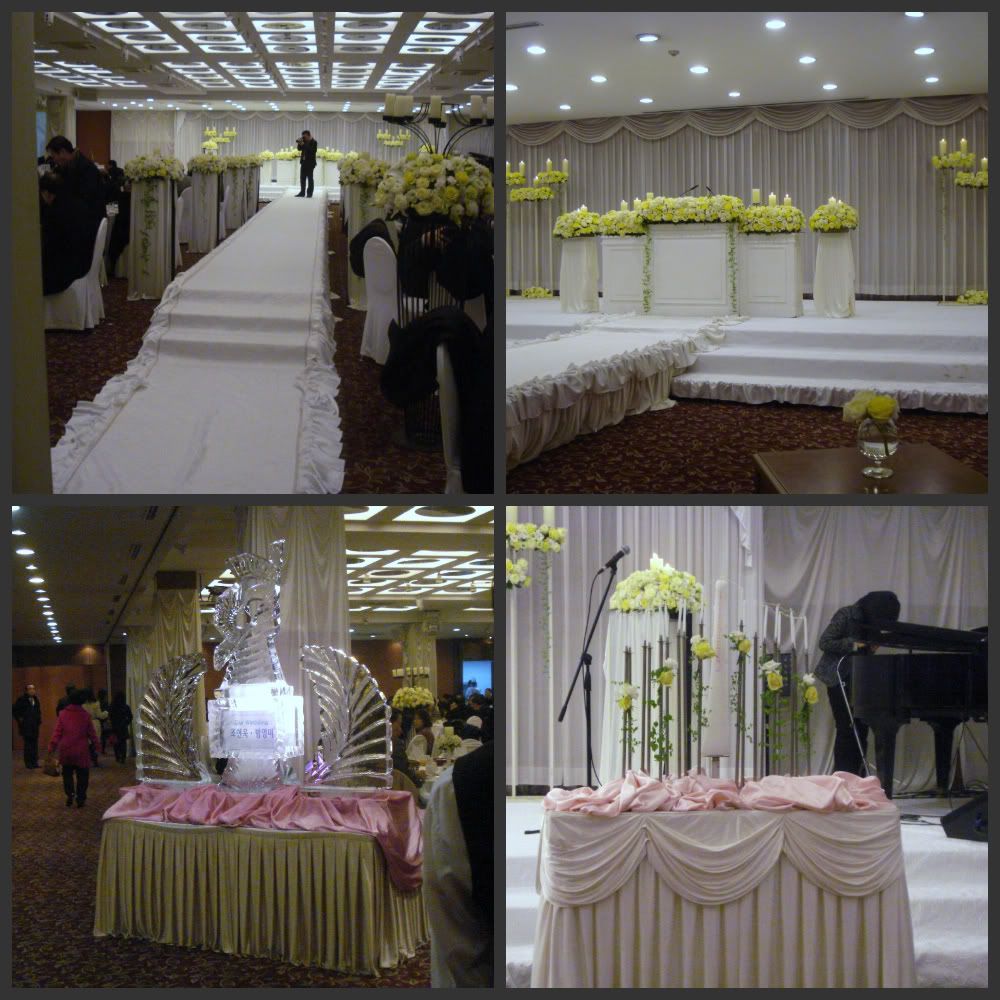 Photos from before the wedding.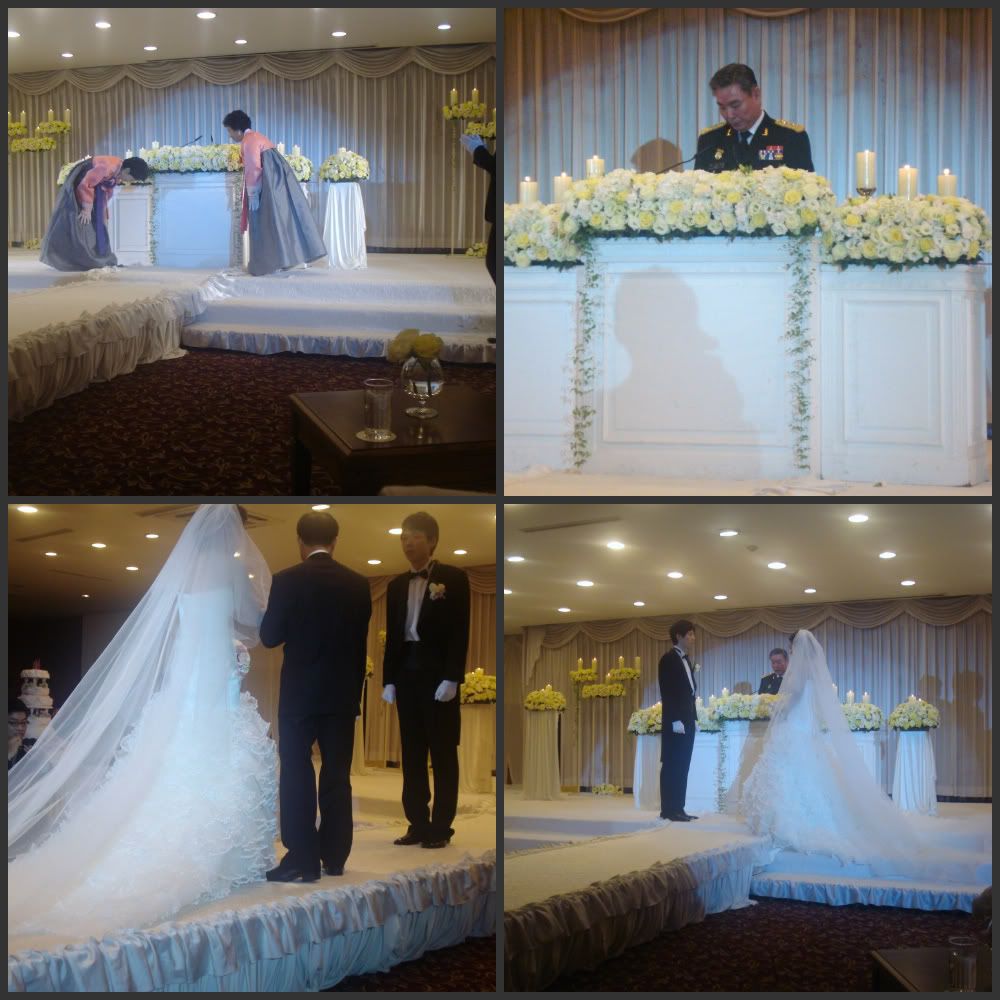 The first photo over in the top left is the two mothers bowing to each other. Then under it is the start of the wedding with the father giving the bride away
  I am a little unsure about how feel about photos in a collage form I am going to do a few photos on there own. The next few photos are photos of the family bowing to the wedding guest and everyone together with their new family.
The new couple with their parents.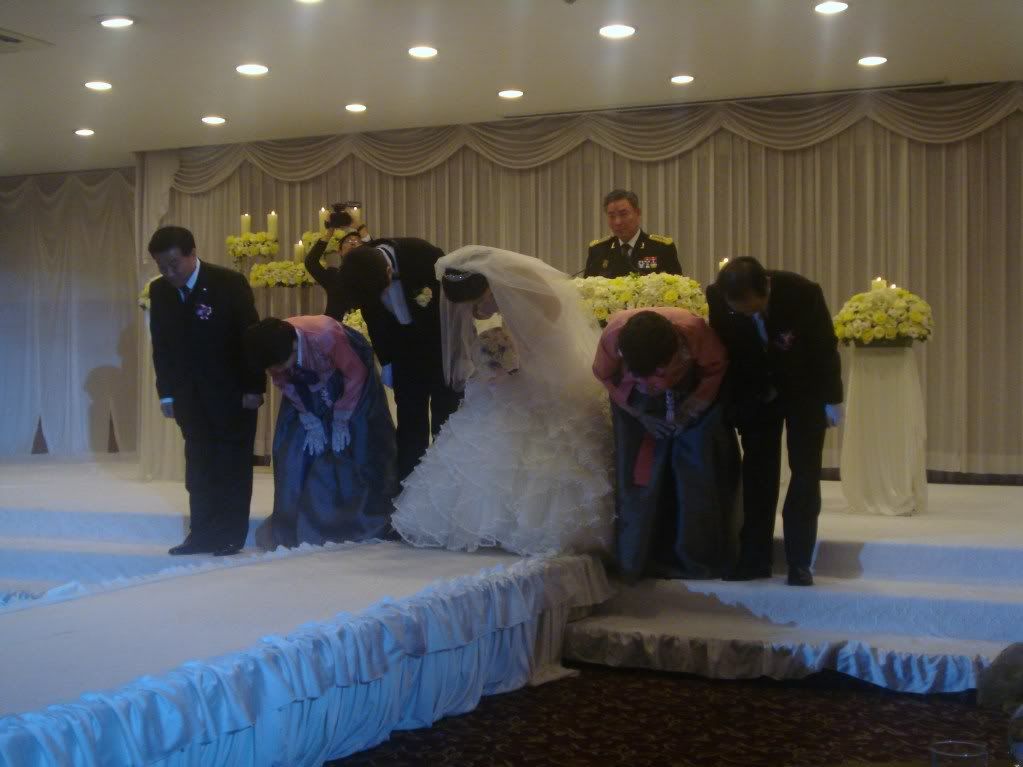 The family bowing to the wedding guest
The couple and the minister.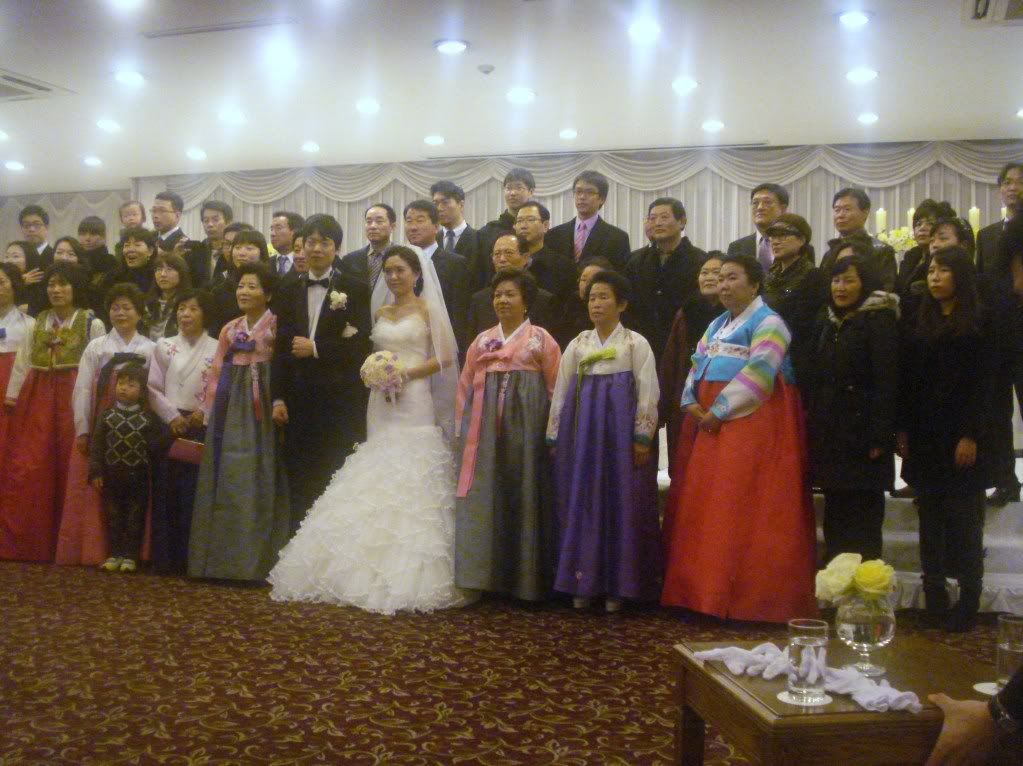 And now a photo of the whole family, and sadly all of them didn't fit in the photo.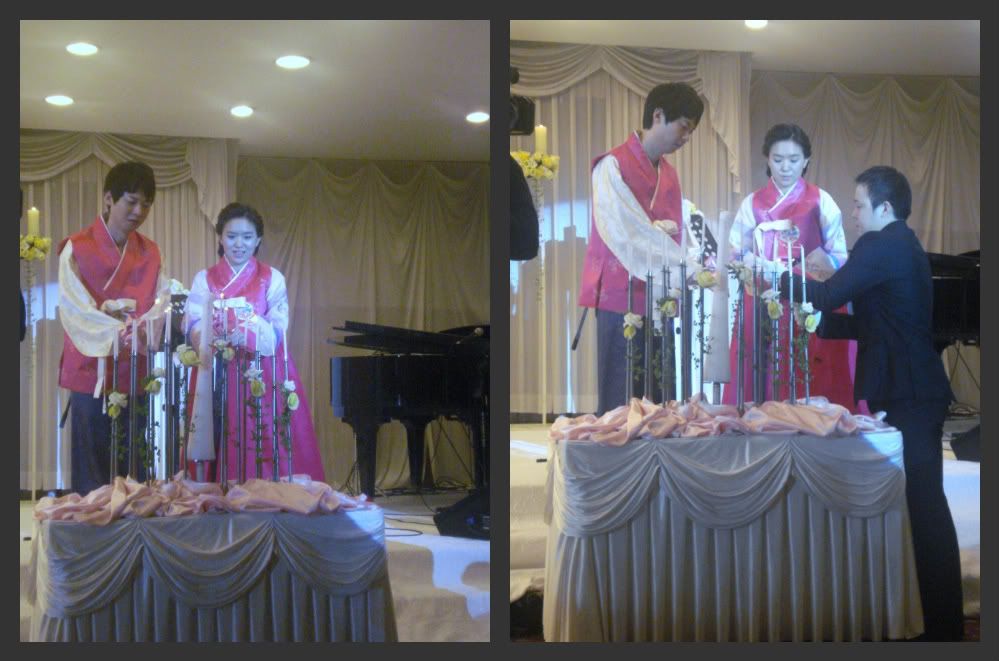 The couple in their traditional outfits lighting the candles. They each lit one and then they all would light from the first two candles. Sadly I feel like my explanation didn't really do that any justice.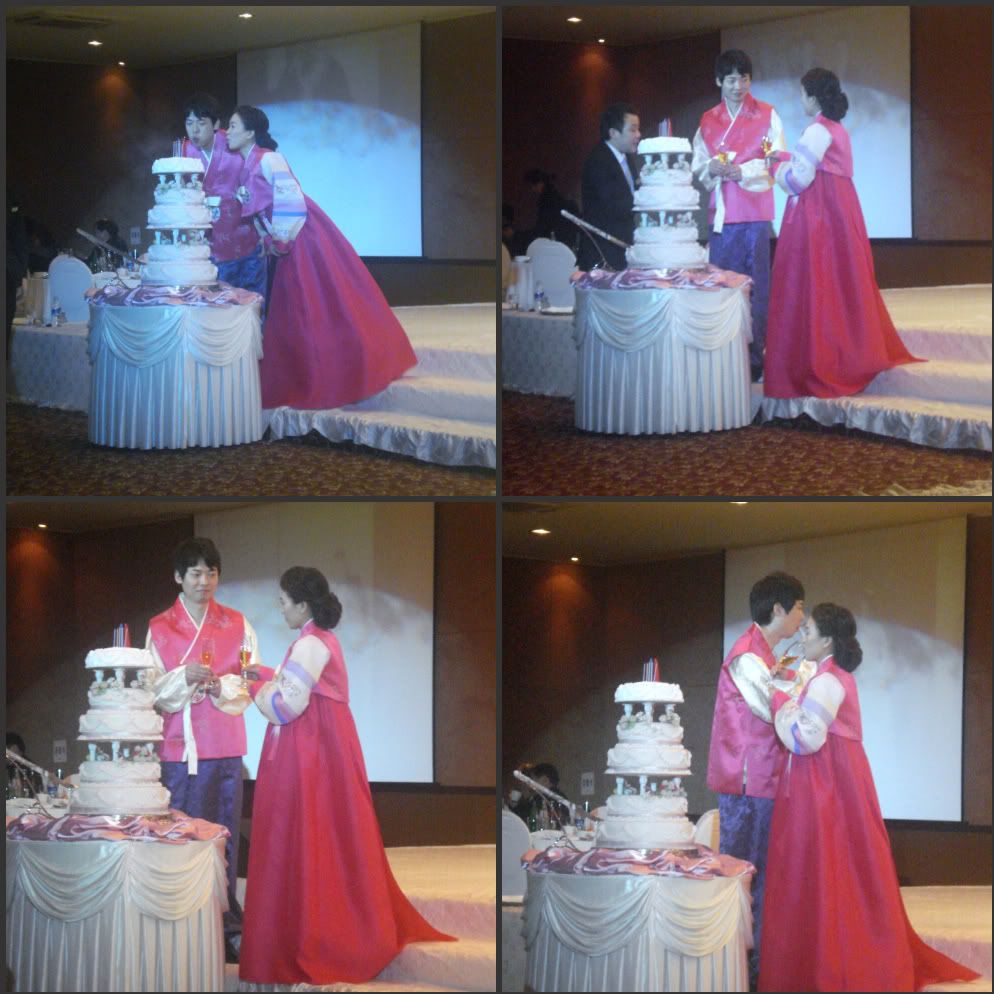 The wedding cake
Grace and Jasmine and Ryan and I. Grace got the bouquet, they do it a little differently in Korea. The bride picks who she wants to get it and than tosses it only to that person rather than to a whole group of girls.
And well that is pretty much it for the wedding. When we left it was only about 3:00 and we didn't have train tickets back home until 6:30 we we headed back to the train station to change out of our fancy close and kill some time wondering around the mall looking for snow boots to help keep my little piggy toes warm on those cold walks to work and around town.
Here are some photos of Ryan trying to hail a taxi for us to head back to the train station and then a few more of well just snow. It was quite a bueatiful day.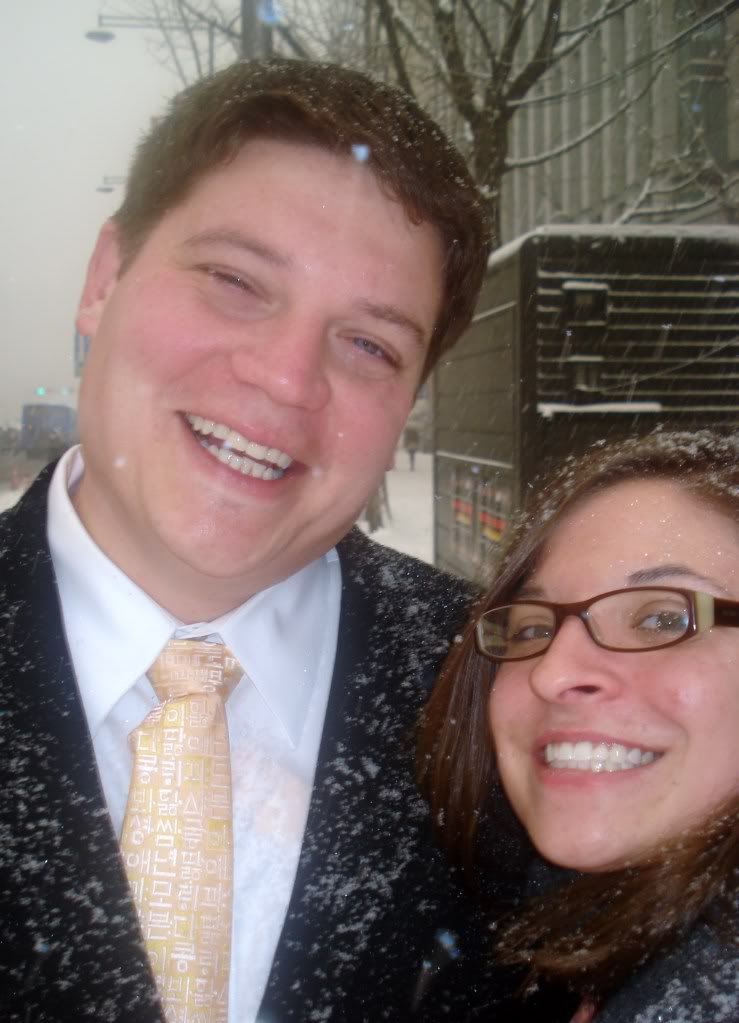 I really need to work on the whole do it yourself photo shot

That is one of the main roads in Seoul and that black stuff is all snow.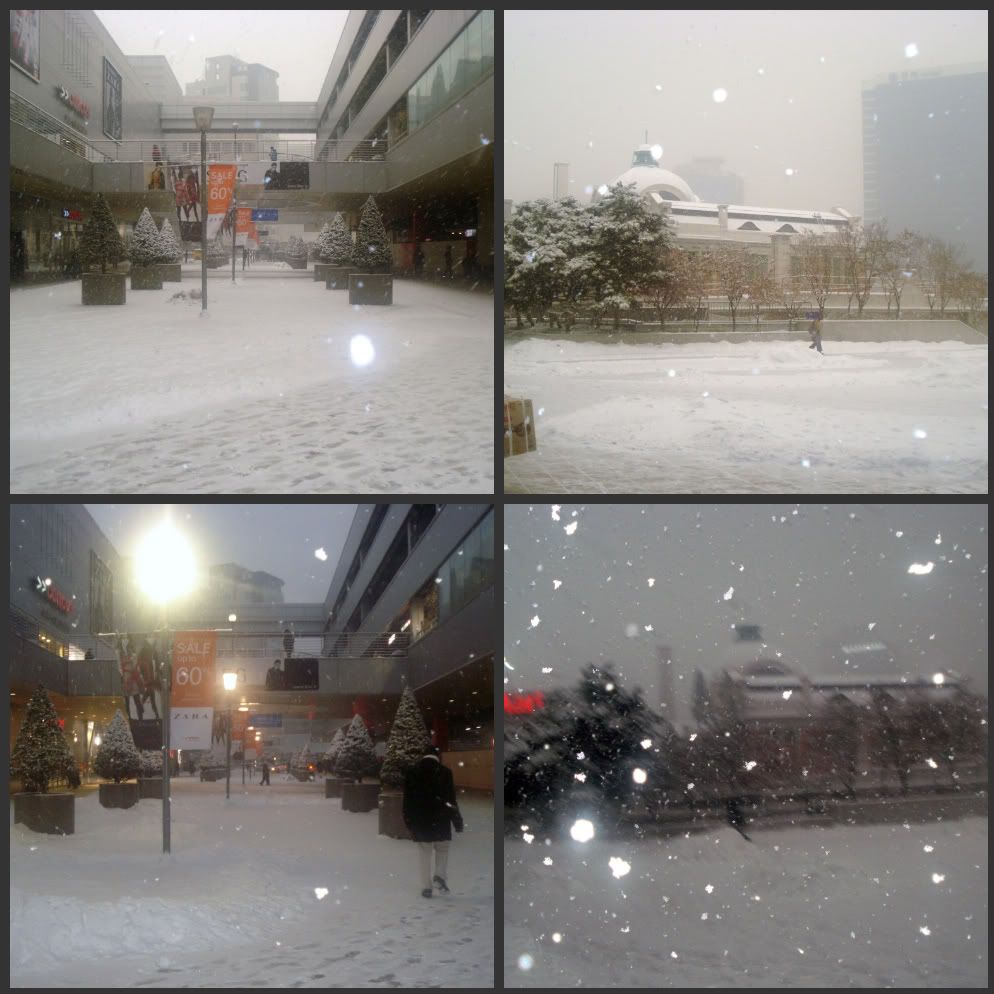 The top two photos are from just a little bit after the snow started, and the bottom two are from a few hours later. Sadly the photos don't do the snow any justice.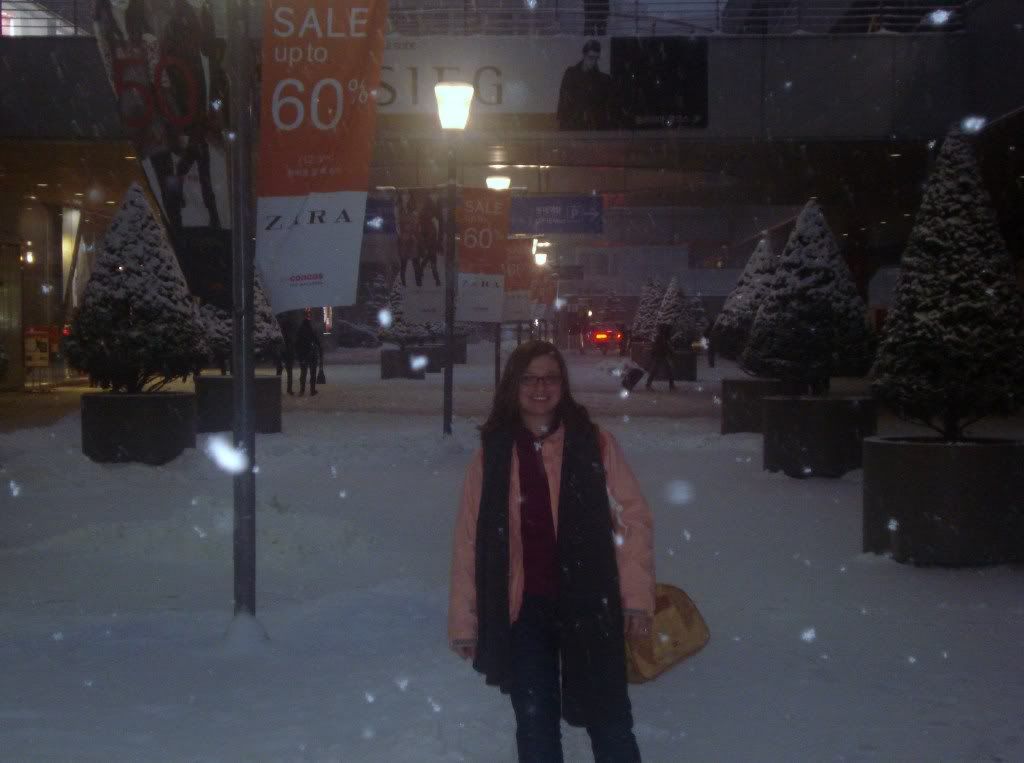 Me in the snow!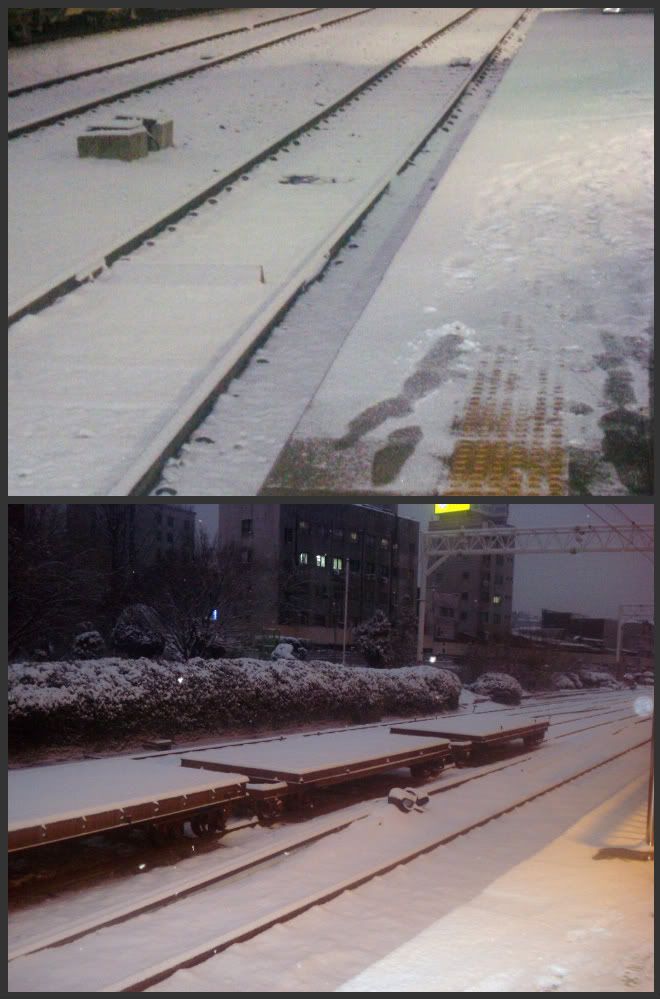 Waiting for the train.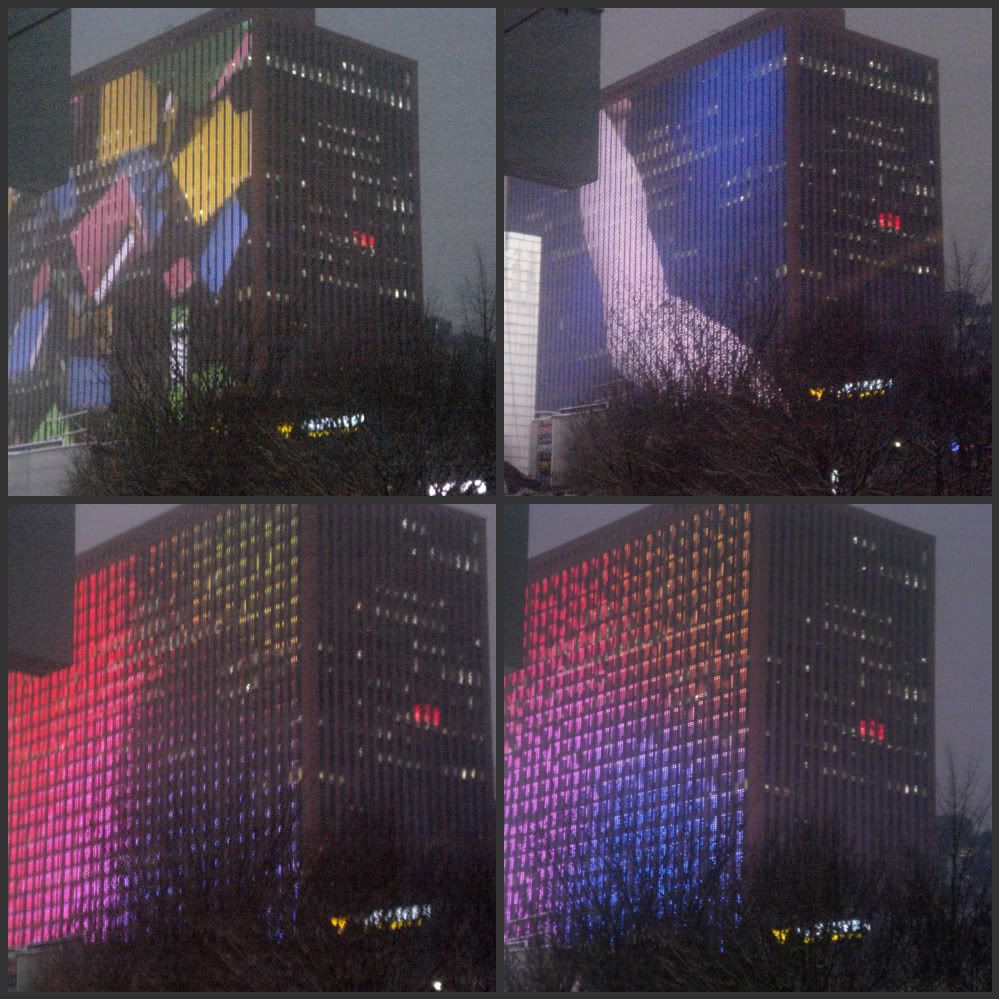 Just a few photos of the always cool light show they do on the Seoul Square building.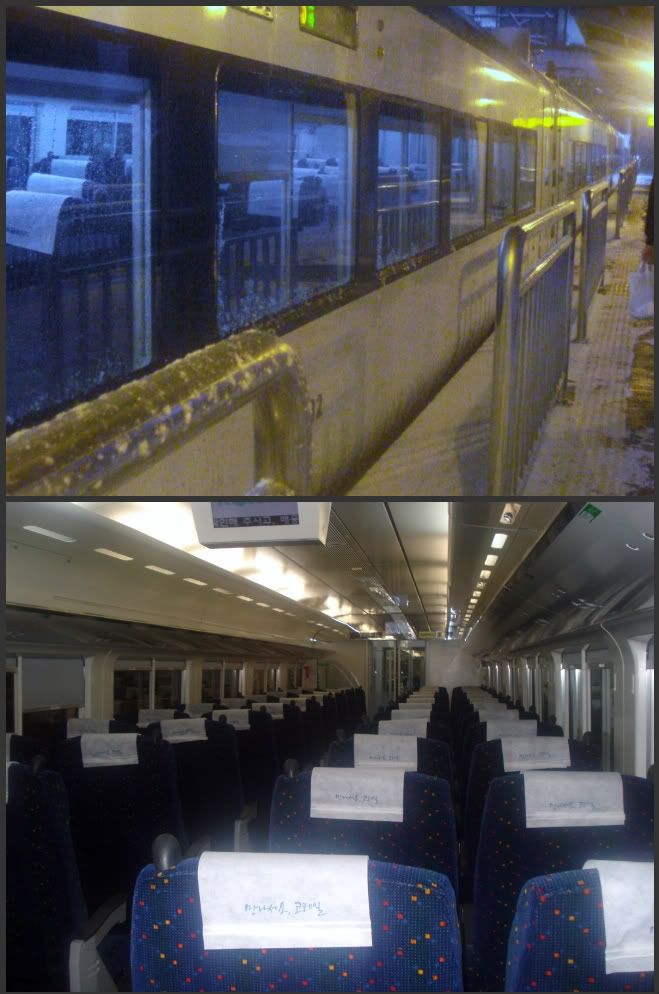 And because I have never posted photos of the train before here you go!
Sadly as I try to think of something whity to say to wrap this up I cannot shake the feeling that I am leaving so much out. The day was so beautiful and filled with love, laughter and great memories yet I cannot seem to get all my thoughts out onto this blog and once again feel as if I didn't take nearly enough photos to help me always remember this day. I think photography may have to be one of my new hobbies; however not until I get started on my other new hobbies in the next few weeks.