Quick note: This is probably to many random different things in one blog; however everything is related to food so I crammed it all together (and tried to break it up with ----- lines).
-------------------------------------------------------------------------------------
I have not always been one of those over organized people or well even organized for the most part when it comes to some things; however I have always tended to over organize when I put my mind to it and will go into an organizing frenzy. Sadly that is what is happening right now and with some of the resolutions I made this year I am working on staying organized. I have already done most of my lesson plans for the month and now I have moved on to food inventory and cooking plans for the month. Sadly last weeks meals were good but the stew that I had a fear of was a flop and ended up being tossed out. So I am going to try again; however without cooking everything at once and getting upset and frustrated.
So for starters I did a quick inventory of all our food so I would know what I was working with. Also I hope this will help keep me from forgetting what exactly it is that I need when I am at the store and coming home with everything and anything that I don't need but instead what I do need for the week.
So here is what we have to work with: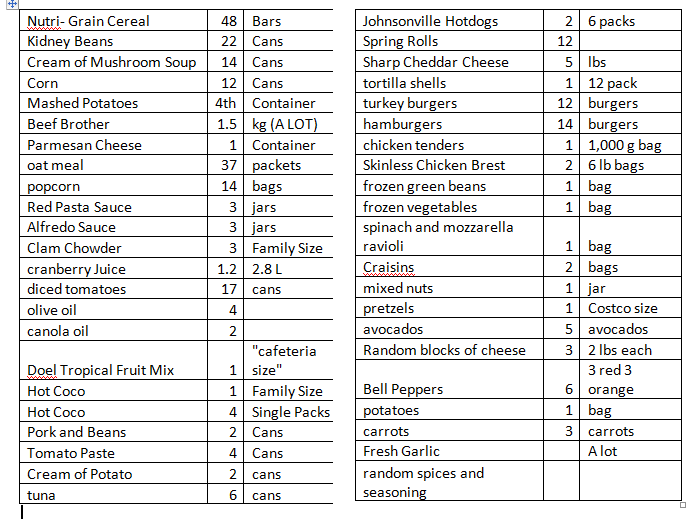 See what I mean about getting into a frenzy?
 Next step go back through the many recipe sights I have saved under my favorites and see what I can make. Also talk to mom about different things I can use as subs for things I know I cannot find in Korea, mom is full of all kinds of cooking tips and tricks.
--------------------------------------------------------------------------------------------
Sunday:
After a trip to our local Lotte Mart (like Walmart only much nicer, cleaner, and with an amazing selection. Side note to self take pictures of the all amazing Lotte Mart) we came home with my new favorite thing to play with, a chopper. I hate to cut so most of the time I leave that up to Ryan and sadly even with my new chopper Ryan still ends up doing all the cutting and now chopping.
For dinner tonight we made Chicken Quesadillas with rice and not to brag but it was pretty dang good! Here is the recipe that I used for guidelines but as always changed to make my own. I never was one for following directions.
Ingredients:
1 teaspoon(s) butter
1 flour tortilla
2 ounce(s) cheddar, mozzarella, or Monterey jack cheese (or a combination), grated
sliced tomato (optional)
Browned meat or tofu (optional)
Chopped scallions (optional)
Diced avocado (optional)
Sprouts (optional)
Diced bell pepper (optional)
Directions:
1.Melt the butter in the skillet on medium heat.
2.Put the tortilla in the pan. Next, put the cheese and, if you like, a filling or two on half of the tortilla. Use the spatula to fold the other side of the tortilla over the fillings.
3.Cook for 2 to 3 minutes. Flip the quesadilla over, and cook 2 to 3 minutes more. Let the cheese cool for a minute before you take a bite. Put a little guacamole on top for extra flavor.
I started by chopping (or trying to chop and giving up, handing my new toy over to Ryan) 1 onion, 4 pieces of garlic, 1 green bell pepper, 1 red bell pepper, and 1 yellow bell pepper and then frying them for a little bit in a pan. Then I took the (should of been thawed but still frozen solid) chicken out of the fridge and tried to do as the package says to cook it on the stove top. Once the chicken was cook I tossed in the mixture of onions, peppers, and garlic to warm together before removing to start the quesadilla making process. I followed the steps of the recipe here for the most part and had the first one turn out a little fat and falling apart. So I passed the mixture off to Ryan so he could "slap chop" it in hopes of a less filling mixture to stuff the tortillas with. Once the mixture was much finer we gave it another shot and it seemed to work out much better.
We do not have a lid to our frying pan so I used our old frying pan to cover the chicken.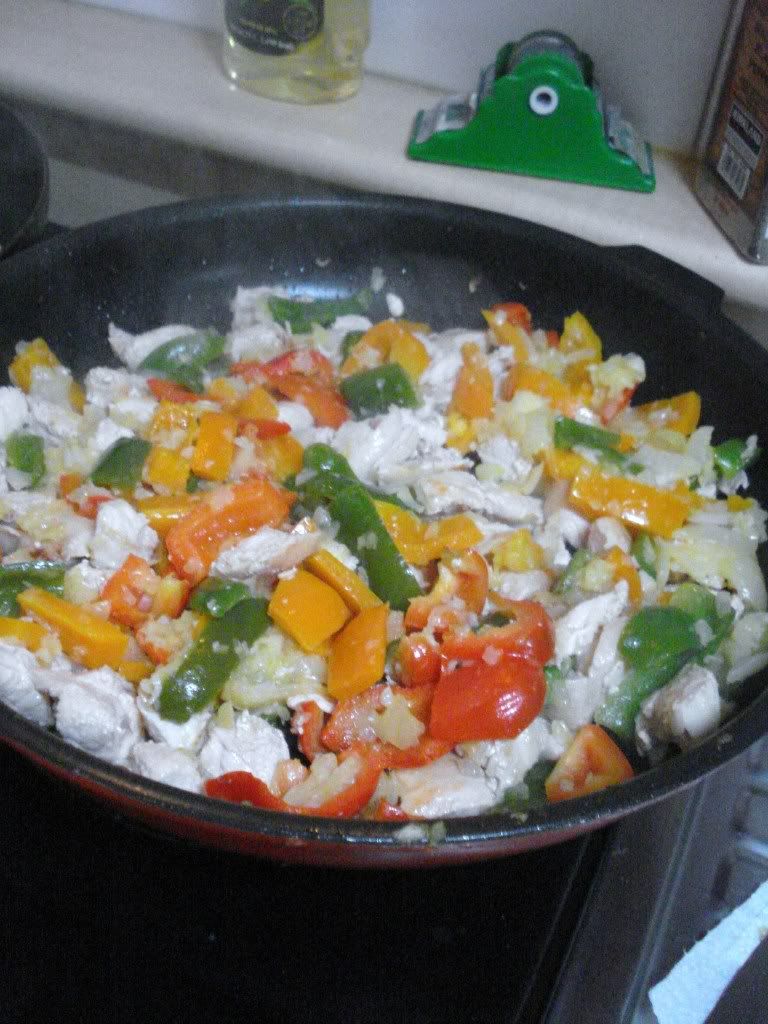 Chicken mixture
Once Ryan got done chopping it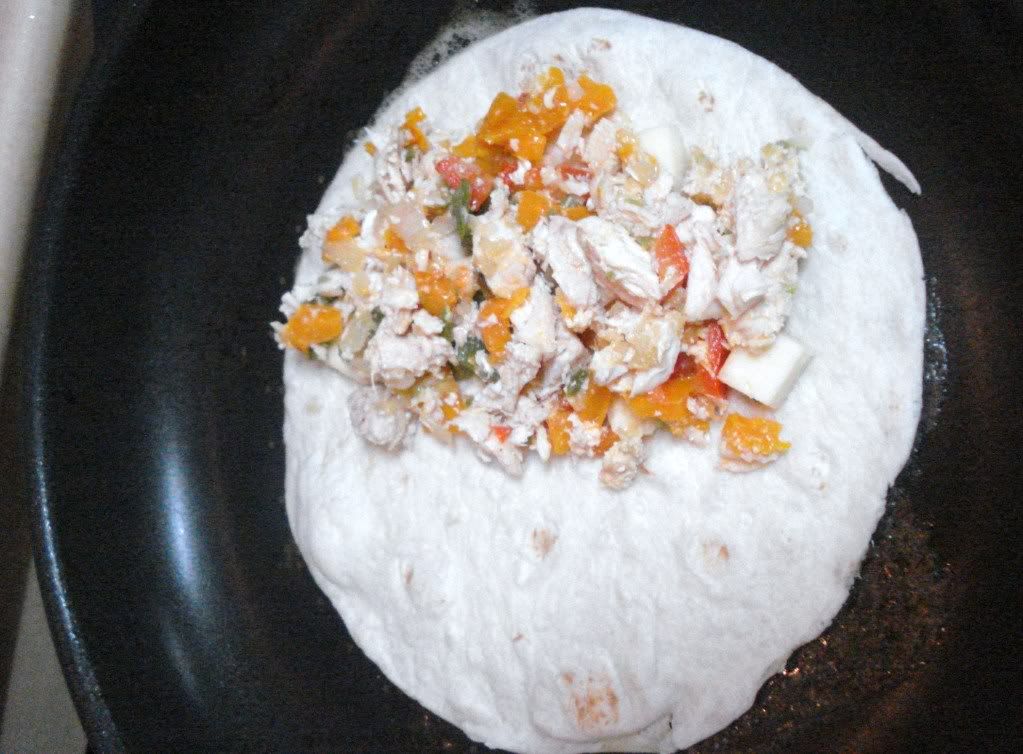 At this point it seemed easy enough
It looks nothing like what I get at a Mexican resturant....however it did taste quite amazing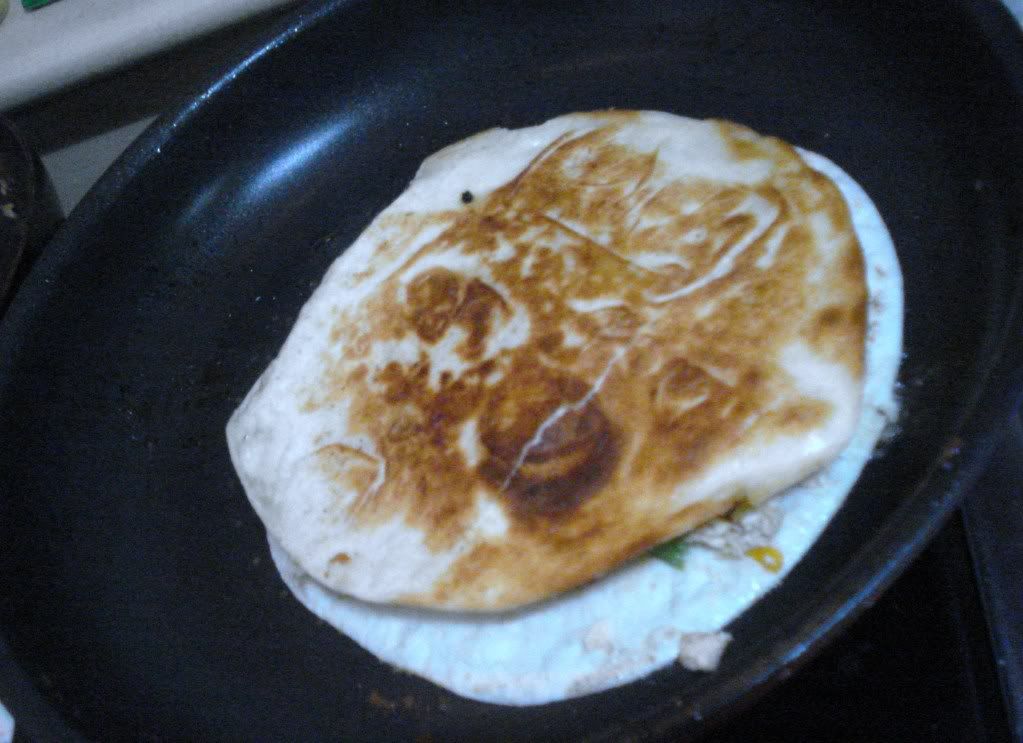 My attempt at a larger one. Sadly it didn't seem to want to stay together no matter how much cheese I used.
For the rice I took 2 cups of water and boiled them with some dried beef broth. Fried up 1 cup of rice in some oil till browned and then added the broth mixture to let simmer for about 20 minutes. Ryan came in at this point and wanted to help so I gave him some of the left over green beans in the fridge to chop up so we could add them to the rice in hopes of using some of them up. Once done chopping them in the new chopper he wanted to do something more important so I gave him the garlic powder, the Mexican chili powder, and the spicy seasoning mix (all thanks to mom and her care packages) to add however much he wanted to the rice. I must say that the green beans and spicy rice mix was amazing.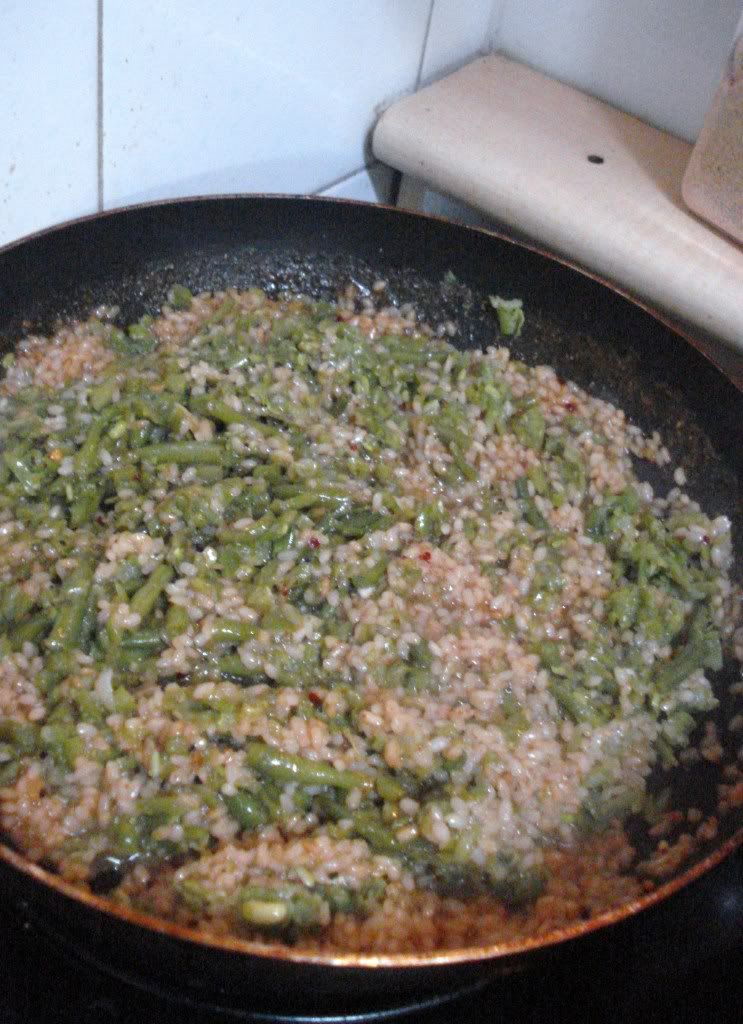 Odd but rather good combination.
So dinner tonight was very good which is lucky for us because sadly we didn't even use half of the chicken mixture (I guess 3 chicken breast is a little bit to much) so now we have left overs for lunch later this week. I will definitely be making this meal again. Funny how no matter how much I try to get away from Mexican for just about every other meal the more I seem to make.
---------------------------------------------------------------------------------------
For later this week I have chili simmering in a pot on the stove. Sadly I don't use a recipe for this I just take different things mom has told me and wing it every time. It always turns out good and close to the same each time I make it and Ryan always eats it all so I guess that means I am doing something right.
Ok so quick try at writing out what I do for the chili:
2 yellow onions and 2 green onions chopped
4 or 5 pieces of garlic chopped
1 can of diced tomatoes
2 cans of kidney beans (rinsed)
4 turkey burgers browned and broken up as much as I can (they don't break up to well so its more or less chunky)
1 or 2 cans of corn (however much Ryan wants to add)
Random amount of Mexican chili powder (and some beef broth today but not to sure why I added it)
Random amount of garlic powder and pepper
3 or 4 cups of water (just enough to cover everything)
Let everything simmer covered for about and hour or and hour and a half
Let sit over night in fridge (or our porch because it is only 5 degrees out tonight)
Sometimes add green, yellow, and red peppers
I think that is it pretty much. Funny how when I make it I don't even really have to think anymore; yet as I sit here and try to think of how to tell someone else how to cook it I really can't. It is extremely simple and messing it up is almost impossible though so just wing it.
--------------------------------------------------------------------------------------------
On an
extremely
random side note before I end this blog I have taken on another one of my New Year's resolution's and started reading a business book (Tribal Knowledge: Business Wisdom) and it is going pretty good right now with a chapter or so every other day. I have also started reading (or well looking a pictures for now) a few of the beading/jewelry making books Sam gave me in hopes of being ready next time I go to the fabric/bead market. Now to get on a few of the daily books mom sent back with me.
Now I think that is finally it for this blog. Life wouldn't be any fun without some unorganized random thoughts every now and then!