Wednesday night I was lucky enough to have an amazing boyfriend like Ryan who was willing to teach my last class of the night so I could head home and give a new recipe a try (I know, I know it is quite a fair trade off but it was a middle school class so I would cook any day of teach them). Before I get in to how everything went I will share the recipe for you and highly recommend that you give it a try yourself as Ryan and I both enjoyed it.
Recipe from KraftCanada.com
Creamy Rice, Chicken & Spinach Dinner
prep time - 10 min
total time - 40 min
makes - 4 servings, 1-1/2 cups (375 mL) each
What You Need:
1/4 cup Kraft Signature Roasted Red Pepper with Parmesan Dressing
1 lb. (450 g) boneless skinless chicken breasts, cut into strips
1 can (10 fl oz/284 mL) 25%-less-sodium chicken broth
1-1/2 cups instant brown rice, uncooked
125 g (1/2 of 250-g pkg.) Philadelphia Light Brick Cream Cheese Spread, cubed
6 oz. (170 g) baby spinach leaves (8 cups packed leaves)
1 large tomato, chopped
2 Tbsp. Kraft 100% Parmesan Light Grated Cheese
Make It:
HEAT dressing in large deep skillet or Dutch oven on medium-high heat. Add chicken; cook 5 min. Add broth; bring to boil. Stir in rice; return to boil. Cover; simmer on medium heat 5 min.
ADD cream cheese; cook, uncovered, until completely melted, stirring occasionally. Add spinach (skillet will be full); cover. Cook 2 min. or until spinach is wilted; stir gently.
REMOVE from heat. Let stand, covered, 5 min. Stir in tomatoes; sprinkle with Parmesan.
kraft kitchens tips
Make it Easy
Purchase bagged pre-washed fresh baby spinach in your produce section.
Substitute
Prepare using Kraft Calorie-Wise Zesty Italian Dressing.
_____________________________________________________________________________
Sounds easy enough on paper right? Well now for how this all went down in my tiny tine kitchen as I did laundry and dishes just so I could turn around and use them again, and for some even once again.
For starters this took me a lot longer than the 40 minutes they claim it takes to cook it, also it makes way more than 4 servings. However I feel that add time might be due to my small kitchen and lack of ready made ingredients and whale we are being honest the fact that this meal made more like 10 servings might of been a slip up on my part also.
So to start out with I needed to make some chicken broth (very simple just boil some water and add in some chicken flavoring) and rice (I subbed in plain white rice because we have tons of it). Next came the part where I need to make some Italian dressing (as always thanks to mom and her care packages) but didn't need it all so I tried to make just a little. Once done and proud of how the dressing was looking I realized that I had to much and that the oil and water were not mixing no mater how much I whisked it so I went on the hunt for something to shake it in. After a few minutes I came upon a multivitamin container, dumped out the pills, and poured it in. All in all it worked pretty good mixing it much better as I shook it and even gave me someplace to store the extra dressing. Next came a part I always hate, the cutting up of the chicken to add it to the warming oil in the pan.
As the chicken started to cook I boiled some green beans and carrots as a side dish. Next I had to add the broth and rice to the chicken and simmer it covered, well for starters we don't have a lid for our pan and I am pretty sure at this point I made WAY to much rice. I used a cup and a half of rice like the recipe said; however I think white rice is magic and cooks up more than the instant rice. As I let it simmer mixed together I strained the vegetables and then boiled the noodles for the mac and cheese, little did I know (well should of been able to guess) we didn't need a second side dish. The next step was to mix in the cream cheese and heat on low until it melted and then add the tomatoes. For the most part this was all very easy and went off without a hitch.
I was in the process of draining the noddles when Ryan walked though the door so he finished off the mac and cheese as I set the table for dinner. I think my first sign that my simple dinner for 2 had multiplied into dinner for 10 should of come when I went to lift the pan and almost dropped
due to the weight of it all. Once at the table I realized I forgot the parmesan and went on a hunt for it, however I don't really think it was needed.
Kraft calls this a healthy meal and I am sure it is if you make it as they tell you to. Sadly for us I think this meal was as far from healthy as it could possible get. For starters the whole grain rice got turned into normal everyday white rice, the low fat cream cheese got subbed in for normal cream cheese and in my haste to finish dinner I just added in the full contents of the container (I should of only used a 1/3), and the low fat broth was subbed in for whatever it is they use as chicken broth flavoring around here.
Two other things we had to sub in for the recipe were stewed tomatoes (we didn't find any fresh ones) and we got what we thought was spinach but it turned out to be collar greens and well they tasted ok in the recipe but I think I would of rather had spinach.
All in all I loved this recipe however I think I will leave this at a once a month mean, and maybe even try to make it in a half next time. This recipe has given me a few good ideas of other things I want to try in different meals.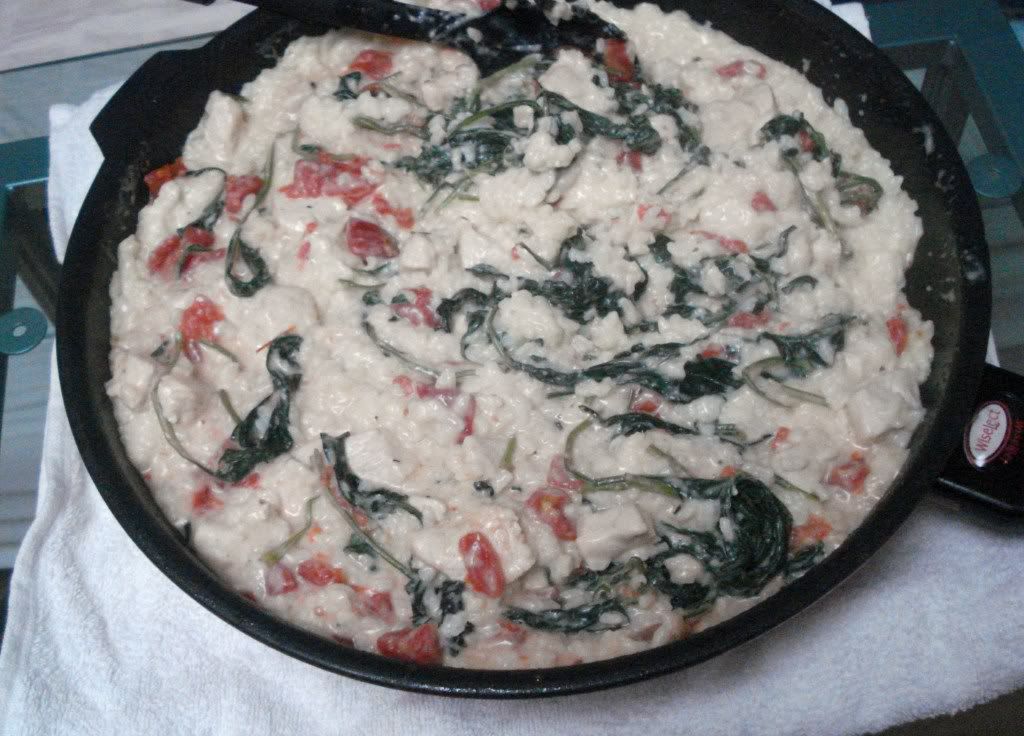 It looked a lot better in person.