This past Sunday I started working on another one of my many New Year's Resolutions, one that I hope I can get in the habit of doing and will make life easier in the long run. I tried to precook a few (3) meals for the week, it is something my mom always use to do when I was a kid so we could always have a warm meal ready even if her and dad had crazy work schedules. Sadly this task seemed a lot simpler when I thought of it (and when I use to watch mom do it) because with my lack of kitchen space and a dishwasher it pretty much went something like this:
-Use all the pots and pans to cut, cook, simmer, and fry recipe one.
- Complain to the kitchen about how it is totally useless because of the lack of counter space and sadly end up setting most pots and pans on the floor when I had to move them from the head or use the burner for something else. Sadly some pans even made it out to the table in the laundry room.
-Worry my pot is not big enough to mix everything together so whip out the Tupperware, set it on the floor, pour it in and mix.
-Set the dish in the laundry room to "chill" (there is no heat in the laundry room so it is more or less extra cold storage for us)
- Wash all the dishes, dry them, and put them away.
- Check on the first dish to find out that some how it had a very thick layer of oil on the top, so grab some paper towels and use them to absorb the grease of the top of the stew. This oddly worked very well and left me feeling quite crafty!
- Use just about all the pots and pans I just washed from recipe to make recipe two
- Repeat most of what happened in the first set of these steps only setting some random parts of the dish that were finished early in the sink
- Try to make Ranch out of Ranch Dressing (that mom was nice enough to send me among many other things for cooking) subbing in milk for sour cream to make a liquid mixture that wasn't half bad.
- Leave all the dishes in hopes of washing them after dinner and starting recipe 3.
-Meal 3 starts by looking at the dirty dishes and the time and thinking about how I really could lose a few pounds and just skip a few meals this week as I walk away to Skype with my mom.
Ok I know I know I shouldn't be complaining because at least I have a kitchen that is full of food (cooked or uncooked) most days.
Recipe one:
Cheesy Vegetable Stew Soup
Ingredients :
1 pound lean ground beef
2 slices of bacon
3 large potatoes peeled and cubed
1 large onion (chopped)
2 cloves of garlic pressed
3 carrots (sliced or chopped)
2 stalks celery
chicken bouillon or paste
Approx. 42 oz of water
2 cups shredded sharp or extra sharp cheddar
2 1/2 cups milk (if sauce gets too thick add more milk as needed)
3 tablespoons butter
2 tablespoons flour
How to make it :
In a lager soup pot with 42 oz water, add chicken bouillon or paste and carrots. Bring to a slow boil and add celery.
No chicken bouillon or paste so sub in whatever it is we think is chicken broth (it taste like chicken) with carrots. Skip on the celery because I have yet to see any anywhere in Korea.
Let simmer for 10 minutes then add cubed potatoes.
Meanwhile brown the bacon in a pan. Don not discard the bacon drippings. Remove bacon from pan and add onion and garlic to the bacon drippings. Let them fry in the pan for about 5 minutes then add ground beef and brown.
Skip the bacon part and just add oil to the pan as a sub in for bacon drippings in hopes to not burn the onion and garlic.
When the meat is browned crumble bacon over meat and set aside.
Rember at this point that we do have bacon bits in the fridge and throw a few handfulls of those in.
In a smaller pot melt butter and add flour. Stir flour and butter mixture over medium heat for a few minutes until it starts to smell yummy and nutty. Season with some pepper (do not add salt at this point). Add cold milk to the mixture and stir frequently. Mix will become nice and thick and bubbly. Let it boil for just a minute or 2.
Sadly I am pretty sure I did this right but I didn't smell anything nutty, and it didn't ever become thick and bubbly.
Take pot off the burner and stir in shredded cheese very slowly until all cheese has melted.
Test if your vegetables are done. If so add the ground meat mixture to the soup.
I couldn't help myself and had to add in random mixed vegetables from Costco's frozen vegetables pack once I realized that there were only potatoes and carrots in this soup and the main reason I was making it was to use up some of our frozen vegetables in the freezer.
Let it simmer for just a few minutes then take off the burner. Add the milk cheese mixture to the soup very slowly and stir very good to mix it all up.
Taste your soup if it needs salt. Lots of times it does not since you add all the sharp cheese and bacon to it.
Sprinkle with some fresh chopped parsley and serve with crusty bread.
I skipped on the parsley and bread; however I did add crushed bay leaf at some point in this process.
The things in italics are how I did things or things I added or subbed in to the recipe. Ryan has eaten this for dinner tonight and had some last night with pizza and seems to like once he adds more cheese however he says everything always needs cheese. Hopefully soon I hope to also try it for some odd reason I can't bring myself to try it.
However recipe two was very good and is sadly already gone.
Recipe 2:
Easy Beef Stroganoff
1 pound beef round tip steaks, cut 1/8 to 1/4-inch thick
1 clove garlic, minced
4 teaspoons vegetable oil
1/4 teaspoon salt
1/4 teaspoon ground black pepper
1/2 pound mushrooms, sliced (1/2-inch)
1 (3/4-ounce) package brown gravy mix
4 cups uncooked wide egg noodles (about 5-ounces), cooked
1/4 cup dairy sour cream
1. Stack beef steaks; cut lengthwise in half, then crosswise into 1-inch wide strips. Toss with garlic.
2. Heat 2 teaspoons oil in large nonstick skillet over medium-high heat until hot. Add 1/2 of beef; stir-fry 1 minute or until outside surface of beef is no longer pink. (Do not overcook.) Remove. Repeat with remaining beef. Season with salt and pepper.
3. Heat remaining 2 teaspoons oil in same skillet over medium-high heat until hot. Add mushrooms; cook and stir 2 minutes or until tender. Remove from heat. Add gravy mix and 1 cup cold water; blend well. Bring to a boil. Reduce heat; simmer 1 minute or until sauce is thickened, stirring frequently. Stir in beef; heat through. Serve over noodles. Pass sour cream.

For the most part I went along with everything here step by step however had to leave out the sour cream becuase we can't find it unless we buy a huge cafeteria sized one at Costco. Also it said "pass sour cream" so I don't know if that means use it or not.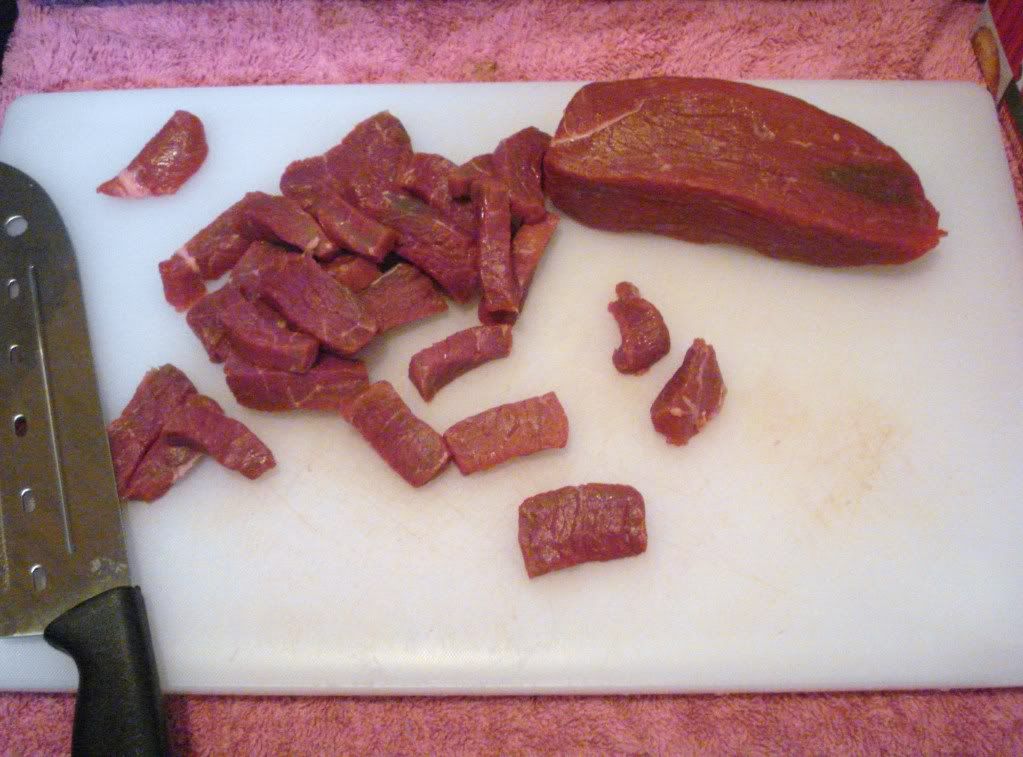 Raw beef, sadly I am getting much better at handling raw meat now that mom is not here to do it.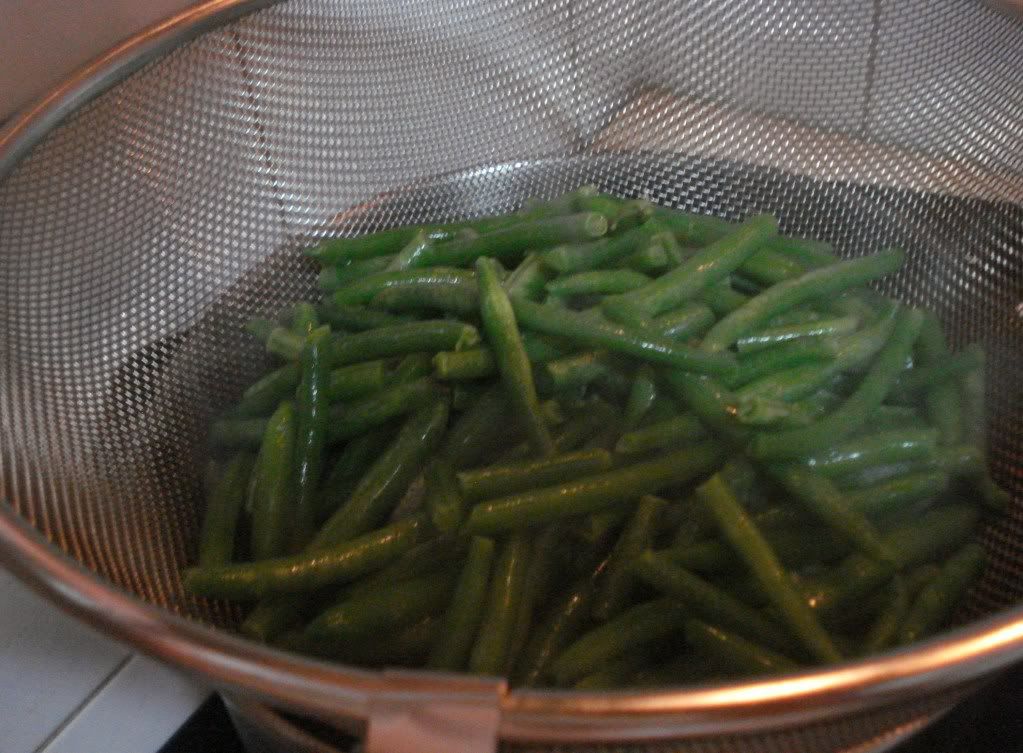 Steaming the green beans in a strainer of the boiling pasta.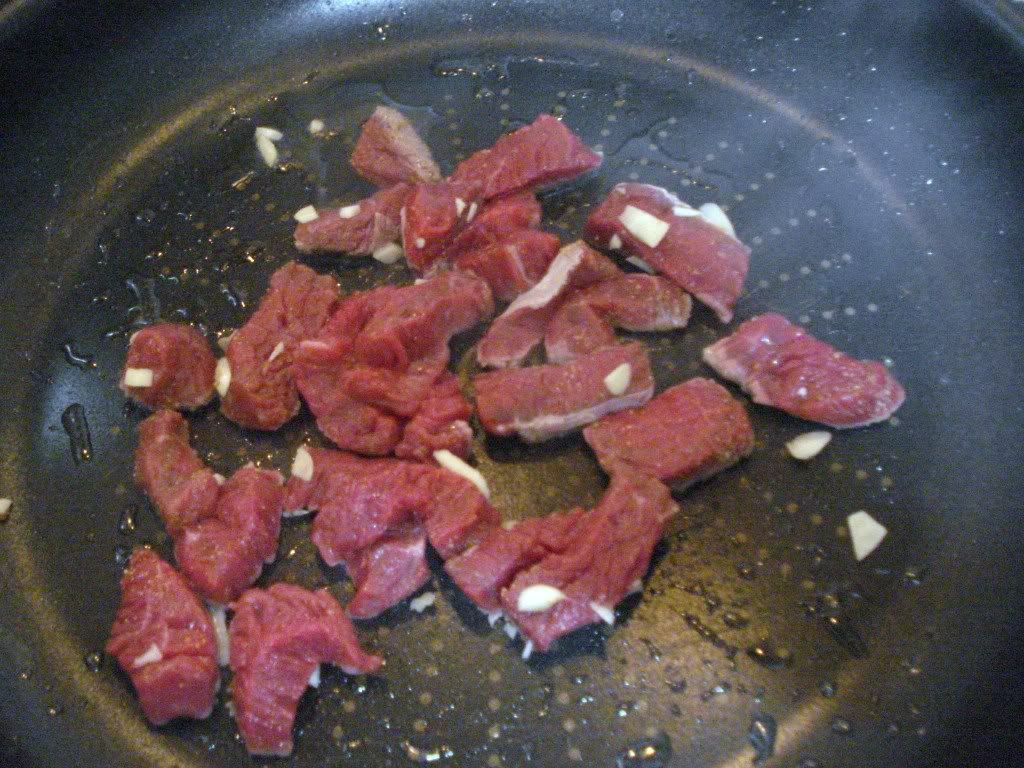 Half of the beef and garlic mixture. I am not sure why they had me do it in two separate batches.

The "Korean" mushrooms we subbed in for the "American" mushrooms

The mushrooms, beef, and gravy simmering as I wait with my fingers crossed hoping it is going to "firm" up a bit.

The final meal, we even had some salad with what is as close as we can get to ranch dressing.