Ok so I hope to finally be up to date on blogs from the trip home! So in hopes of not boring everyone to death I am just going to do what I hope is a somewhat short recap of everyday.
Sunday -
We woke up bright and early due to the time change and found a winter wonderland. We got ready to head over to my parents for Christmas breakfast with my family. On the way home I called my aunt up in Michigan to wish her a Merry Christmas and reminisce about the past Christmases at grandmas house and catch up on life. After breakfast we went ahead and did Santa gifts followed by decorating cookies. Ryan had to head home to spend some time with his family and I need a long nice nap after talking to my grandpa Gordo. Ryan came back over shortly after 4 and we did gift giving with my family, I always love giving gifts to my family because I always try to put thought into everything and I get a rush of excitement as my gifts are opened. After gifts we got to enjoy some of dads ribs and chicken wings for dinner with cornbread, green beans, and mash potatoes topped of with some wine and Christmas cookies. I then enjoyed a quite night with mom watching Eat Pray Love but sadly I passed out half way through it and have no clue how it went or really what it was about but it was great to be up in my old room again with mom.
Pictures from Sunday:
Our white Christmas!
Cookie Making or Well Decorating:
The gingerbread man had a little mishap and lost his leg.
Chris
Mom
Ryan
Dad
Ok so it doesn't look like we will be starting a bakery anytime soon...
Ryan making an airplane
One of Chris's cookies
Ryan tried to make a 3D dino cookie...it was more or less a cookie sandwiched
Sadly the eyes slipped off and now he is blind.
Santa Gifts: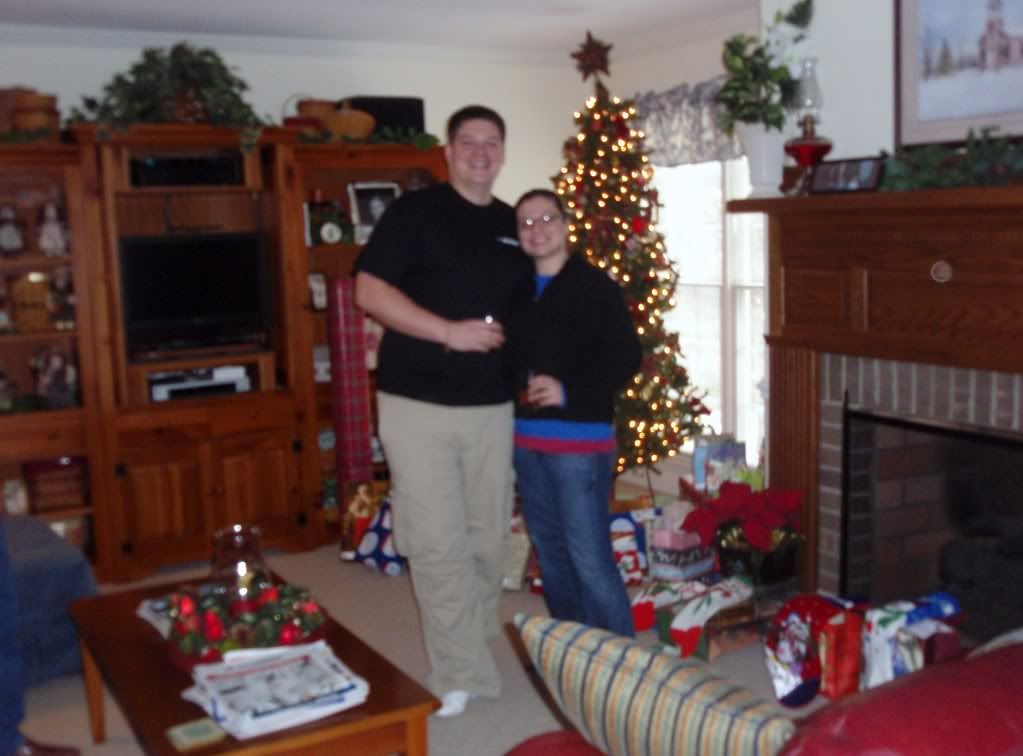 Sadly this was before my shower....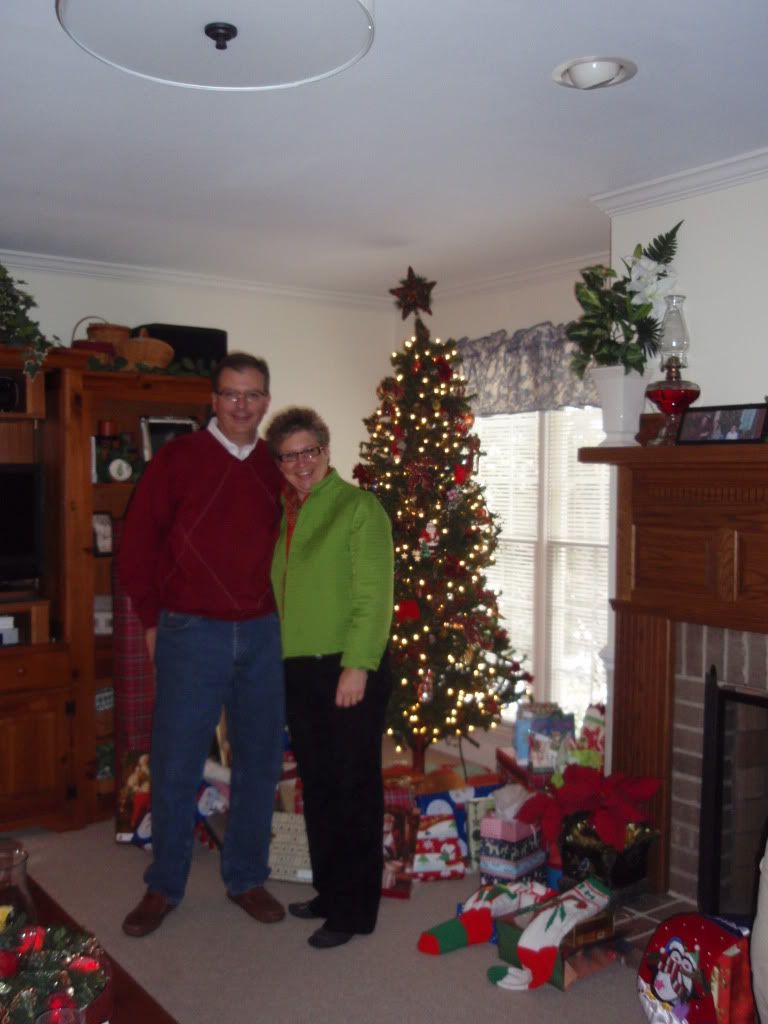 Mom and dad before Santa time!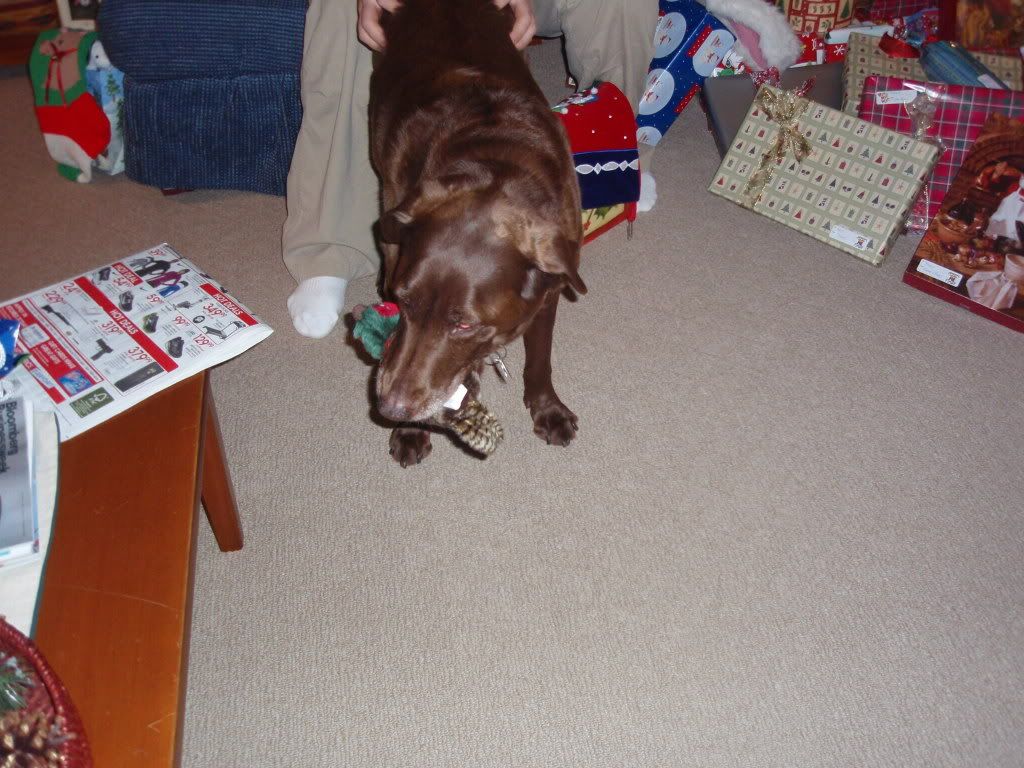 Clair and her new toy!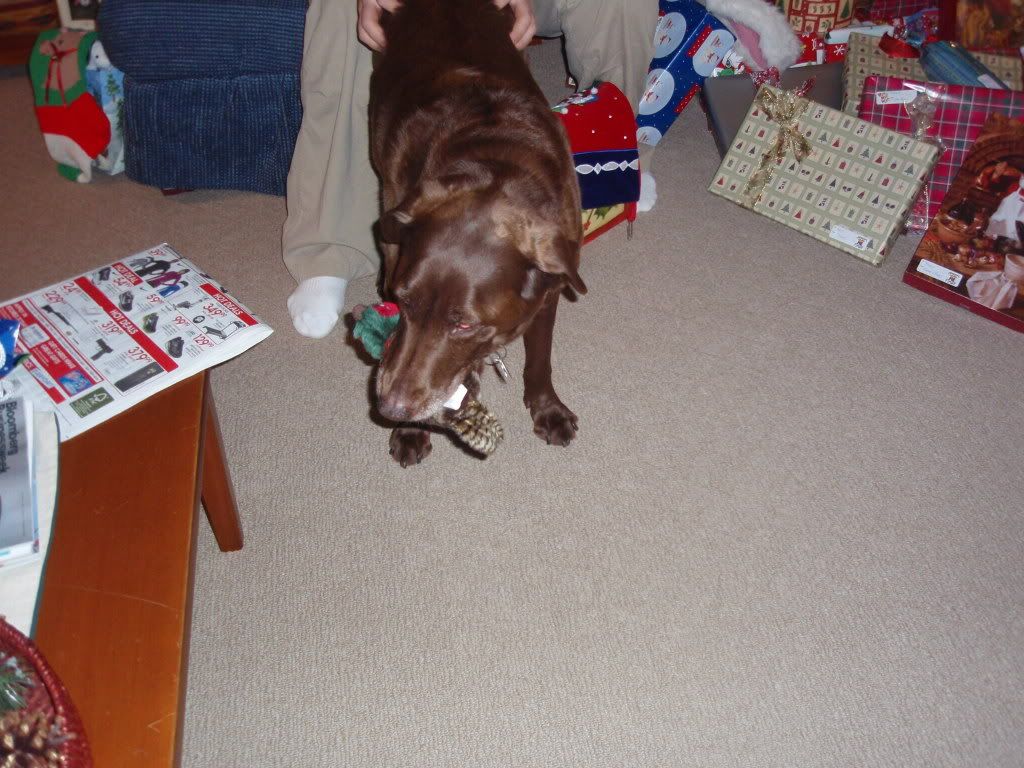 And again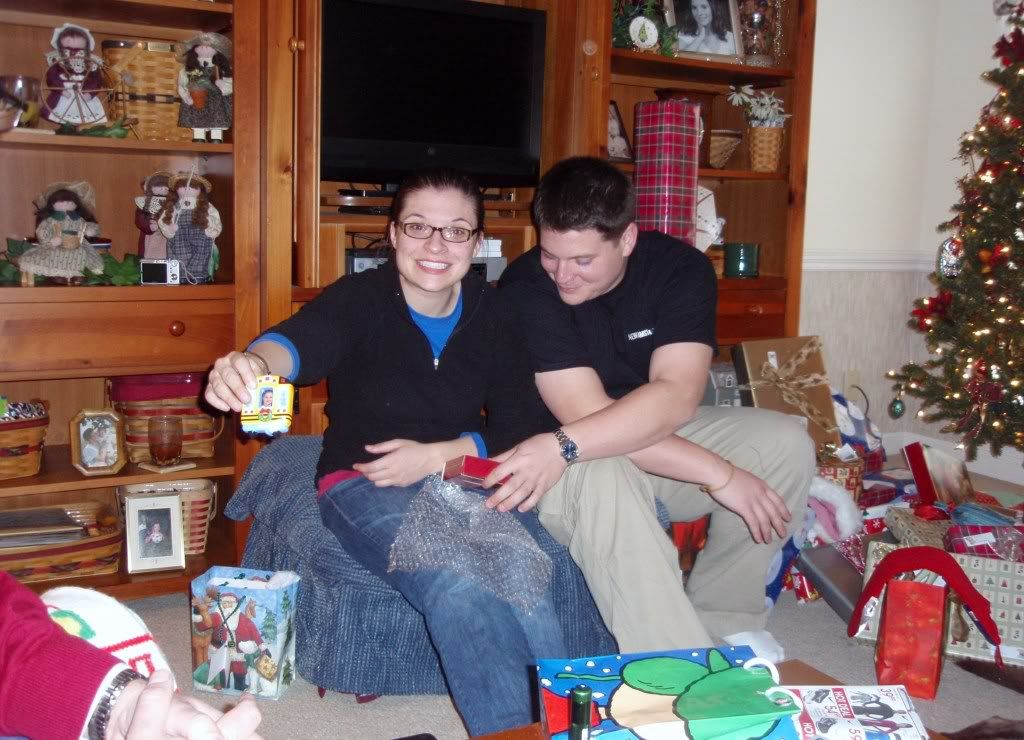 Christmas ornament from grandma's tree!
Family Gifts:
Moms tree was all red and green this year, it looked amazing!
Stockings!
Ryan was in charge of handing out the gifts and that means you have to wear the Santa hat.
Dad got a new workout watch, one just like his old one....pure luck on my part
Dad wrapped a gift from "Clair, Georgia, Skipidy and Doodah" for Ryan
I got him a shirt...well the dogs did anyways ; )
Chris got dad a Carolina hat
Chris's great wrapping job...don't you just love it?
And now we see why the gift wrap was so odd...
"Life is not good"
A wind chime from a Buddhist temple
The book Chris gave Ryan
Clair and her new toy
Clair checking out Ryan's shirt
Mom's Korean Rice Paper lamp
Ryan got a new sweater
So did mom!
Chris got an instrument from a Buddhist Temple (I sadly see a pattern here)
He was very happy with it
Ryan loves the "big ponies" as dad calls them
Next year Ryan says we are just going to give Chris a stick because he was so entertained by this instrument.
Looks like Ryan will be nice and cozy this winter!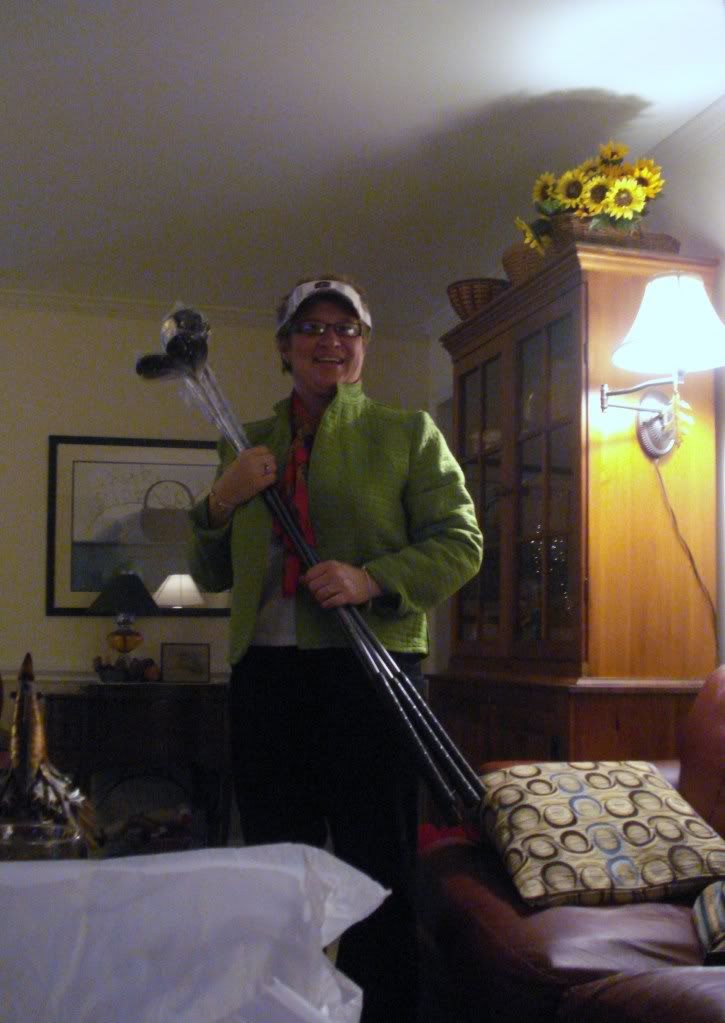 Moms ready to hit the gold course!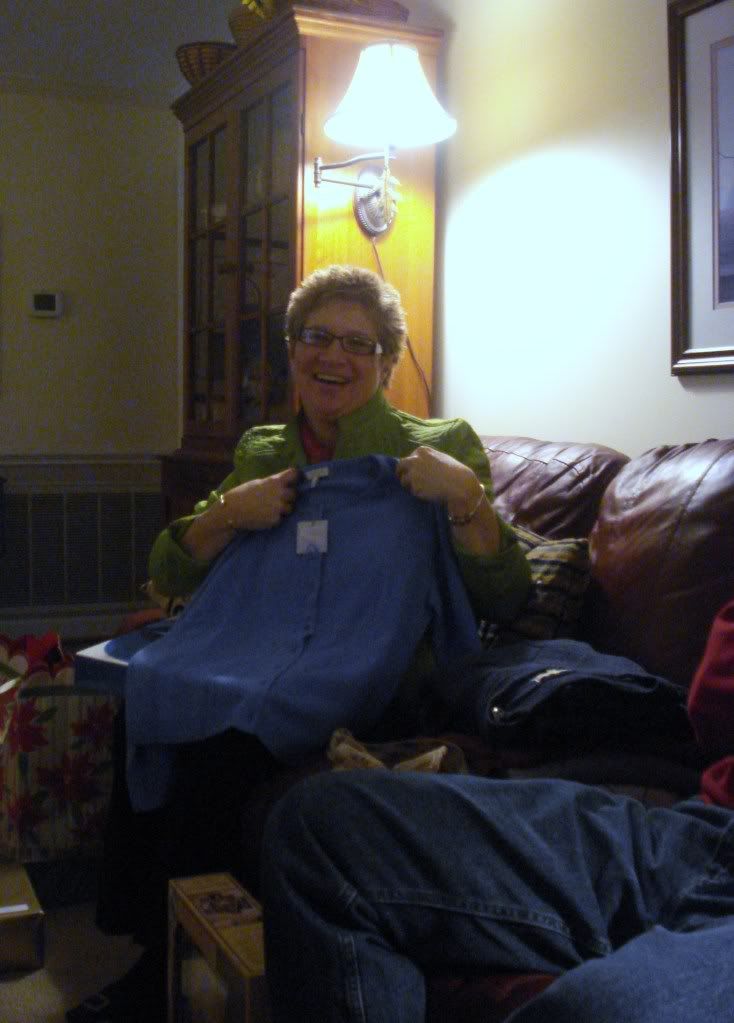 Mom will also be all warm and cozy!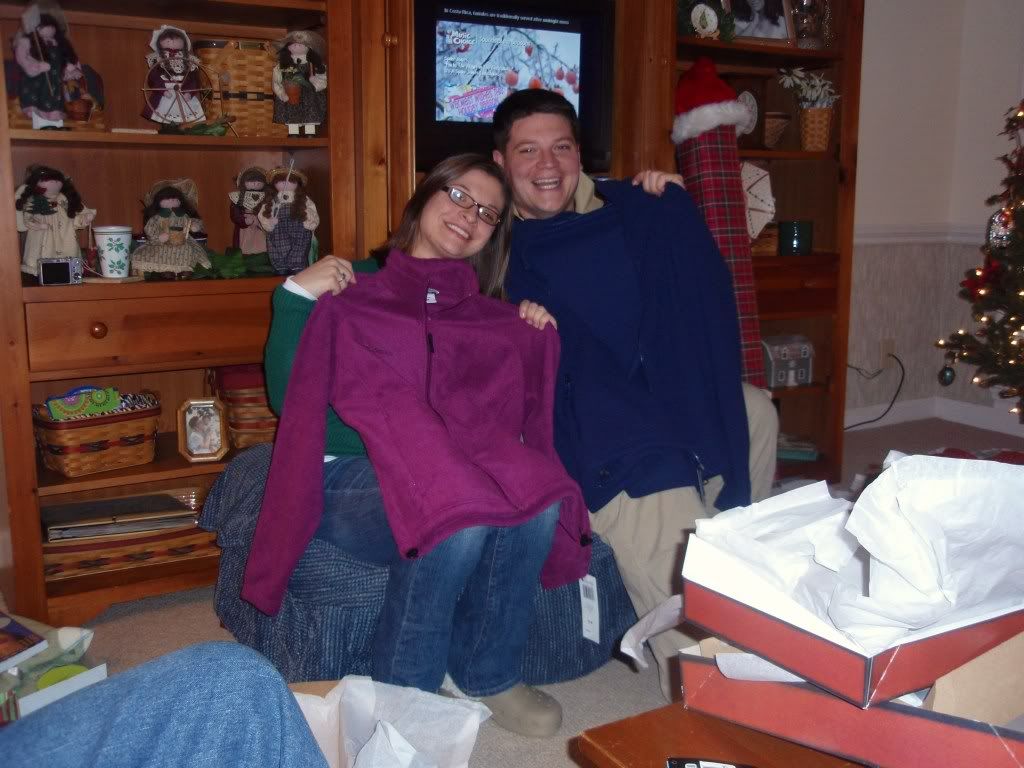 Yea we have warm and fuzzy fleece
Dinner:
Ribs before dad added the chicken wings
Monday -
Sadly I don't think there are any pictures of well anything for today. Anyways the day pretty much went like this:
Wake up at 4 am thinking its dinner and beer time but hide out in my room for someone else to wake up so that I don't have to go outside with the dog as I catch up on TV shows that I have missed or didn't even know about and think about how I really don't miss American TV yet then again I do.
Play with my new Kindle I got from mom and dad and try to force myself to finish my old book so that I can start a new book on my Kindle.
Go with mom and dad over to the east side to drop off the Yukon, buy new underwear and bras and some pants, you know the essentials.
Go to Sam's to get new socks and a few new sweaters to wear to school because we don't have any central heat at school. Some days I feel like I work at the North Pole however I can't get my students to waddle like penguins.
Go to lunch with mom, dad and Chris at the clock.
Meet up with Ryan to get new sneakers and some pants, then movies and turkey dinner at his parents.
Tuesday -
Sadly still no fun pictures from this day either.
Wake up once again nice and early at Ryan's and catch up on Dexter's.
Head home to work on packing ups spices and random pills I cant get in Korea.
Make a quick trip up to the Primrose with mom to pick up new Brighten beads then go to the mall to see Ann and Kim (sadly Batman was sick) then swing into Belks to exchange my new Sperry's for a bigger size (my feet seem to have grown) and do some random shopping.
Go to Corona's Mexican Grill with Ryan for lunch to enjoy some Mexicans that I don't have to make myself.
Swing in to my dads office with Ryan to see everyone and get some homemade brownies from Sam.
Then head home for a short nap and some home made pizza dinner from mom that was amazing.
Ending the night sadly yet again early by talking to Grandma Nessi and Skyping my aunt and uncle.
I couldn't go to be though before finally downloading a few books for the Kindle.
Wednesday -
And yet again (I know it's shocking) still no pictures.
Wednesday was just more or less spent knocking out things on my to do list along with sadly already starting to pack.
Catching up on What not to wear episodes with mom, one show that I do miss!
Yet again another nap then dinner with mom and dad, Chris, Ryan and a friend of the families at Hickory Tavern.
Then another early night sacked out in bed before 9.
Thursday-
Once again I was up at 4:30 again looking for diner subbed in Cheetos instead as I tried to hurry up and finish the book I was reading.
Another amazing family breakfast thanks to mom.
I got to catch up with Chelsey when she stopped by before work.
Yet again more work on packing as I start to get upset because I have to much stuff.
Have mom drag me off to get a get flu shot and visit with Amrit as I get it.
Veg out and try to avoid a nap while thinking about blogging.
Spend some more time working on packing.
Then Sam from dads office stopped by to mom and I some tricks and share some books with us on our new hobby of jewelry making, which I have yet to start sadly.
Then enjoy some home made amazing lasagna before sadly pass out at 8 pm.
Friday-
I finally slept in and didn't up until 5!
I work on reading yet again trying to finish that pesky book that seemed to drag on and on.
Enjoy some more Cheetos.
Yet again work on packing and swap from suitcase to suitcase trying to figure out what to do with things.
Get heart broken saying good bye to Clair as I leave for lunch with mom, dad and Chris to go to Big Daddy Joe's.
Yet again have my heart broken once more saying good bye to Chris before driving to the airport to meet up with Ryan.
Yet again have my heart broken again saying good bye to mom and dad before heading to our gate and just wait for the fun filled day of travel to begin.
New Years Day Photos before heading to the airport:
Ok and hopefully tomorrow or soon I will do a short recap of the oh so fun trip home (back to Korea, home for me now).