January 25-26
This week Ryan and I got to go to our first ever English Camp! I feel a little bit bad saying it was not as much fun as I thought it would be and well I was shocked at the lack of English spoken. I have many complaints about how camp went, the lack of fun activities, and the fact that the plain was a poorly thought out one to say the least however I mainly want to try to use this blog to share some of the photos I got and some of the
poorly planed and dull
events.
Ryan and I started our day out by heading in to school at 10 where we were greeted with tons and tons of invitations to fold, label, and stuff. Around 10:30 we had a nice little assembly line working with some of our students when we were informed it was time to assign teams, and room assignments. We only had on bus so half the kids went ahead to get their name tags and what not at came as we did the others in the lobby of the school. By 11:30 kids were overly excited to go and when the bus showed back up at 12 they were bouncing off the walls. They were short on seats on the bus so I got to sit in a special set by the front door that folded out of the wall and Ryan got to sit on the steps as we talked to the bus driver and found out one of his suns was in one of the middle school classes that had just moved up to high school.
The ride took us about 20-45 minutes and as we headed through the mountains we passed a nice big lake that was frozen and covered with snow where we could see people ice fishing. The snow on the tress and in the mountains was quite a breath taking view and I could almost picture myself back home in the Smokey Mountains. We arrived at the teaching facility to find the other half of the students waiting in a large room waiting for lunch. Ryan gave a quick speech welcoming everyone to camp before we headed up to the main rooms for the teams and brook up for lunch.
Ryan giving the opening speech:
After lunch we headed back down to the main area to start the "Mission Complete Challenges". I was in charge of a mummy activity, and a pictionary game where a Korea teacher would sit behind me and show the kids the name of an animal and they would have one minute to act out as many as they could and have me correctly guess. In order for them to move on to the next activity I had to correctly guess 7 animals in one minute. Sadly this didn't go over to well seeing as how someone had added in animals like ostrich, mosquito, camel and so forth and I could not look over the list of animals before hand to even begging to have the slightest idea.
Here are some very funny photos I got of the kids wrapping each other in toilet paper to make mummies: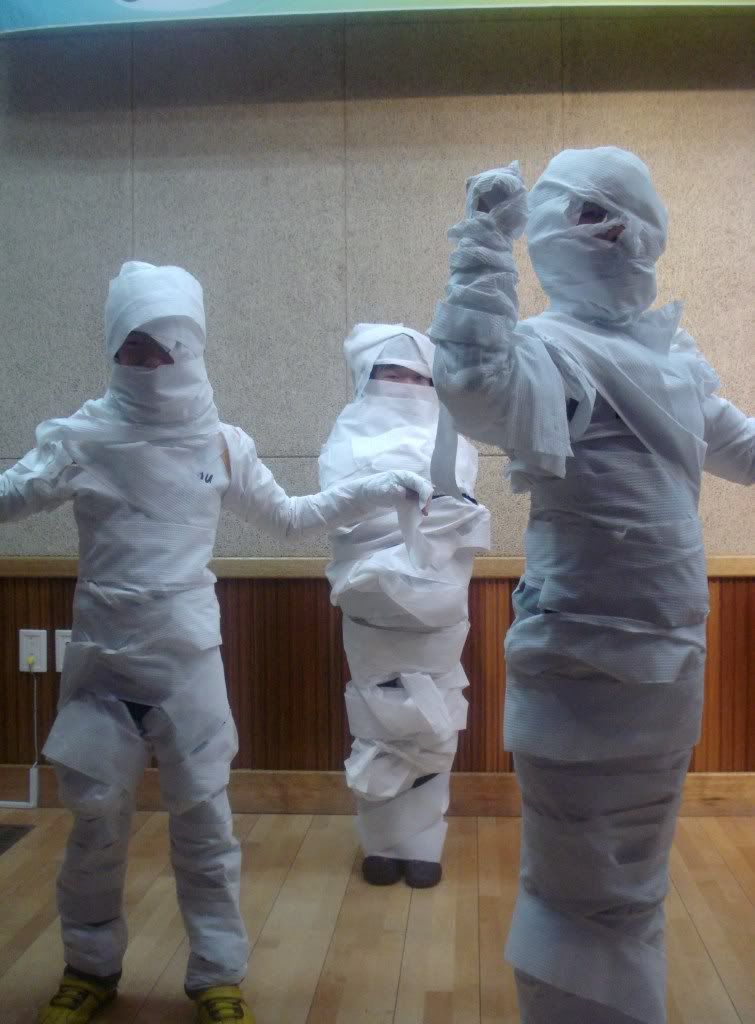 Getting them all to stand still was not easy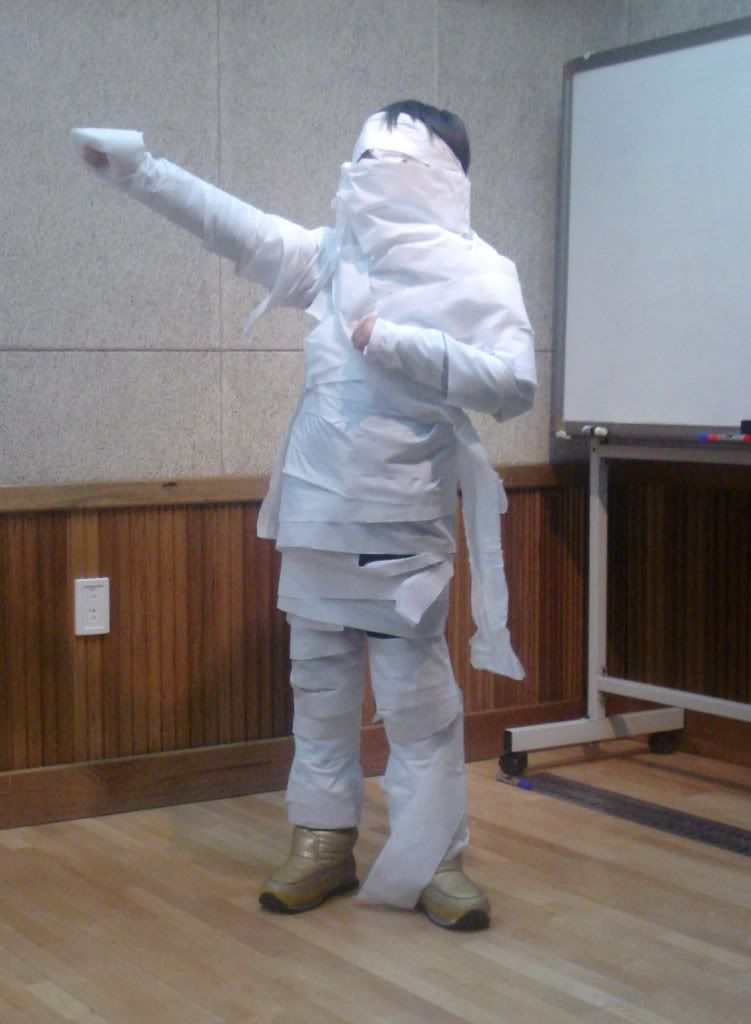 Please note this mummy's super cool shoes, Ryan calls them pimp shoes
Time for the first group of kids to bust out of their mummy wraps
I really don't know what is going on here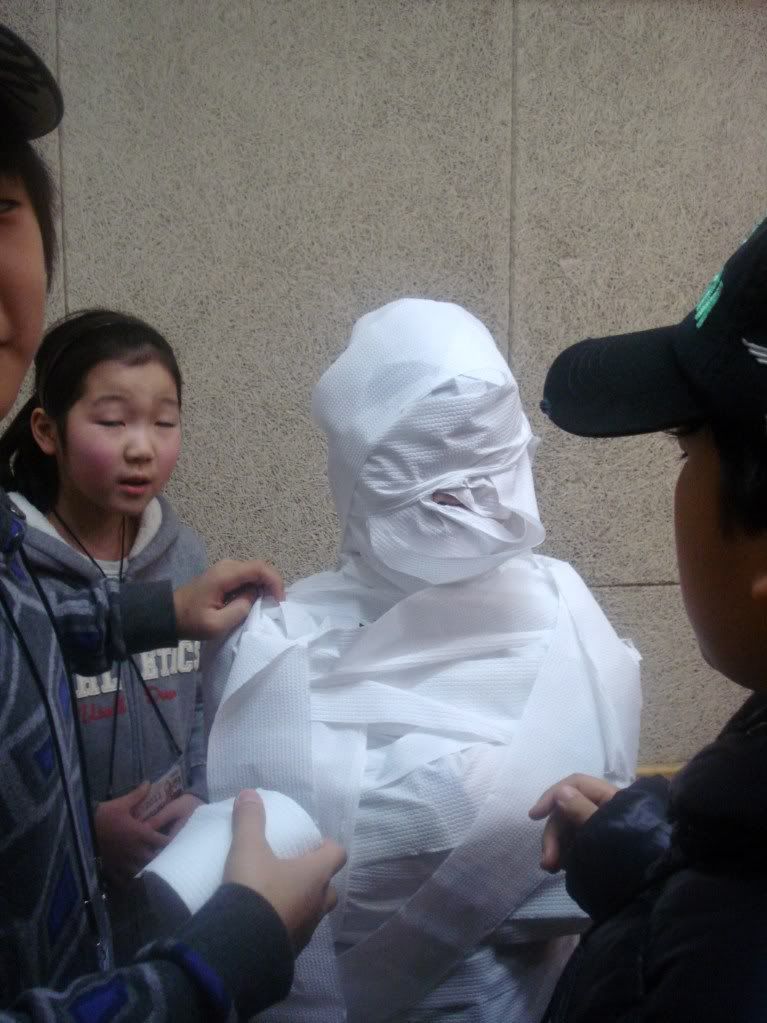 This little boy was worried he wouldn't be able to breath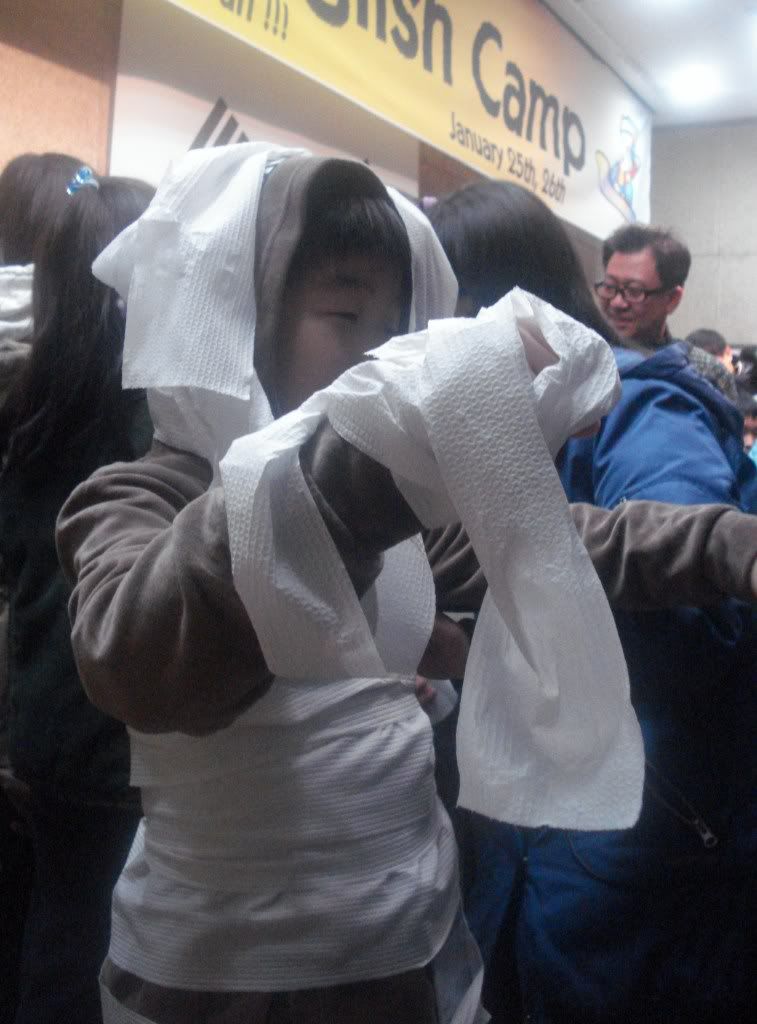 I think this team needed a little help
I think most of the students liked the mummy game the best.
Some of the teams at Ryan's challenge.
The other teachers had games like "find the hidden scroll and translate it", "guess the capitals", "where's waldo", "rock, paper, scissors", and "catch the word" and well sadly most kids didn't find any of these games appealing or too exciting.
A photo of the winning team. Some of my favorite students were on that team so I couldn't help but be happy for them when they came running up to me shouting that they had won.
Once we were done with all the challenges (about 5:00) we started the cooking contest back up in the team rooms. I offered to help Anne teacher with her team that was making ham and cheese sandwiches. Well the sandwiches didn't take long at all so once they were done the kids were now board and really hungry. Dinner was not until 6 so I tried to entertain them with Home Alone 4 (a mix between Home Alone and Richy Rich). Finally at about 6:30 I gave in and let my kids eat as I went to meet up with Ryan and a few other teachers to judge the food contest. Sadly what the team made is what they were eating for dinner and some teams messed up their meal so we had a lot of hungry kids.
Photos of my kids amazing sandwich making skills: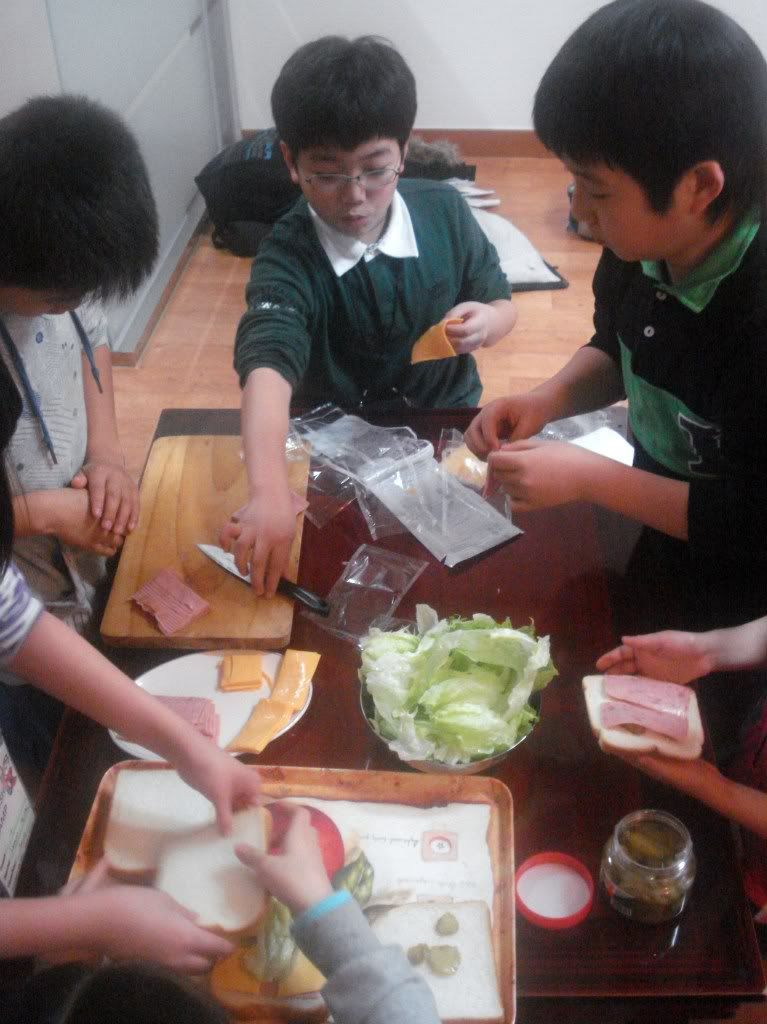 Giving everyone something to do when there are too many kids and only so many things to do to a sandwich turned out to be a challenge. So one kid ripped lettuce, one kid washed it, one kid cut (or well finally chopped) the cheese (and ate most of it), one kid cut the meet, one put on the pickles and so on and so forth.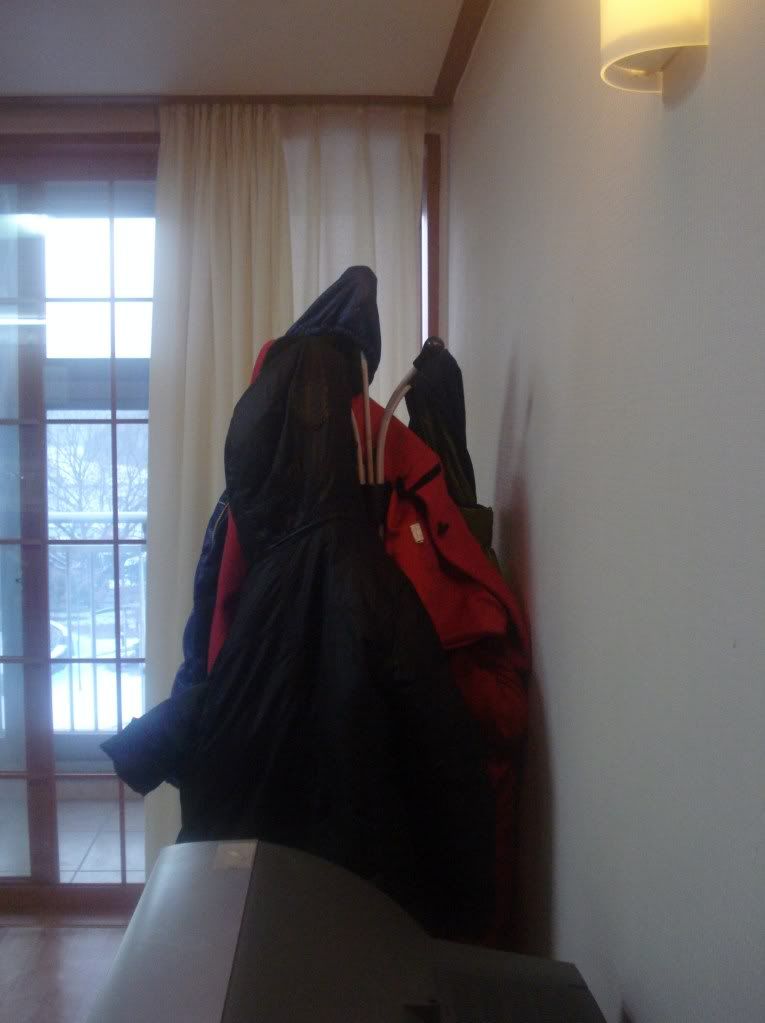 You can't really tell but Dean is over there "handing out with the coats"