Well hey April when did you get here? No really when did February and March come and go? I only blogged on like…Tuesday…meaning I have missed out on so much blog wise, and I am behind on well…just about everything most likely. Really where does all the time in the day go? Oh yea I guess having a full time job does kind of take up time…and a lot of it. Anyways I guess seeing as how I have now missed 2 full months of updates I should probably do an update on how my New Year's Resolutions are coming along. I hope you didn't think I had just giving up on them…I mean we are only 4 months in….you really need to have more faith in me.
So if you need a refresher on my New Year's Resolutions they are here and if you want to know how January went you can read about it here and here. As for how things are currently going…well I could give you a long list of reasons why things are going but not going great….like I was sick for a few days, I got a new job, after I got use to the whole working things I got new hours, so on and so forth. However I am happily adjusting to this whole working more than part time hours at the mall things.
Goal: Get into a workout routine and keep it.
Well I was doing really good with this one....until the whole 8:30-5 job thing started. However two weeks ago I switched to my normal hours of 10:30-7 so I have been either walking to the gym with mom to work out, or just walking with mom at lest 4 days the past 2 weeks. So fingers crossed that I can keep this up, fall back into some sort of a workout routine, and then get back to where I was just a few weeks ago. It is amazing how fast all that progress I made just sort of slipped away and I am sort of back at square one.
Goal: Read! 36 books of any kind I like. At least 1 book a month that is nonfiction about something I would like to learn about, be it about travel, crafting, a person, or just to learn some of that stuff I probably should of learned in college.
Well I was doing great, reading like a book a week for umm...what was it....on yea 2 weeks. So that didn't last long. Out of my goal of 36 I have read 3....yea not good, and I don't think any of them have been any of those books I planed to read about learning, travel, crafting, ect. I really need to get on this, this is said. I love to read, I don't know what is going on...maybe I am reading the wrong books? Any suggestions? My shelfari would really love some suggestions...it is feeling kind of lonely lately.
Goal: To not be so lazy when it comes to my appearance.
This one is going great! Having a job is giving me a reason to wear some of the many, many cloths I own. Also being able to wear colors besides black, white, and gray to work is really fun!
Let's start with February and just roll right into March. I am still working taking a photo everyday but sadly I sometimes forget. Also I have no clue why I stand so awkwardly in self shorts.
Jan 1st Work at the Mall
Jan 4th who knows
Jan 6th Church
Jan 6th Super Bowl With Ryan.
Got the shirt in Alaska and love it...but would love it if it fit a little better.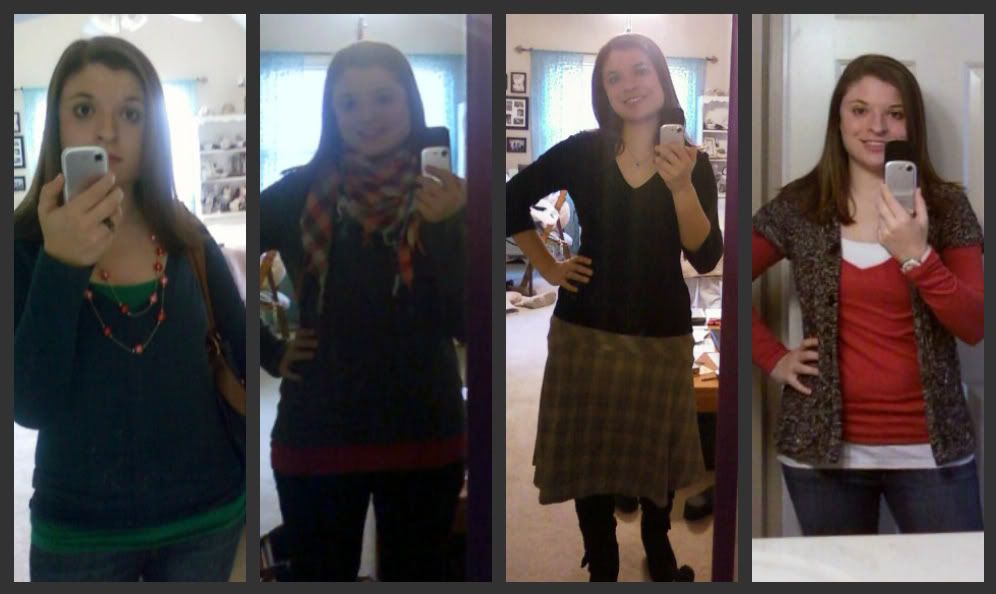 Jan 9th Lunch and Shopping with Chelsey.
Jan 10th Work at the mall.
Jan 12th Church (and interview outfit I wore to like 4 different interviews this month...maybe why some of my photos are missing, I thought they were repeats)
Jan 20th who knows, guess that is why you don't wait this long to catch up on blogs.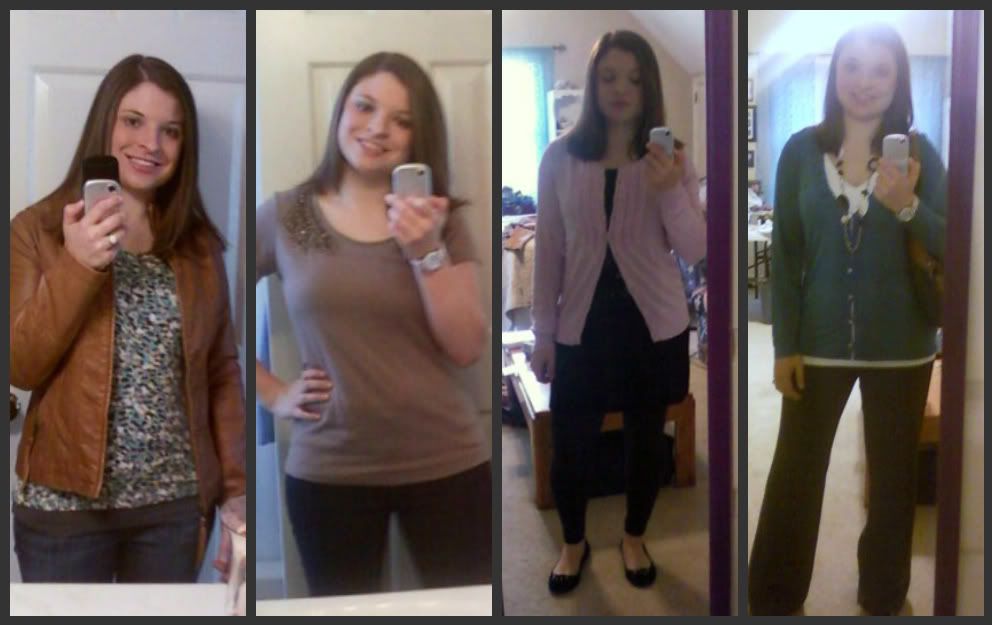 Jan 22nd hair cut.
Jan 25th sushi date with Ryan.
Jan 26th Church.
Jan 27th first day of work.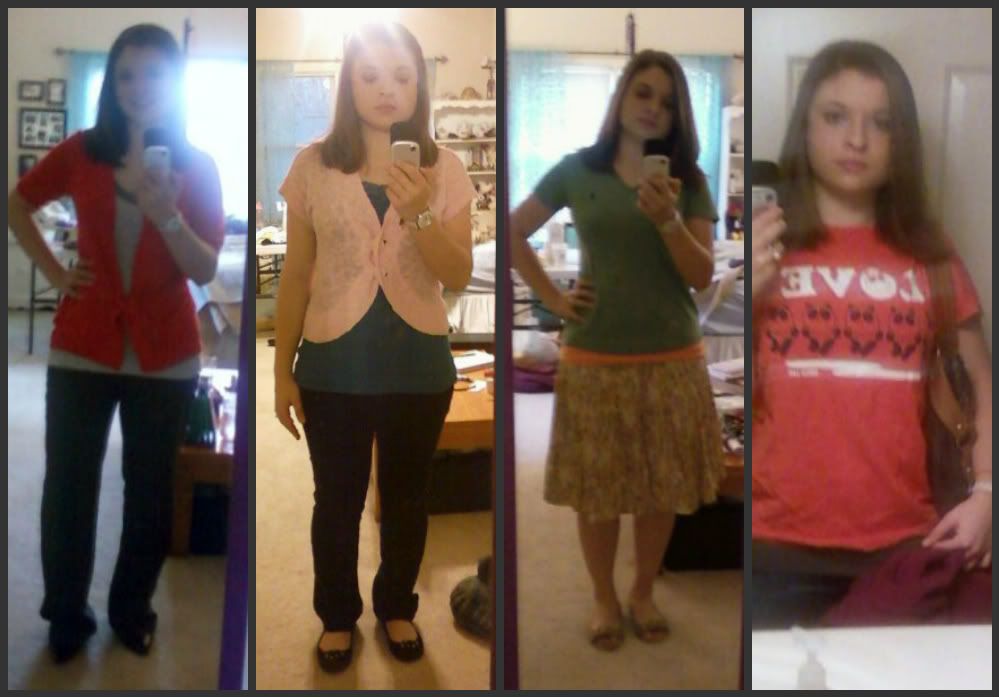 Jan 28th work.
Jan 29th work. You will see this as a pattern seeing as how I finally landed a full time job.
March 1st. work, my first jeans, t-shirt and sneaker day.
I wont lie I don't quite love this day as much as other people. do.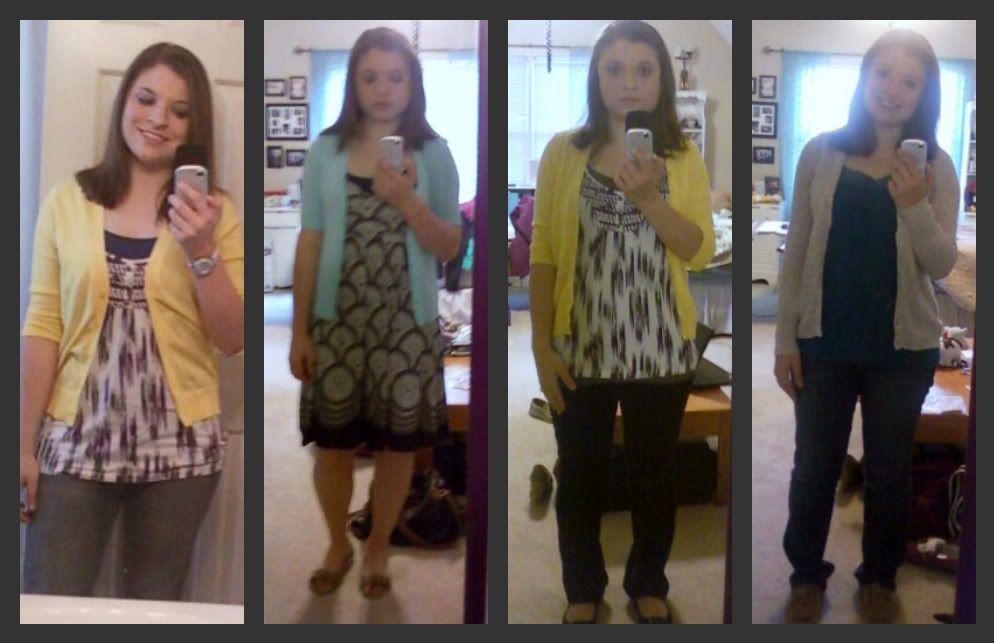 March 3rd date night with Ryan (Long Horn and then on to be the oldest people without kids at the movies watching the Lorax).
March 4th Church. March 5th work (yep just swapped out my shoes and pants from my date night outfit but hey the people at work didn't see it)
March 6th Work (ended up getting sick and only making it half a day)
I skipped a few days due to being sick and having to miss work. Then I spent the next few days working like crazy to catch up on the training classed that I missed from the day and a half I spent at home sleeping.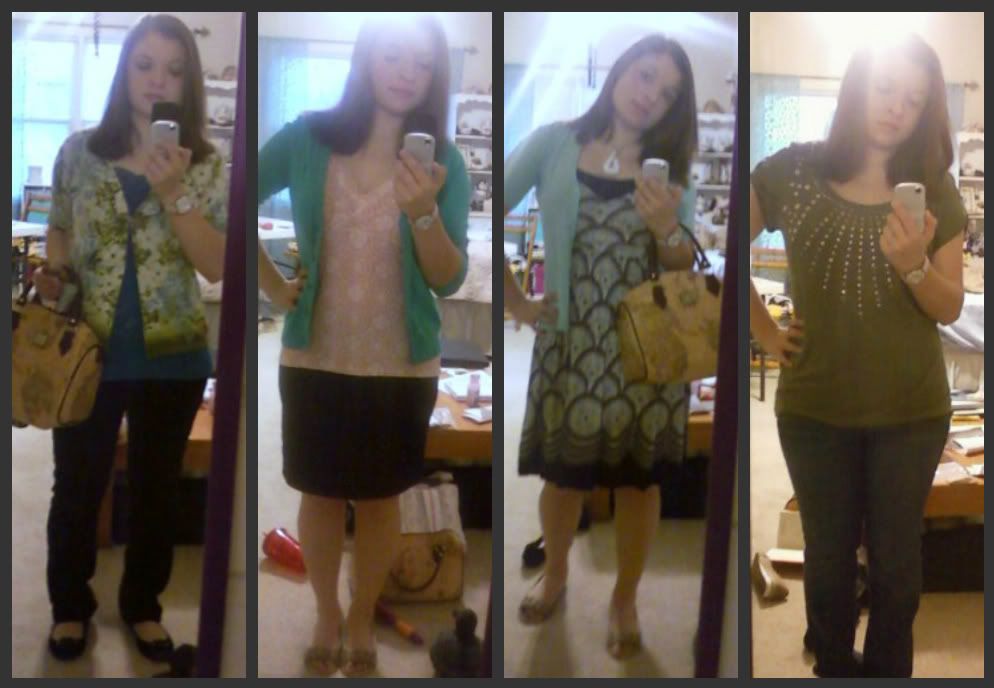 March 12th work.
March 13th work.
March 14th skipped photo because I was working in the warehouse for training.
March 15th work.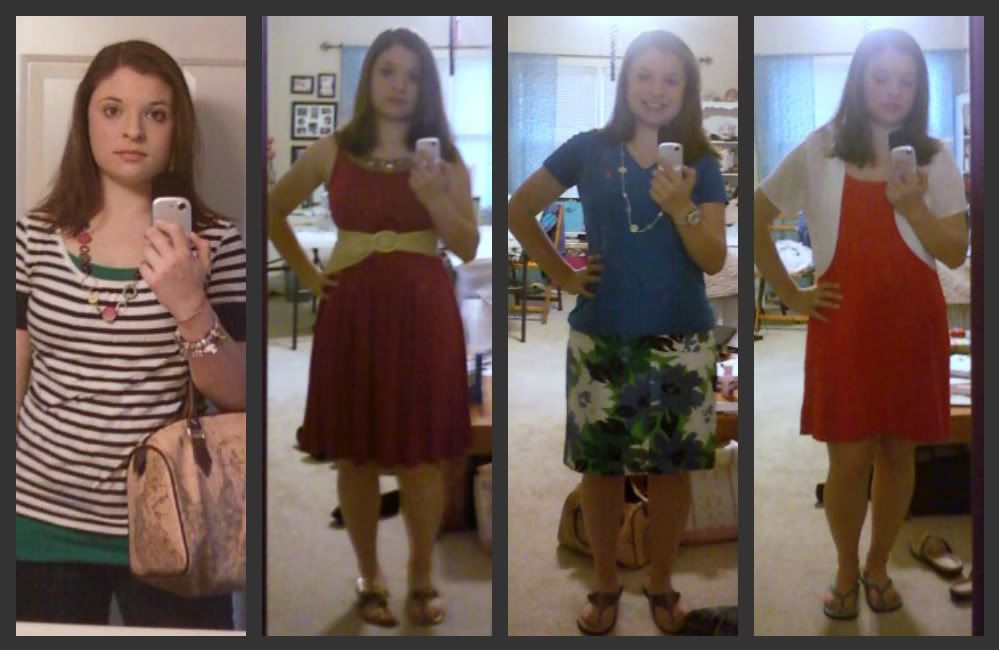 March 17th. Lunch at Strawberry Hill with Ryan's grandma, then dinner for Ryan's birthday.
March 18th Church
March 19th work, I am so happy loud patterns are back in. I got this skirt a few years ago and have always loved it.
March 20th work.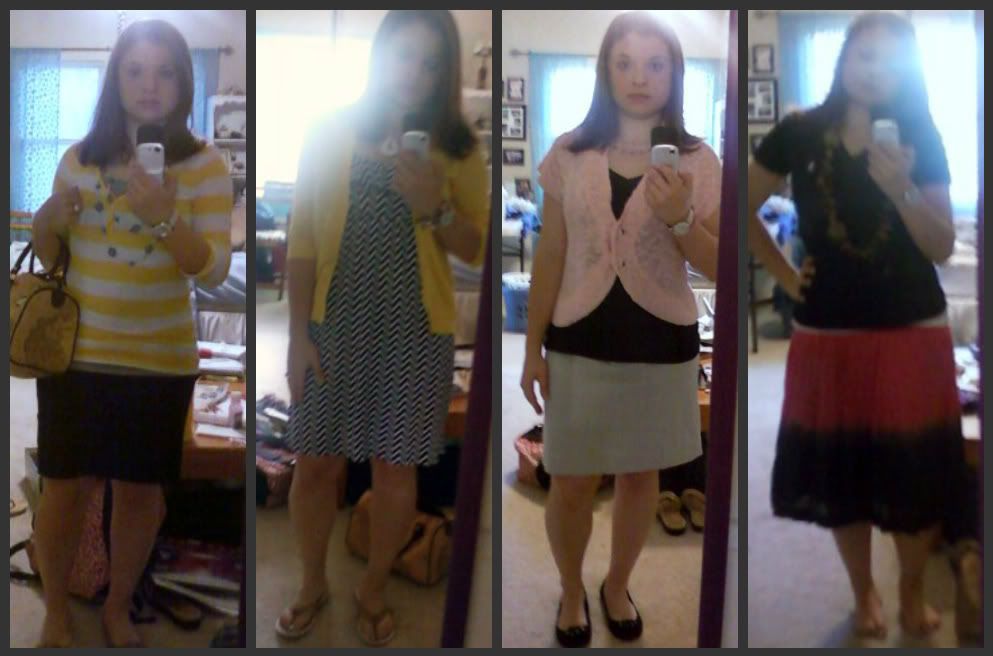 March 22nd work.
March 25th Dinner with Mom and Dad for Ryan's Birthday.
March 26th Work
March 27th work, and I love LOVE love this skirt.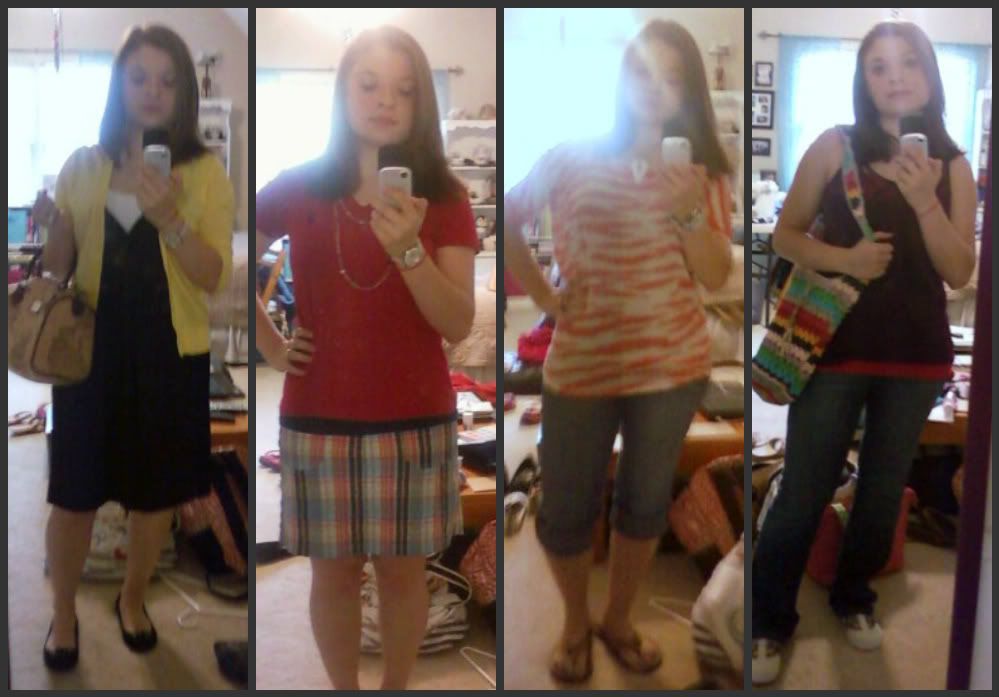 March 28th work
March 29th work
March 30th work (Friday is jeans and T-shirt day but like I already said I don't love that look)
March 31st shopping and closet cleaning day.
I know, I know like I said I missed some days here and there. Thanks to the oh so fun colors I got to wear when I worked at the mall I skipped a few days here and there. I also skipped a few weekends when I was babysitting, or just being to lazy.
Goal: Take tons of photos, make tons of memories, and make sure to document them in some way shape or form.
I am working on this one and getting better...some days...and then other days I well just either don't do anything fun, or just don't think to snap a photo. I need to do a photo dump and update you on what (little) I have from February and March. Oh yea Valentines Day was back in February!
So what about all those other goals I posted back in January? Well,
As far as the "Have at least 2 successful camping trips and get outside more! Travel more over all and take advantage of the mountains I live right at the foot hills of" is going I have:
-Gone on one hiking trip
-I eat lunch outside every day now
-And yea SAD I know that is all I have done...that I can think of off the top of my head....oh I did sit outside and enjoy a few beers the other day and watched it rain over at Ryan's?
-In my defense we have mad crazy pollen going on right now, camping season just got here, neither Ryan or I are able to use any of our time off yet, and we don't have a tent.....
As far as the "Find a job......" one well I have found a job...I could move out but why? I would rather pay my parents a small rent fee, get good home cooking, and save up some money before I take that leap. The training is also finally giving me some sort of a foundation towards maybe something bigger.
I won't lie my blogging is not getting any better so that is a resolution I need to keep working on. Not because I really care who reads my post, but because I like being able to look back and see what was going on in life, and see the photos and remember how I was feeling, what I was thinking, and just what life we like.
I have been working on taking my vitamins every day...just like with working out I was doing great and then just kind of stopped. I have no clue why, it isn't like it is hard to take them...just something I have to start remembering to do. Do you take your vitamins every day? I am however taking better care of my skin and face.
Then you have the goal of staying a little bit more organized on a day to day bases. I have been doing better at this, doing wash throughout the week, putting stuff back once I am done with it, and so on and so forth but I could still do better at it so that I would have less to do on the weekend. I have NOT however finished any of the many projects that I have already started.....I always think to myself I am going to finish...... and then I don't even touch it.
Play more board games? Yea this goal sounded like loads of fun, but I have yet to have the chance to do it.
Going to visit Chris in Germany was a goal I was really looking forward to, but dang it if that doesn't cost a lot of $$ and time off that I don't have to use yet.
Then last but not least on things I have yet to really start working on...that pesky Bucket List....is DONE...well started but I have seem to have lost the list....so I don't know if I can cross that off my "To Do" for New Years or not....
Ok well I think that long random rant about covers it....if not oh well. Are you still hanging in there with your New Years Resolutions?
I would say to say turned for a blog with photos from February and March but I don't want to get your hopes up!
Yea to finishing this blog! Better late than never right? Now time for bed so that I can go to work and get Friday done and over with and enjoy my weekend!
Was that enough random rambling for ya?