Each of these "Date Nights" originally had its own post started, key word there "started" and well rather than finish up and post however many different post I just thought I would roll them in to one and do a quick run down with a few details, photos, whatever....this will also help keep my sanity in check (and seeing as how I use this blog as my own personal little diary this update is needed because my memory is not that great and some of these are starting to run together) So where to start where to start? I guess we will just go back a few
weeks
more like months now I guess to:
That Saturday that I got the bright idea to cook some "Spicy Turkey Egg Rolls" from a few different recipes that I had seen on the Internet, followed up by a Mike Epps concert (or whatever it is you call it when you go see a comic), and then wrapped the night up with a trip to the Carolina Ail House (yummyness to the 10th power).
So well...I guess I could give you a play by play of the night but instead I will just share some photos and maybe toss in a few words here and there.
Start with the guacamole (one of my favorite foods!):

Now on to the egg rolls: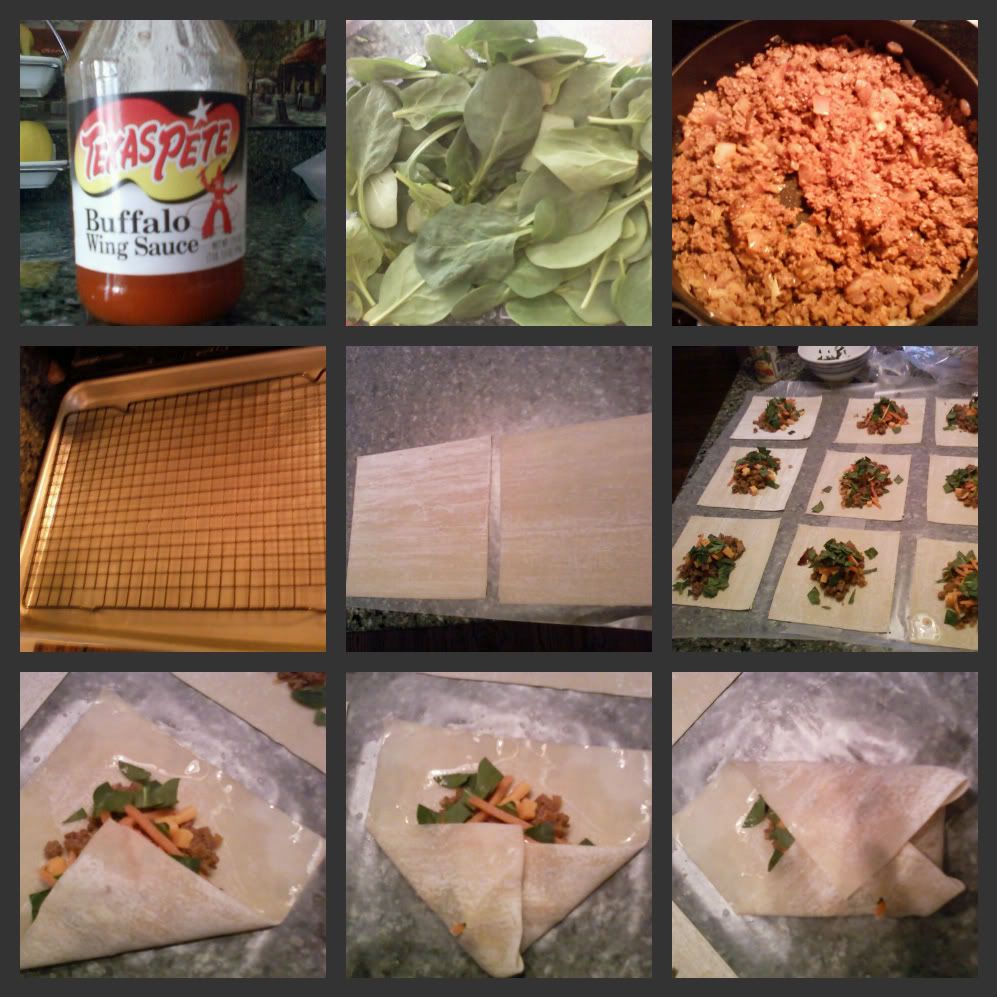 And the finally product after I swore I was never making egg rolls again:
I really feel the need to put out there that they taste better than they look.
Next we headed over to Ryan's friends to pick them up and head over to the...concert hall? Now I really don't know how to explain the rest of the night....for starters both of his friends spent the ride quoting different Mike Epps skits. Now I have seen the movie Friday but other than that I have not seen much of his stuff. So if you are like me and you need a quick "Who Is Mike Epps" then check out
Wikipedia.
Once there I quickly noticed that umm... I was the center of attenion and I didn't quite fit in. Oddly even thought everyone was stareing at us and I was trying not to stare back it was fun! I don't really ever go to see comics, or even really watch them on TV, and I don't know what it is but watching comics in person is so much better than on TV....maybe it is hearing some of the laughs of other people....you know what I am talking about there is always that one in the croud that has the crazy person laugh that just makes you luagh.
Yep see I told you I couldn't describe the night. But here are some of the few photos I took fromt he night: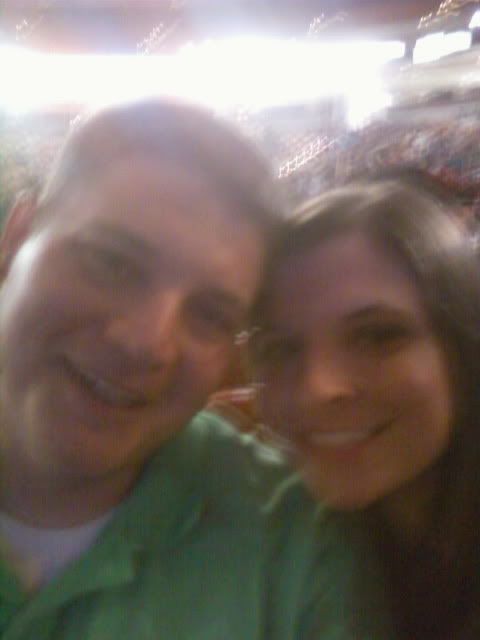 I always get two trys and then Ryan is like no more photos.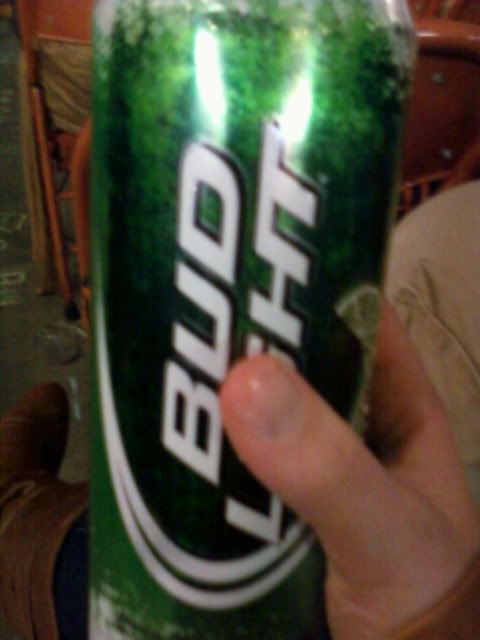 Yea for big beers!
Anyways after a fun, educational, stand up session we headed to grab some dinner and drinks before dropping Ryan's friends off and calling it a night. One fun night that I doubt I will ever forget!
Next up (or I think it was next) was our first date night where I choose where to go. So I choose to take Ryan to Miyako's for some sushi (mainly because I had never been and had been really craving sushi...oddly enough I am craving it again now) followed up for a quick stop in to Main Street Pub for a few drinks before calling it a night all before 10:30. Really we are that couple that got full time jobs and do nothing but sleep right now because we are not use to the whole working 40 hours a week thing (haha that makes me laugh because it was from the original post I typed and things are still pretty much the same...we are that old couple that is in bed by 10).
Anyways here is a photo of some of our food before I dropped my phone in the food and Ryan made me put it away.
Sorry it is so blurry....that is probably becuase I dropped the phone.
I loved the sushi and cannot wait to go back for more! I mean one of these rolls was called a ABC Roll stuffed with "asparagus, beef, and cream cheese" yumm so good!
The next weekend was Ryan's date night and he choose to take me to Long Horn and then to see the Lorax 3D. I know, I know we are such adults. Dinner was great and the movie was even better! I have always loved Dr. Seuss and this movie had some really good lessons for kids. I took a photo of us in our cool 3D glasses but dang if it isn't more blurry than the sushi photo!
The next weekend was my turn again and I had been craving Thai food like crazy so I choose to go to the Lime Leaf. Do you see an Asian thing going on with all my dates? It was good as always. It is right down town, cute, and makes for a sweet date with dim lights, and small cozy tables.
Then we had Ryan's birthday dinner the weekend before his birthday with his parents at one of those Japanese restaurant where they cook on the table. I have always loved the fact that the restaurant that they have always taken him to for his birthday is the same one my parents always use to take me too growing up for mine too. It is like a sign I swear!
The next weekend we babysat, got Mexican (my choice I love Mexican almost as much as I love Asian food) for lunch one Saturday, and then my parents took us out to Carolina Ale House for Ryan's Birthday.
Then it was Ryan's choice and after we both had long weeks we opted for some Chinese takeout and a movie called My Man Godfry, a movie from 1957.
It was cute, funny (and that good kind of real funny not dirty or dumb funny), and I would highly recommend it if you are looking for a chill movie night and like old movies. The plot is basically that the one sister finds this "forgotten man" and wants him to be her family's (crazy and let me stress CRAZY family) butler because she is in love with him.
Easter weekend was a fun weekend. Friday night we had dinner with mom and dad. Then Saturday we had lunch with Ryan's grandma, his cousin and his wife. Then we took a trip up to Lake Lure to walk around and eat dinner at the Bay front Bar & Grill on the lake. Sunday was Church, then over to Ryan's parents for lunch, then back to the house to watch the end of the Masters and eat dinner.
Here are a few photos from our trip Saturday:
And the view from our table at the resturant:
I cannot wait to go back, the food was great, the view was pretty, and the beer was cold!
Let's see last weekend I babysat Friday, Ryan drove his mom and grandma down to Charleston to see his aunts. Saturday I spent the day shopping with mom, which is always so much fun! Then Sunday was church, chores, and then Ryan and I stopped by to support one of his friends at an event he was having.
Where has the time gone? All of these things feel like yesterday! How is it already May 18th? Ryan and I have noticed that the weekends always feel so short, so we have been trying to pre plan out our weekends to make sure we get the most out of them and that summer doesn't fly by before we can everything we want to do.
Ok well I don't think I left anything out...
Any suggestions for some fun day dates?