So a good friend of mine sent me a message asking if I had cooked anything good lately and that remained me that I have not blogged about my random cooking conquest in a few days, and this is helping me in my procrastination when it comes to my blog about my eyes. Its amazing how good of motivators friends are even when separated by deep blue oceans and culturally filled countries.
So I can think of three things I have cooked in the past few days right off the top of my head, and I am sure there are more. Ryan has been super sweet and has been helping out in the kitchen making chicken fajitas, spinach and cheese filled ravioli, along with some other tasty stuff.
I guess I better start with last Wednesday when I decided to just wing it and see what happened. On our last trip to Costco I talked Ryan into letting me pick up 12 cans of cream of mushroom soup. Now what to do with it what to do with it? So I thawed out some chicken and pan fried it up. I tossed some potatoes, frozen carrots, and green beans in a pot to boil them. Then I chopped up some mushrooms, onions, garlic, and bell peppers that had been sitting in the fridge. I know a few of those sound quite odd. Anyways once I pan fried up the chicken I removed it and placed it in some tinfoil to keep it warm, drained the potatoes, carrots and green beans. Chopped up my now nice and hot and squish carrots as I fried the onions, garlic and bell peppers. Once my onions were a nice brown color I removed them and got started on the final product. I opened up on of my main cans of cream of mushroom dumped in the frying pan, added in salt, pepper, garlic powder, chicken, carrots, green bean, and potatoes. At this point it was looking pretty good and smelling even better. Then came the point where I had to decide if I wanted to add the onions, garlic and bell peppers to my very normal looking meal. I did and I must say that it was oddly very good and blended very well. This is a meal that I will attempt to make again because it was very easy and quite delicious; however this time I will remember to thaw everything the night before so I don't have to boil anything. One less pot always makes everything better when your dishwasher is named Ryan or Megan!
Lets see then on Friday (I think the days kind of blurred together this week due to a very lazy vacation) I attempted to make "Quick Cincinnati Chili". Here is the recipe that I tried to use and as always varied a little bit from, maybe a little bit to far from.
--------------------------------------------------------------------------------
Quick Cincinnati Chili
Total Time: 30 min
Ingredients
-U.S. Metric Conversion chart
-12 ounce(s) (3/4 of a 16-ounce package, per recipe) spaghetti
-2 1/4 teaspoon(s) salt
-2 teaspoon(s) olive or vegetable oil
-1 medium onion, chopped
-1 tablespoon(s) chili powder
-1/4 teaspoon(s) ground cinnamon
-1 can(s) (15 to 16 ounces) pink beans, rinsed and drained
-1 can(s) (14 1/2 ounces) diced tomatoes
-1/2 cup(s) beef broth
-1 tablespoon(s) tomato paste
-1/2 teaspoon(s) sugar
-Toppings: 1/4 cup shredded reduced-fat Cheddar cheese, 2 tablespoons nonfat sour cream, 3 green onions, chopped
--------------------------------------------------------------------------------
Directions:
1.Prepare spaghetti as label directs, using 2 teaspoons salt in water; drain and keep warm.
2.Meanwhile, in nonstick 10-inch skillet over medium heat, heat olive or vegetable oil. Add onion and 3 tablespoons water; cook until onion is tender and golden, about 10 minutes. Add chili powder and cinnamon; cook, stirring, 1 minute.
3.Stir in pink beans, tomatoes with their juice, beef broth, tomato paste, sugar, and 1/4 teaspoon salt; over high heat, heat to boiling. Reduce heat to low; simmer, uncovered, 5 minutes.
4.To serve, divide spaghetti evenly among 4 warm dinner plates. Spoon chili over spaghetti; serve with toppings.
--------------------------------------------------------------------------------
So for the most part I did as I was told with this recipe. I will just cut to the chase and say that I messed up and added way to much of the beef broth flavoring powder to my water and it may of been just a little bit to salty. Also I swapped in kidney beans for whatever pink beans are. I was very upset to open up a whole can of tomato paste just to use one tablespoon of it...oddly I am now trying to figure out what in the world to do with the rest of it now...I am taking suggestions if anyone has any! Other than that I guess that was about it, I did let it simmer a little bit longer to help simmer off some of the extra water I added (and for the life of me can't remember why I added so much water now) and help it thicken up. I am looking forward to trying this recipe again this time without adding salt and with less beef powder to hopefully curb that salty taste.
Oh I almost forgot I added ground beef to this recipe! I boiled it first to help try to break it up a little because we buy it as hamburger patties at Costco. It absorbed the taste quite nicely, now I just need to figure out how to break it up even more because it was still very clumpy as you can see.
It looks a little soupy but it did thicken up quite nice!
All ready to go with pasta, hot sauce, cheese, and green onions for toppings in our "slap chop".
And lets see what was the last thing I cooked. Oh tonight I attempted to make Steak and Potato Stir fry. Before I start rambling about the "fun" I had with this recipe let me share it with you first.
----------------------------------------------------------------------------
Steak and Potato Stir-Fry
What You Need:
1 lb. (450 g) boneless beef sirloin steak, cut into thin strips
1 Tbsp. oil 1 lb. (450 g) red potatoes (about 2), cubed
3 carrots (3/4 lb./340 g), chopped
1/4 cup water 2 cups each sliced fresh mushrooms and onions
1/4 cup Kraft Calorie-Wise Balsamic Vinaigrette Dressing Make It
COOK and stir meat in hot oil in large skillet on high heat 2 min. or until browned. Remove from skillet; set aside.
ADD potatoes, carrots and water to skillet. Bring to boil; cover. Simmer on low heat 15 min.
STIR in meat, mushrooms, onions and dressing; cook and stir on high heat 5 min. or until heated through.
Kraft kitchens tips:
Substitute Prepare using your choice of other beef cuts, such as sirloin steak (flat or round bone), top sirloin steak, boneless top loin steak, tenderloin steak or rib eye steak.
----------------------------------------------------------------------
Now that I think about it I don't know if I really want to admit how this recipe went. However I guess the point of a blog is to tell it like it is, or at least the way I want it to sound like it is ; ). So lets see we had everything we needed for this, I used mixed veggies with pees, carrots, and what not instead of just carrots. Also half way though this I had to figure out if balsamic vinaigrette dressing was the same as good old balsamic vinaigrette (because that is what I had) so I quickly googled how to make "how to make balsamic vinaigrette dressing" and well I sadly gave up as I had to many other things going on to try to figure this out at the moment and skimmed it and saw: garlic, oil, salt and pepper. So I took my vinaigrette and dumped in random amounts of garlic, oil, salt and pepper, stirred and dumped it in to my mixture. I didn't follow the directions to a "T" exactly on this recipe so for starters I just went ahead and dumped everything (minus the beef, onions and vinaigrette) into the pan with some water and oil and tried to bring it to a boil. Sadly I had to much in my pan and felt the need to add more water to my pan along with pepper, garlic powder, and some thyme and bay life (just because I had it). I decided to fry the onions up in their own pan because I love the taste they get and noticed that my huge mushrooms were not shrinking down the way I thought they would so I started to fish them out and add them to my onions. Once I got sick of trying to cook with two pans that were too big for my stove I dumped the onions and mushrooms in to the main pan and used the other as a lid to cover it. Getting sick of this meal fast I dumped in the beef and brought the whole thing to a boil for about 5 minutes to help remove access water and to help "sear in" the juices. Once it was all said and done this meal was not bad, and not great. I will not be giving this another try.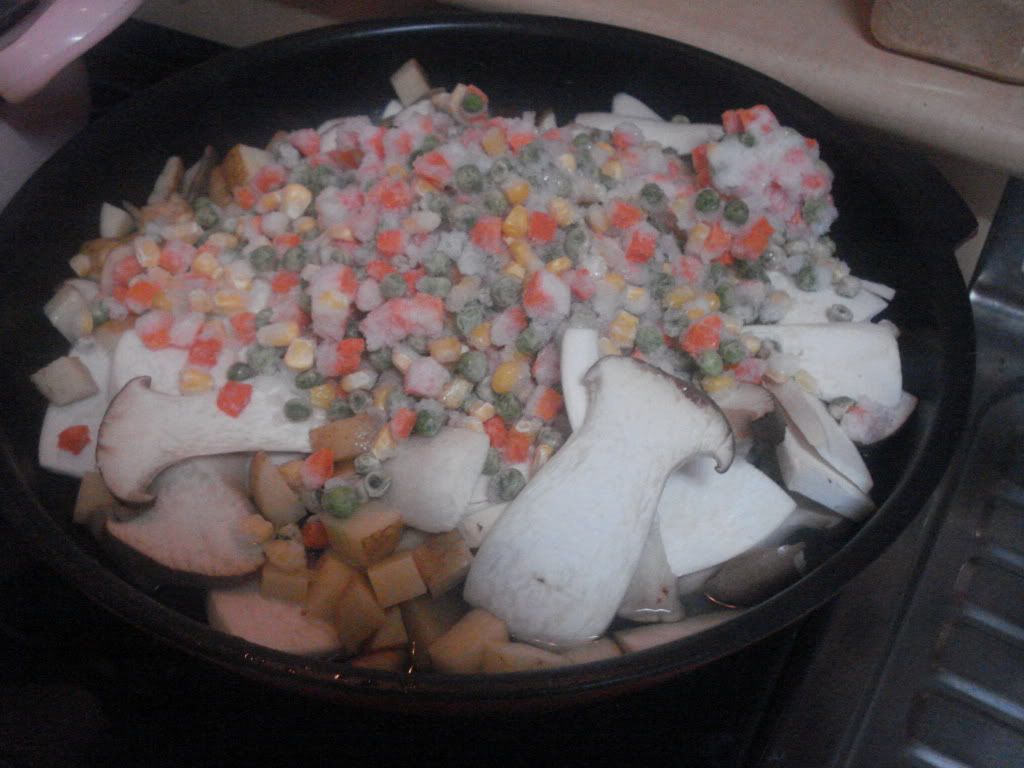 For some reason it is not looking quite right...maybe it is the huge mushrooms, maybe it is the frozen veggies, maybe it is that it is all supposed to be simmering in a 1/4 cup of water and sadly a 1/4 a cup of water is just not enough.
Trying to shrink some of the mushrooms down a bit. Sorry I can't lie I was quite fascinated with these mushrooms.

The final product! Looks pretty good doesn't it!
 Well I guess that is it as far as cooking has gone lately. Oh on a side note we have also been enjoying some amazing strawberrys and Jeju oranges.
We are currently calling them our "orange grenades" because of the tops on them.