Let's link up with
Life Of Love
and catch up a bit!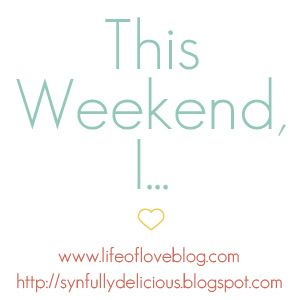 This past weekend I....
Friday:
-Walked in to find Ryan cooking dinner.
-Watched some old episodes of Poirot, I love a good mystery.
-Watched Pitch Perfect, enn it was funny but not what I thought it was going to be.
-Watched a few old episodes of "Are You Afraid of The Dark," when I was a kid those were a lot scarier....and the acting was better.
-Called it a night early because this week seemed super long.
Saturday:
-Went to the Farmers Market with mom.
-Stopped at Ingles on the way back in to do some grocery shopping....you know to pick up the things on my list I can't get at Costoc....is it strange I try to do all of my shopping at Costco? If they don't have it I wonder if I really need it.
-Stopped back by the apartment to drop everything off. Mom did one of those amazing mom things and helped me do a quick clean of the kitchen and spend a little bit of time playing with Mr. Kitty.
-Chopped off probably a good 8 or so inches of hair! And found a new place to go that is right by my parents house and the girl was super sweet and did a great job!
-Stopped by my parents house where dad washed my car for me before I headed over to Ryan's parents for lunch.
-After lunched headed to the apartment for a nap.
-Met up with my family for dinner at Wild Aces, and then back to Chris's apartment to enjoy drinks and laughing on his roof top deck.
-Headed in to call it a night.
Sunday:
-Early morning church service
-Headed up to have lunch at the Hair and The Hound, I love a good drive with mountain views.
-Stopped by the house on the lake to do a drive by....I think its only a matter of time before we make an offer.
-Took a nice long nap (I love my sleep!)
-Did some cleaning
-Wrapped the night up with some dinner before settling in to watch the season premier of Dexter.
And because I am a week behind....
Last Weekend I.....
Friday:
-Cleaned the apartment
-Pizza pig out
-Watched a few old episodes of Poirot
-Watched a few old episodes of "Are You Afraid of The Dark"
-Those seem to almost always make my Friday night review, what can I say I am getting old!
Saturday:
-Famers Market with mom
-Over to mom and dads for a bit where I enjoyed a nice morning with some reading and a nap out in moms garden.
-Lunch over at Ryan's parents.
-Stopped in to an open house to see what it looked like. We also walked through a few other ones that had just been framed. The house was super cute, nicely done and just the right size but the fact that you could see 4 houses down from any room upstairs kind of was a deal breaker for us.
-Enjoyed a nice night of dinner and a campfire over at my parents.
Sunday:
-Early church
-Weekly trip to Costco
-Sunday afternoon nap
-Lunch up at the lake at a new restaurant....not my favorite I like our normal one better.
-Drove by a new house on our list, and ended up back at the same old same old we always end up at.
-Don't really remember the rest of the afternoon/night so it must not of been too great!
Wow I really had to think hard back to last weekend, last week felt so long....and somehow it is already time to start another one. I feel like my life is flying by at full speed sometimes.....well time for Dexter! I cannot believe this is going to be the last season! Hope everyone has had a great weekend!