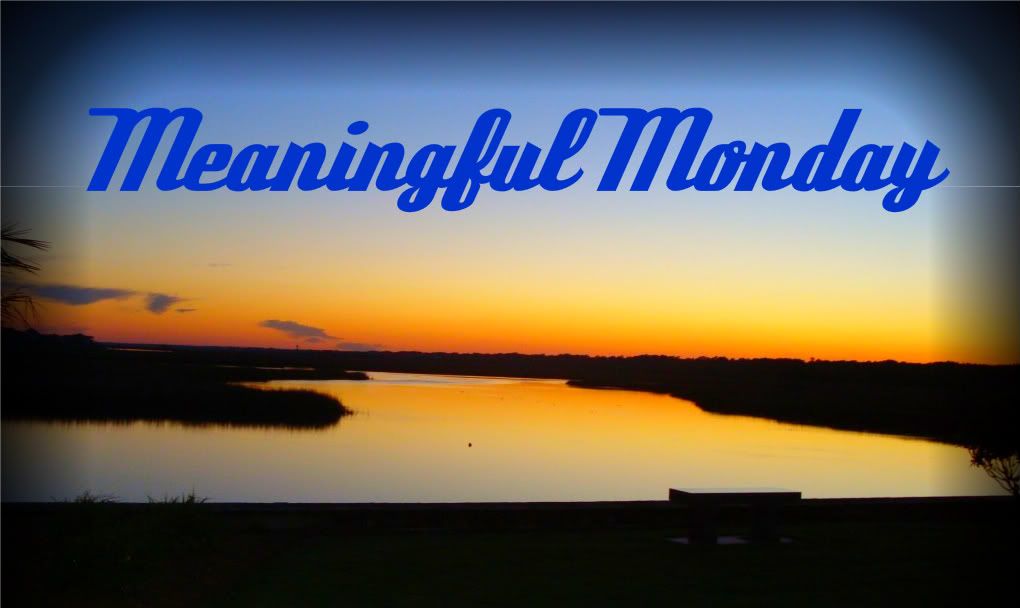 So for starters I know my Meaningful Monday is 24 hours behind where it normally but that is because I am back State Side for a few weeks jumping around seeing family, going on some trips here and there, and relaxing with my parents.
This Monday I have a lot to say but seeing as how my belly is telling me it is time for breakfast (even though it just got dinner) and my brain is telling me that it is time to get up even though my body is telling me I need to go to bed that well my brain is kind of mushy.
Anyways let's see what I can do with this blog tonight because the last thing I want to do it just my blog go to the wayside just because I am home and most of (or well the only) ones that read my blog can now see me just about every day. So fingers crossed that I can keep this thing going, and even though I am kind of hoping that life will get a little dull and I can post some photos of the grass growing or my new shoes. I am rambling aren't I?
Yesterday went well. We had over 24 hours of traveling and where as it could of gone better it also could of gone so much worse in so many different ways. We started our trip out on Saturday with a nice 3 hour bus ride to the airport and then a short shuttle ride to the hotel. We then headed to the airport at 8:30 to catch our 10:30 flight to Japan, then from Japan we went to Detroit, and then Detroit to Charlotte to meet our parents for the short drive home. As always the flights were long, dull, boring, and just enn I hate to fly. Our last flight involved a flat tire and a nice storm that kept us circling the area for about an hour before we could land. However we are home and it is so nice!
Today we headed down to the police department (got to see some very interesting things over there and sadly could of spent the whole day just people waiting down there) to get our fingerprints done and sent them off to the FBI so we can get our new background checks for our new job in Korea. Yes you read that right it does say FBI, and I know it sounds crazy but hey Ryan and I have nothing to worry about so were just upset it takes about 13 weeks to get the paperwork back. We then also got to enjoy some lunch with my parents before I headed home and passed out for a nice nap, you know one of those ones that last a few hours? I now am sadly working on unpacking so that I can turn around and pack tomorrow to head up to MI for a few days with Ryan to see my family.
I, well, I just lost my train of thought. I guess I will get out what I can as it comes out in a random post mood:
• My little brother turned 21 yesterday.
• It is so nice to be home and get to see my puppy Clair.
• Driving feels so strange and if everyone doesn't keep an eye on me I swear they will find me just standing down at the corner one day waiting for the bus to come.
• Delta really needs to add TV's to the back of their seats (an 11 hour flight gets really dull really fast) and work on getting....let's just say a peppier flight crew; however their new "Economy Comfort" is so worth the extra price.
• Now that I am home I can use our local library to download e-books for my Kindle meaning that all those "to read/pray they go on sale soon" book are now a can read.
• I am getting a much needed haircut tomorrow before heading to OH with Ryan to spend Wednesday at the Cincinnati Zoo before heading the rest of the way to MI.
Ok and I lost that train of thought again. I had so much more to say but I guess it will have to wait. Next week should be a slower week so I am looking forward to getting things done, spending time with mom, and just life.
Hope everyone had a great Monday and has a good week!