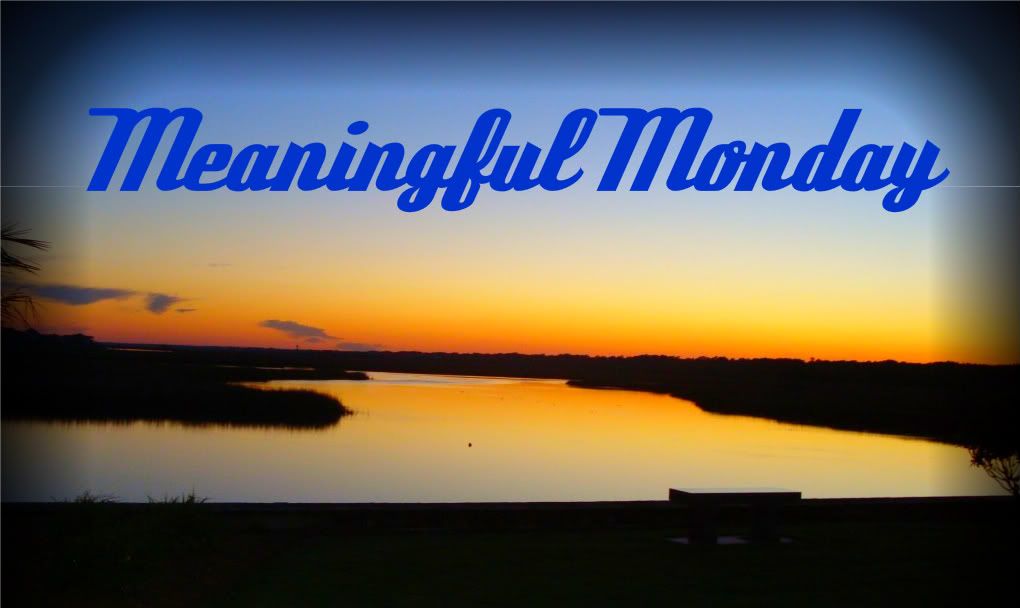 So it is kind of a rainy, gray, sluggish Monday and I just feel blah so that means that it is the perfect time for a Meaningful Monday.
For starters I am thankful for the support group I have right now around me as I try to figure out life. I always knew it was hard but I never thought it would be like this. Finding a job would help, but in the mean time knowing that my family loves me and is supporting me on the hunt means a lot to me. It really is not a great feeling to be searching for a job, applying like crazy, and just get nothing back but a few "sorry you're not what we are looking for" letters. It really does start to wear on you and make you just feel like on like a loser, so having a family that loves you is amazing. If I didn't have my family around me right now I don't know what I would do, but I know things would be a lot harder than they are.
I am thankful for my part time job at the mall, I never thought I would say that and most days I hate it but at least it gives me something to do, and all those small pay checks add up. I also have some amazing people to work with from past Christmases that I can't wait to see this year.
Fall! I am sure I have let you all in on my love off fall but I just need to say again how great it is, and it's even better now that the leaves have started changing colors! It really is amazing if you think about how everything was so green in the summer and then fall comes and it's now red, orange, yellow, and brown.
Fall fires with the family! Sometimes it just can't get better than family time, smores, and beer!
Ryan who has put up with my crazy mood swings, my crying, my "I'm a loser and no one wants to give me a job" rants, for changing the oil in my car and for just everything he does. I mean really I have been a stressed mess lately, and well he somehow always ends up being the one around when I have a meltdown.
Mom for cooking amazing food, last week we had squash chili, pork chops, Italian wedding soup, pumpkin bread, and so much more healthy, tasty foods. Yesterday we even had a little Thanksgiving like meal with turkey, mash potatoes, squash, corn, and some kind of amazing pie!
The friends I made in Korea. I never thought I would find friends half way around the world that would make a difference in my life, and I never thought that I would miss them as much as I do. If it were not for Facebook I don't know what I would do. I love being able to just send them a short message, find out how their lives are going, see photos of them in places we use to hangout, and let them in on what all is going on with me. I am also happy that the decision to go or not go back to Korea has finally been made, and as much as I love Korea I do agree that going back for another year is not going to help me find a job in the long run. I really doubt the job situation is going to turn around any time soon. Maybe one day they can come visit me and see America.
For Ryan's friend Jose who has held all of our stuff in Korea till we figured out if we were going back or not. He spent last Tuesday sorting out everything for us to the point of even going through all my cloths holding them up for me to see and decided if I want them shipped home or not. I won't lie we left a lot of stuff behind and he had a really small apartment but he never once complained, even when he was sorting out girls clothing in the middle of the night his time. I am also thankful for the great friends Ryan made in Korea and hope that they can stay close.
I am thankful for many different things that are going on right now in my families lives and the chances they are being offered. I am thankful that things with my family are settling down and falling into place. Seeing these change happen give me hope that maybe if I can just wait it out things will fall into place for me too.
I hate how much I complain about life, it could be worse and there are people out there who have it so much worse. I don't want much, just to find a job, move out, have a place of my own, and start life! I don't want a 50 inch flat screen, I don't want a boat, I don't want a huge house......there is a lot I don't want but for now I just want to be thankful for what I do have and that is a lot.
I hope everyone had a good weekend and has a great week a head of them!